When we consider the origins of running, we can safely assume that it did not begin as a competitive sport but a came about as a need for survival. Nevertheless, over the course of our human evolution running has become a recreational activity that millions around the world partake in for fitness, for training and for fun! Running is perhaps the most versatile and mobile sport there is – all you need is a good pair of shoes and the wide open road. It requires minimal equipment, and yet can be one of the most mentally and physically challenging pursuits of all. What's more, many people absolutely fall in love with it. For some running is a celebration; it's not just an activity, it's a necessity in life!
However, running can get lonely. It is not really a team sport, and the activity is solitary by nature. When you are on your own, holding yourself accountable can be one of the biggest hurdles. But for Chicago runners who love the race and also crave community, the solution to this conundrum is ready and waiting. RunClub at Chicago Athletic Clubs is the local program that gives runners a community experience along with a disciplined schedule of training, providing the best of both worlds when it comes to fun and focus.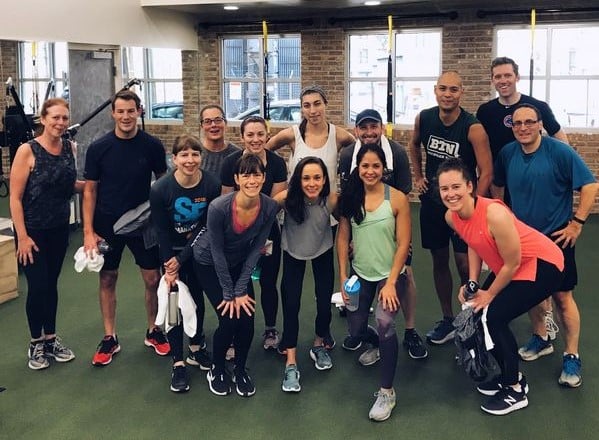 Sure, running clubs aren't a new concept. There are group runs, run meet-ups, race trainings that can be found all over the city. So what makes RunClub at CAC different? We talked with the organizer of CAC's Run Club Kaitlyn Faist to get her insight on the club, what makes it special, what she loves about running and everything else you need to know about RunClub.
Why did you decide to start RunClub at CAC?
I decided to start RunClub at CAC for a few reasons. One, to bring like-minded people together. Two, to provide a fun, challenging, and affordable full training program to our members and three, because I want to help other runners achieve their goals.
Have you always been a runner and enjoyed running?
YES! I've been a runner for about 15 years and it's always brought me so much joy. It is the one activity that never fails to cheer me up when I'm in a bad mood and/or stressed.
What do you personally find satisfying about running?
Personally, I find the physical act of being able to move my body the most satisfying. I'm so grateful for a body that CAN move, that CAN run and I'll never take it for granted.
What are the benefits of being part of the training group RunClub?
Some of the benefits are increased stamina, confidence, endurance, strength and an overall understanding of why we do certain workouts to progress as runners. Other benefits include being part of a team and engaging and training with like-minded people. Yes, we're here to train, but we're also here to have some fun!
If someone is new to running or just getting started, can they be part of RunClub?
Of course! All experience/pace/age levels are welcome and encouraged to join. My goal is to make running fun, not to scare people away with crazy pace and/or experience level requirements. We can all be runners and we can all be a part of a team.
What if someone isn't training for a race, would RunClub still be useful to them?
RunClub is still useful to someone who isn't training for a race because it can be used as an accountability tool, a way to get back into running, a way to feel like part of a team again, and/or a way to connect and feed off of like-minded fitness individuals. You do not need to train for a race to want to run!
What if someone is really slow and can't keep up with the other runners?
We accommodate all pace groups. When we run outside, we break up into groups and I will always volunteer to stay with the "slowest" runner. On Tuesday nights we utilize treadmills for speed and hill work. The treadmill is a great tool for drills like this because it is highly customizable and individualized. Our current runners range in pace from 8 minute - 13 minute miles and all have told me how respected and included they feel!
What were some of the highlights of the first quarter of RunClub?
A.) The bond that the runners formed.
B.) Seasoned marathoners realizing the benefits of strength training and drills to improve their performance.
C.) New runners seeing growth, confidence and improvement in their running abilities.
D.) The FUN my runners had with each session!
What are some things you are looking forward to with the second quarter of RunClub?
I look forward to assisting my current runners maintain their focus and dedication to their plans and their growth, more participants, warmer weather for more outside runs, and the opportunity to continue to expand the club.
What are the perks of the Social Only membership?
Perks include social gatherings, informational clinics, occasional shop nights with local running stores, the opportunity to hop in the group runs on Saturdays, and a T-shirt!
The second quarter of RunClub runs from April 4th through July 3rd, 2020. Each session has a max of 12 participants, be sure to get on board soon so you can be part of the club come Spring!