If you are wondering what could possibly make a person choose to submerge themselves in the icy waters of Chicago's Lake Michigan in wintertime, the answer is a great cause. March 1st marked the 20th anniversary of the Chicago Polar Plunge, an event where charitable Chicagoans jump into the frigid winter lake to raise money for Special Olympics Chicago. And what an event it is! More than just 'shock' factor, the Polar Plunge represents a community coming together in support of something greater than themselves, with just the goodness of their hearts to keep them warm (and, of course, heated tents at the event!).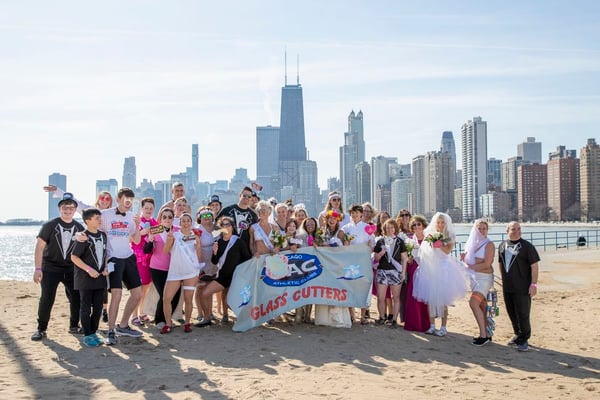 In the past two decades the Chicago Polar Plunge has garnered national and international attention. Celebrities like Lady Gaga and Jimmy Fallon have participated in past years. In 2019, plungers from 21 states, Canada and Switzerland braved the icy lake waters! Of the 3,970 plunger is 2019 though, over 2,000 were from right here in Chicago. These plungers knew firsthand just how cold winter is here in our fair city, but that did not deter those heroic souls from raising money for a good cause.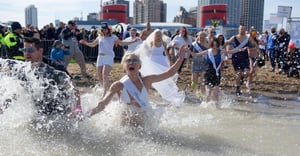 The Special Olympics, of course, is more than just a good cause. It is an iconic institution dedicated to cultural change through the empowerment of those with disabilities. Their mission statement says their goal "...is to provide year-round sports training and athletic competition in a variety of Olympic-type sports for children and adults with intellectual disabilities…", but their impact is much more than just the opportunity for these athletes to develop physical fitness. The Special Olympics provides an environment in which disabled children and adults can participate and excel. It gives these athletes an opportunity to join and be celebrated by mainstream society. The organization also has deep roots in the city of Chicago. In 1968, the very first international Special Olympics Games were held in Chicago at Soldier Field. More than 50 years later it has grown into a global community of 5 million athletes in 172 countries. The Chicago Chapter serves over 7,500 athletes, providing training in 22 different sports year-round.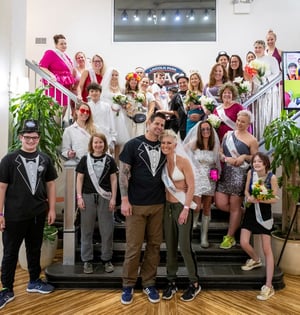 This is the 5th year that Chicago Athletic Clubs has participated in the Polar Plunge. Our team returns year after year to the event because of the incredible energy and good will it encompasses. "It is so amazing to see so many people participating," describes CAC Plunger Tasha J. "When you get off the bus you're greeted by all these families with homemade signs telling you to have a great plunge. The beach is full of people in costumes and company t-shirts who are so happy and excited to be participating. It makes you understand that you're part of something much bigger than yourself."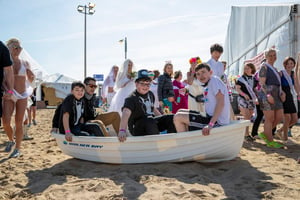 For our part this year, the CAC "Glass Cutters" had 36 team members – our largest team to date! – and raised over $13,000 thus far. Of our 36 team members, 5 plungers were between the ages of 12 and 16 years old, while one team member celebrated her 65th birthday and crossed off a bucket list item by participating. Every polar plunge has a costume contest, and our team's "wedding" theme made a big splash, if we do say so ourselves. Without question, this year was one of our most rewarding and successful plunges yet!
The Polar Plunge overall has raised over $2,000,000 so far but giving has not yet stopped! Donations are still being accepted until March 31st as the community looks to achieve record-breaking success with this anniversary plunge. You can donate here to help us reach our new goal of $15,000 by the end of the month! If you are interested in participating in the plunge next year, all are welcome! Registration usually opens about 5 months before the event, so stay tuned to their main page for 2021 Polar Plunge details. Of course, off season donations are always welcome, which means you can warm your heart without facing the frigid Lake Michigan. Either way, it's guaranteed you'll make a difference.
See the full gallery of CAC's 2020 Polar Plunge event here!