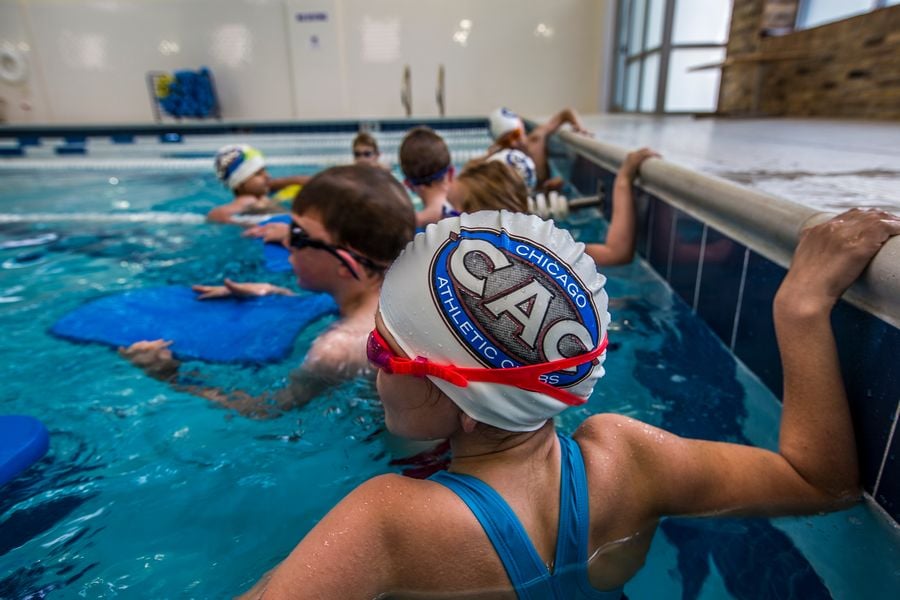 Children's Swim Lessons in Chicago
A variety of creative and educational classes are offered for your child's physical, mental, social, and emotional development! All classes are taught by qualified professionals. All children's swim classes at Lakeview, Lincoln Square, West Loop, and Lincoln Park locations are open to members and non-members.
Which Swim Class Is Right For My Child?
The group swim instructors reserve the right to move a child into the appropriate class and/or class level if the child is placed in the wrong class and/or class level by the parent. If space is not available in the requested class, the child will be placed on a waitlist and we will contact you when a spot opens up. You will not be charged until your child starts his/her lessons. It is very important that you read about the class levels and place your child accordingly. If unclear on the levels, please email Monika Suto at msuto@chicagoathleticclubs.com for more information.
Chicago Clubs Kids Swim Classes
Kids Swimming Lessons
(4-8 years)
Lessons are offered once or twice a week with a minimum of two-month commitment.
Level 1: Water Fundamentals
Fully submerge face, experience buoyancy, bubble blowing, front and back kicks, prone and supine push off and glide, safely enter and exit the water. — Student to teacher ratio is 4:1.
Level 2: Stroke Development
Combined arm and kick action, freestyle, backstroke, retrieve object, jump and dive in deep water, tread water. — Student to teacher ratio is 5:1.
Level 3: Stroke Improvement
Perfect freestyle, backstroke, learn breaststroke, butterfly motion, endurance, treading, underwater swimming, and diving. — Student to teacher ratio is 5:1.
Days & Times
Monday (LPAC) 3:30–4:00 pm; 4:00–4:30 pm; 4:30–5:00 pm
Tuesday (LSAC) 4:00–4:30 pm; 4:30–5:00 pm
Wednesday (LVAC) 3:30–4:00 pm; 4:00–4:30 pm; 4:30–5:00 pm
Thursday (LSAC) 4:00–4:30 pm; 4:30–5:00 pm
Saturday (WAC & LSAC) 9:30–10:00 AM; 10:00-10:30 AM
Class Fees
Members*
1 time per week $70 per month
2 times per week $110 per month
Non-members**
1 time per week $95 per month
2 times per week $145 per month
No refunds or makeups.
*Members can sign up for kids swimming lessons at any location, not just at their home club.
**Children can only attend swimming lessons and classes at the club where they registered.
Registration Information
Registration required for Parent/Toddler Swim, Junior Swim Team, CAC Swim Team and Children's Swimming Lessons.
Note: Due to space constraints a waitlist may be in place for some programs. Please wait for confirmation of receipt of registration before attending classes.