So you are interested in taking up boxing or kickboxing. You do a quick Google search and find three or four boutique studios that offer either boxing classes or kickboxing classes near you, maybe both. They have specific class times that may or may not work with your schedule. You check the pricing - your eyebrows raise. More than you are spending monthly for your local gym membership that gives you access to weight training, cardio machines and a plethora of group fitness classes.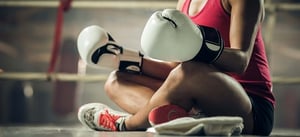 You check out your local gym class schedule and see they have boxing and kickboxing classes you can take as part of your membership. You wonder if these classes are the real thing, and then you realize you aren't quite sure what the 'real thing' is? What is the difference between boxing and kickboxing? Is it really a good workout? What exactly should you expect from your class?
Chicago Athletic Clubs offers a variety of different boxing and kickboxing classes, even a small group training class on Women's Self Defense, and all classes are no-judgement zones open to all levels of training. But no matter where you end up taking your classes, let our boxing trainers answer some important questions about the sport so that you can make the right decision for yourself.
What is the difference between boxing and kickboxing?
The main difference between boxing and kickboxing is that kickboxing incorporates striking motions with the legs as well as the arms. "While the lower body is engaged in boxing, it's even more so with kickboxing because you're throwing kicks and engaging even more muscle groups," explains CAC boxing instructor Tony Healy. "In my Boxing Challenge class we incorporate boxing, simple knee strikes and sometimes basic kicks. In this class we actually hit and kick pads--unlike cardio boxing/kickboxing classes where you're shadow boxing/kicking."
Cardio kickboxing classes are also very popular at health clubs, but are as Healy mentions different from your traditional boxing/kickboxing classes. If you are looking for more of a cardio calorie burn, cardio kickboxing classes go through similar basic moves that you would find in kickboxing, but without the impact of actually hitting anything. This makes it a lower impact workout, but often with more continuous movement to keep your heart rate up. A great example of a cardio kickboxing class would be Turbo Kick®.
When it comes to different types of classes, kickboxing is where you may find more variety of approaches. "Boxing is pretty universal style-wise. Kickboxing has various styles, including American (the kind most people envision when they think of kickboxing), Muy Thai (also includes clinches, elbows, knees and kicks to the leg) and even French, known as 'Savate'", says Healy.
That said, if you are new to the workout as a whole, CAC Boxing Instructor Frank Rodriguez suggest saving kickboxing for later. "It's good to start with boxing classes and get a feel for the punching and holding the mitts. Then move onto kickboxing when you are ready."
How hard of a workout is it?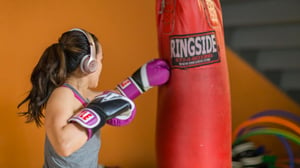 Like most workouts, with boxing or kickboxing classes you get out of it what you put into it. That said, both workouts are extremely versatile and challenging, and can be a great addition to anyone's normal workout routine.
"If you follow the combinations as they're shown you'll get a serious workout but you can always modify or dial it down to match your current fitness level or if you have an injury," says Healy. "It's like studio cycle in that respect, in that you can try and match the instructor step-for-step or simply ease off a bit so you're not struggling, which is never a desired result."
These classes provide cardiovascular training as well as strength building. "Boxing will help with your hand eye coordination, cardio endurance, confidence, weight loss, and development of upper body strength," explains Rodriguez. "In class we jump rope, do different forms of cardio for warm up, running drills, body weight exercises. Everyone is at their own pace, you just have to be comfortable punching and kicking."
Besides the physical benefits of the class, boxing and kickboxing classes offer mental benefits as well. "It's also a therapeutic way of relieving stress--by hitting things--for a lot of people," offers Healy, "which isn't something you get in other classes."
What to expect from your first class...
"A challenging workout," says Rodriguez. "You will need to get comfortable with a partner as well as hitting mitts while punching. We will test your cardio, endurance and shoulder strength."
"But all you need to bring is a good attitude, energy and laughter. CAC provides the rest."
First timers should not be intimidated or wary of jumping right in, according to Healy. "I think the #1 hesitation people have [starting class] is they're afraid if they're new, everybody else is experienced and they'll stick out like a sore thumb. But unlike most group exercise classes where everybody's facing the mirror and can see each other, in this class after the warm-up you're paired with a partner the rest of the time and you're working with each other. The only one paying attention to you is the instructor. It's all levels and ages, so you don't have to worry about being scrutinized or "graded"--zero pressure. Expect to work muscle groups you've probably never worked before."
"Just bring water," says Healy. "We supply the wraps, gloves, mitts and music."
Ready to jump into your first boxing or kickboxing class? Check out the schedule at Chicago Athletic Clubs to pick your class and start putting some punch into your workout!