Let's face it: not everyone loves running, but a lot of people wish they did. They see the folks that truly love running every day and think: What is their secret? Well, no secret, just good old-fashioned determination, plus a few tips and tricks that can keep you on the right path. Chicago Athletic Clubs group fitness instructor and marathon veteran Julie Speck has taken a poll and compiled a list of some of her favorite tips and ideas that may help you learn to love running yourself!
How to learn to love running:
Get addicted! Not to running, but to Netflix. I became obsessed with Orange is the New Black but only allowed myself to watch it while jogging on the treadmill. House of Cards is next on my list. If I want to watch more, I have to run more.
Listen to a book or podcast. Reading used to be a part of my bedtime routine. I completely stopped reading books after having kids. Now I download books and off I go. Suspenseful books tend to make me run faster!
Find your "me" time. I was really feeling sorry for myself and starting the day with a run is the best way for me to clear my head. I get the day organized in my head before anyone else is even out of bed. Running boosts confidence and self-esteem. Get a sense of empowerment and feel happier.
Find your "we" time. My best friend and I both work and have kids. We didn't have time or energy for girl's nights out anymore. Now we run every single morning at 5am because there is almost nothing that gets in the way at 5am. Running, gossiping and talking through our challenges make our runs fly by. It is like daily therapy!
Put your run on your to-do list. Even if you run a mile, you are running.
Call yourself a runner. A runner is someone who runs. It is not defined by distance or speed. If you run, you are a runner. So run, be a runner and be proud of it.
Don't be hard on yourself! Be proud of each step, block or mile. No matter what, you are doing more than most people.
Run someplace you can't drive. I just discovered the seawall at Montrose Beach. Over 20 years in Chicago and I had no idea how pretty it is there.
If you need to walk, walk. If you see a beautiful sunrise, take a picture. Don't become obsessed with the run. Look around. Enjoy the colors, sounds and smells.
Running is good for your body, mind, and spirit. It is the most natural anti-depressant you can take! Run and be happy!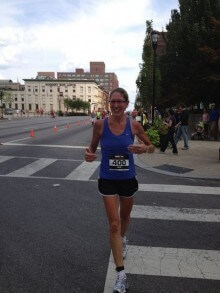 Julie Speck is a group fitness instructor at Chicago Athletic Clubs as well as an avid runner and athlete! Come check out one of her spin classes for some butt-kicking fun!