The practice of Pilates has had a rise in attention over the past couple of decades. Nary a gym-goer or studio buff can browse a list of available classes without finding a Pilates mat class on the roster. Similarly, dedicated Pilates studios have become more common, offering the fitness fan an opportunity to experience the low-impact but highly specialized workouts on Pilates-specific equipment with bold names like "the Cadillac" or "the Reformer". But with all the growing awareness, what do we really know about Pilates, and what does the future hold for this training in Chicago? The answer to this last question is being answered in full force by the new Pilates Education programming being offered by Studio 1002 Pilates of Chicago Athletic Clubs.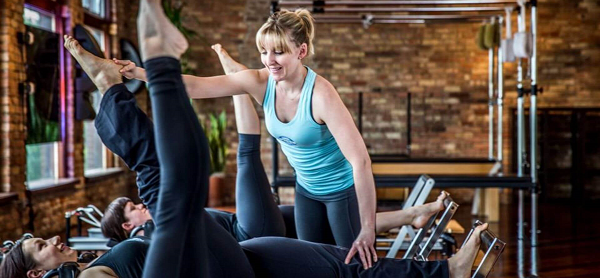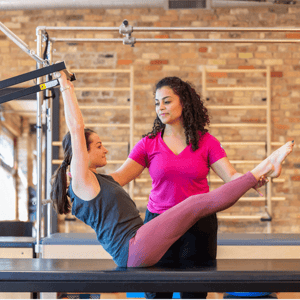 As a quick recap for those who may not know, Pilates is a movement-based practice named after Joseph Pilates, the German fitness specialist who devised the system in the 1960's. Webster's Dictionary defines it as: "an exercise regimen that is typically performed on a floor mat or with the use of specialized apparatus and aims to improve flexibility and stability by strengthening the muscles and especially the torso-stabilizing muscles of the abdomen and lower back." Originally designed for dancers and rehabilitation, this mind/body practice hit the mainstream as the general public became aware of the mental and physical benefits of this low-impact but effective workout for total body toning and strengthening. The equipment, or 'apparatus' as it was originally called by Pilates, has always been a key part of the training, however modification of the movements to be done without the large apparatus on a floor mat with just a few smaller pieces of equipment has made Pilates mat classes a staple in most gyms and physical fitness centers.
Pilates, however, does not exist in a bubble, as Studio 1002 director Megan Dillow explains. The movements and methods used in Pilates training are about heightening body awareness and efficiency of movement, ideas applicable across all kinds of practices from physical therapy to personal training to dance to just plain everyday people who want to improve their overall physicality. The universality of its application is why Dillow is passionate about providing premiere education opportunities for future practitioners and movement specialists.
"Since opening Studio 1002 and Studio EAC with Chicago Athletic Clubs, I have always wanted to offer a certification program," says Dillow. "A studio that hosts education pulls in the best instructors, because the instructors that are most passionate gravitate toward studios that offer education." Finding the right program, however, was a challenge. This year the dream finally came together as Studio 1002 has become the exclusive host site in Chicago for Polestar Pilates and movement professionals.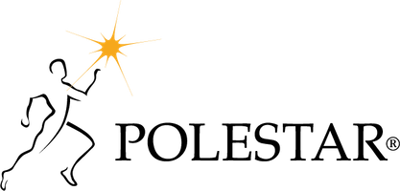 Polestar Pilates Education was formed in 1992 by Brent Anderson, PhD, who came from a background of physical therapy. It has since become the international authority in Pilates education, and offers continuing education for Pilates and movement professionals to grow and develop long and fulfilling careers. Studio 1002 will be the only place in Chicago that this programming will be offered, and for Dillow that is a dream come true. As she explains, Anderson has taught such a wide array of different instructors or students making a career change that his program is the most comprehensive available. "He speaks to everyone the same way, not dumbed down. It's an incredible program." A program, however, not for the casually curious. This training takes place over 6 months, one weekend a month, and is the main step in the journey towards getting a Pilates certification. While previous experience is not technically required, the program is geared towards those who are very familiar with the practice and/or interested in making a career change. It is a big financial and time commitment, so applicants should come prepared with enough time and resources to make the most of the program. "This is qualified as the highest level of training for Pilates," says Dillow. "The amount of work that is required of the instructors going through it is so intense, that you have to be passionate about Pilates and making it a larger part of your life or career."
A key component of this programming success is Polestar, Oov, and Runity Educator Kate Strozak, NCPT, LMT. Strozak has been practicing Pilates since she was 14, and has been involved in movement education programming in the Chicagoland area for over 6 years. Originally from Cleveland, Strozak moved to Chicago and managed the Pilates department at a hospital in Barrington offering classes to patients and community. When she was having difficulty finding qualified instructors, she began hosting movement education based in Pilates to train new instructors. She found Polestar training to be most evidence based of all the programs.
"It is a labor of love more than anything, a passion for training instructors and fostering a community," says Strozak. She met Dillow through one of her trainees who had originally come from Studio 1002. Strozak was so impressed with the trainee's level of skill that she reached out to Dillow personally to thank her. The respect was mutual as was the passion for creating a comprehensive education program for movement professionals in Chicago, and earlier this year Strozak came on board and started officially working with Dillow on the programming. They are gearing up to start their next training in January.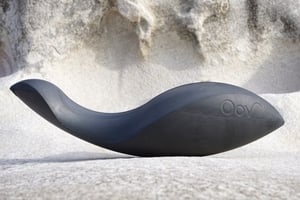 This programming is not limited to the Polestar certification, however. Both Strozak and Dillow are adamant about expanding education opportunities for professionals. This fall, they will also offer workshops with Oov, a newer piece of movement equipment from Australia that focuses on 'activating the user's core stabilizing muscles while also gently extending the spine to stimulate healthy intervertebral disc lubrication,' helping users to achieve a 'neutral spine'. The device itself is also an effective tool to help improve movement efficiency and the parasympathetic system of the body. According to Strozak, "It takes the best of neuroscience research, fascial and exercise research to create an extremely effective system to optimize movement patterns." This makes the Oov an excellent movement training tool for a wide range of professionals: massage therapists use it during body work, personal trainers use it for sports performance work, and physical therapists can use it to help treat patients with chronic pain. Strozak will be teaching the Level 1 course, but the creators of the Oov will be at Studio 1002 later this fall to launch their combined level 2/3 training for the very first time in Chicago. It will be a summit that will draw movement professionals from all over the world.
For those who aren't ready to take the leap into professional Pilates certification, keep your eyes open for upcoming Runity workshops. Runity is a program devoted to improving running as a fundamental movement skill, founded by the senior educator of Polestar in Spain. Coming from a similar holistic body approach, these workshops are available to anyone looking to improve their running, with an option for advanced training to become a Runity coach. Anyone can enjoy these courses, CAC Members and trainers and benefit.
All this is, of course, only the beginning. As awareness and interest in Pilates continues to explode across the globe, Studio 1002 and the Pilates Studios of Chicago Athletic Clubs are perfectly poised to be at the forefront of cutting-edge training for Pilates and movement professionals. So stay tuned for more to come!