There are few better ways to beat the sweltering summer heat than taking a nice dip! But knowing how to swim is essential, which makes swimming lessons a must. Safety first!

It's also good to know what to bring to your adult swim lessons (or your kids' swim lessons), so we've compiled this go-to list that covers all the essential items to get the most out of your experience! Let's dive in, pun intended.
Swimsuit
Firstly, you must take a moment to ensure you have the proper swimming attire. You'll want to bring a swimsuit! It's more than just about comfort—though, swimsuits are often the most comfortable way to swim. Regular clothing can leave behind material that can get into the pool filter and cause unnecessary wear and tear. What's more, pool water can be harsh on our favorite clothes. That's why it's vital to wear swimwear in the water.
Swim Caps
Swim caps are another piece of swim apparel that can be extremely helpful in the pool. There are a few reasons for this. Most importantly, swim caps protect our hair. Excessive sun and chlorine can cause hair damage over time.
Secondly, swim caps are useful for keeping our hair at bay while splashing around. It can be a big enough challenge to see while swimming without stray strands of hair sticking to our faces and obscuring our vision.
Finally, swim caps can protect the pool, keeping loose hair from getting pulled into the filter system and causing undue wear and tear.
Goggles
Goggles are another critical accessory to bring along when spending time underwater. Goggles are more than just a way to let us see underwater; pool water can quickly become highly irritating if it gets in our eyes, so goggles afford us protection from tired, itchy, irritated eyes as well!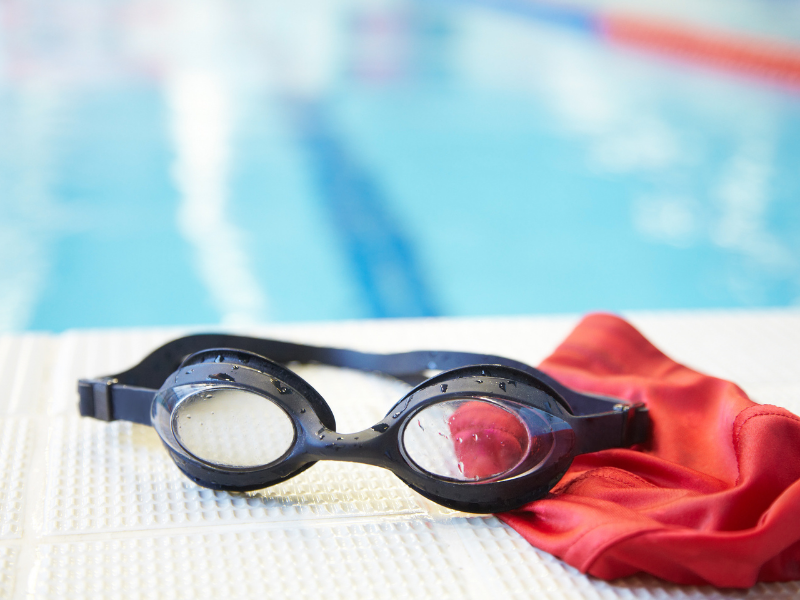 Towels and Shower Supplies
After a swim lesson, an intense aquatic workout, or a relaxing dip, you often head to the lockers to dry off and warm up. That's why bringing towels and shower supplies can be so important.
If you are taking swim classes at a local gym, they may have a towel service for you to take advantage of, but they may not. It's always a good idea to bring your own unless you know with certainty the facility has towels for you to use.
Additionally, shower supplies are necessary because those items will not be provided. Even if they were, it might not be the brand of shampoo you prefer, so it's best to bring your own.
Water
It's easy to overlook the importance of drinking water when swimming. After all...you are in the water. When it's hot and dry, it's easy to remember to replenish your water levels, but when splashing around during your swim lesson, you can falsely perceive that you aren't drying out.
Swimming is hard work, and we can run through a lot of water doing it! Hydrating yourself to stay healthy and avoid dehydration is crucial, so bring a water bottle with you.
Lock
Not all gyms and rec centers have lockers, but many do. If there are lockers at your swim center, you should bring a lock with you. Nothing is worse than returning from a swim lesson - or any workout - and finding that someone has taken your belongings! Lock them up and enjoy your class.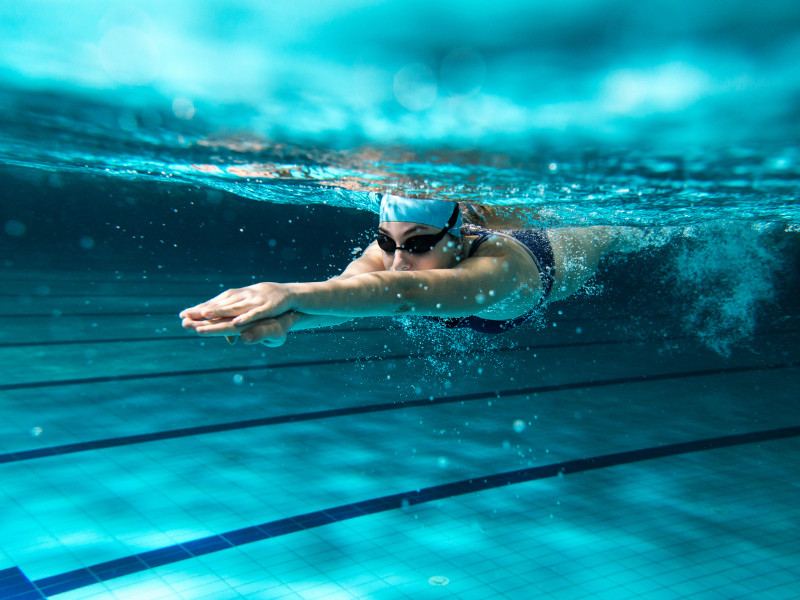 Flip Flops or Water Shoes
Another vital piece of attire to bring along is footwear that doesn't mind getting wet. Flipflops and water shoes are excellent options. Some kids' lessons may require some footwear depending on the child's age, as water shoes offer your feet more protection.
Gym Bag
These days, the cloud of accessories that orbits us is thicker than ever. We often carry around expensive smartphones, high-tech RFID wallets, advanced keyfobs for our cars, wireless headphones—you get the picture.
There are a lot of things that we'd prefer to keep out of the water and tucked away safely. It would help if you had a gym bag to carry everything we've mentioned, like towels, goggles, locks, etc. A gym bag is a beneficial accessory that you can use to keep your belongings organized.
Additionally, some gym bags are designed to dry out quickly, making them ideal candidates for your or your kids' swimming lessons.
Snacks For Your Kids
Any parent knows that kids get hungry every five seconds. Swimming is no exception! Swimming is a fantastic exercise because it is so much work and can work your entire body. That also means it can burn a ton of calories! Having a snack for your kiddo (or yourself) after the swim lesson is not a must, but it's a good idea,
Swim Diaper
Another vital item to bring to your kids' swim lessons is swim diapers! It goes without saying that we all want to keep the pool clean for everyone, so putting on a swim diaper for the little ones is a must.
Flotation Devices
Whether you're just starting your swimming journey or want that additional layer of security, having a flotation device is a great way to enjoy the water. Once again, your child's lessons may ask you to bring a flotation device so they can practice their kicks and strokes without worrying about sinking.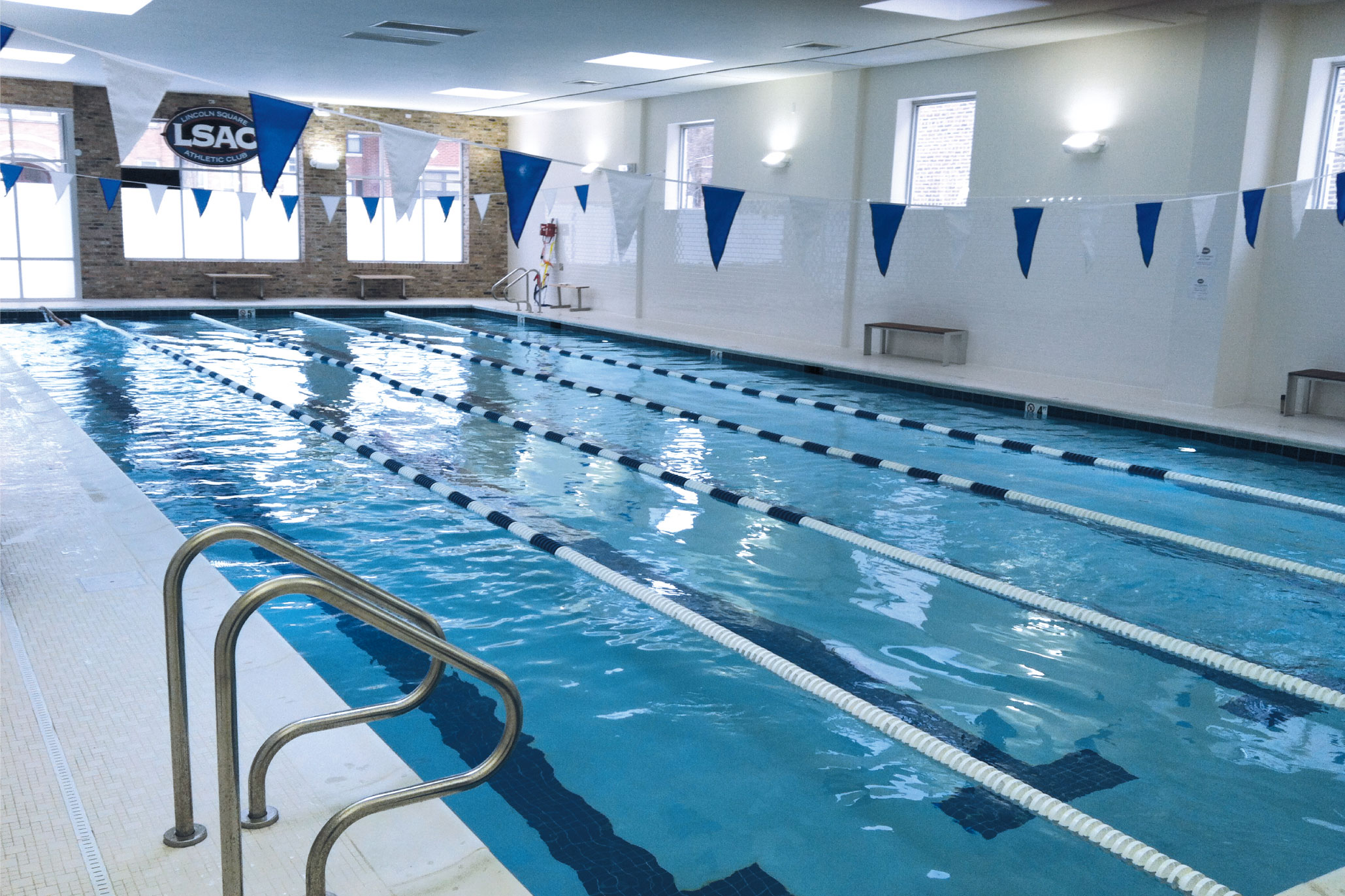 The Importance of Swim Lessons
Swimming lessons are about more than just improving our stroke—though they're great for that too! They also offer structured time for us to enjoy cooling off in the water, the enriching experience of learning something new, and getting in some vital cardiovascular exercise.
Swim lessons aren't age-exclusive and can be enjoyed by young and old alike. Whether you're just learning how to swim for the first time or re-learning techniques that allow you to get more out of your swim, swim lessons are a fulfilling experience that can enhance your time in the water.
Why Swimming is Amazing
When it comes to the benefits of swimming, let's start with the chief benefit—it's really fun! Swimming manages to delight people of all ages, and it's a wonderful way to cool down and get the heart rate up at the same time. But, the benefits of swimming extend far beyond that of just how fun it is. In fact, there are some incredible tangible health benefits associated with swimming:

It's a fantastic exercise. Swimming is a great exercise that helps us work out many muscles! It's also easy on the joints, and the

CDC points out

that it's an excellent exercise for those with arthritis.

It's good for our mental health! It isn't just fun; it's a genuinely enriching exercise and has been

shown to improve mood!

It's excellent as a non-weight-bearing exercise. Swimming may be a great exercise for those with bone density considerations issues. In fact, scientists are interested in the possibility that swimming could even

potentially treat osteoporosis

.
The Bottom line
Swim lessons are an amazing way to exercise, enjoy yourself, spend time with loved ones, and learn better techniques. Before you head to the pool, though, it's important to remember to bring along a few things! Remember to stay hydrated, and bring essentials such as swim apparel, towels, gym bags, locks, snacks, and water-resistant footwear. With that in mind, it's time to enjoy the water!
If you're looking for a great spot to cool off this summer, don't hesitate to give us a visit at Chicago Athletic Club and check out some of our amazing pools. With lessons available for kids and adults, there's something for everyone!