From its vibrant culture to its world-class museums and stunning lakefront, Chicago is undoubtedly an excellent place to live and visit. Though the Windy City is home to many things, it's also an underrated destination for those looking to find the best running trails in the States.
Whether you're a seasoned runner or starting your fitness journey, Chicago offers plenty of scenic running trails to get your blood pumping. Many people are unsure where to begin their new adventure or which path suits them. To make your decision easier, we've compiled a list of the best 18 (and a half) paths and running trails in Chicago based on our own experience running through this city.
No matter what you're looking for, you can discover a path that suits your desires and exercise goals. Find the best trails and grab your running shoes before diving in to explore the top running trails in this mesmerizing city.
1. The Chicago Lakefront Path
First up on our list of the top running trails in Chicago is the breathtaking Chicago Lakefront Path. Spanning nearly 19 miles and crossing through the lively neighborhoods of Lincoln Park, Grant Park, Burnham Park, and Jackson Park, the Lakefront Trail rightfully holds the title of Chicago's first official running path.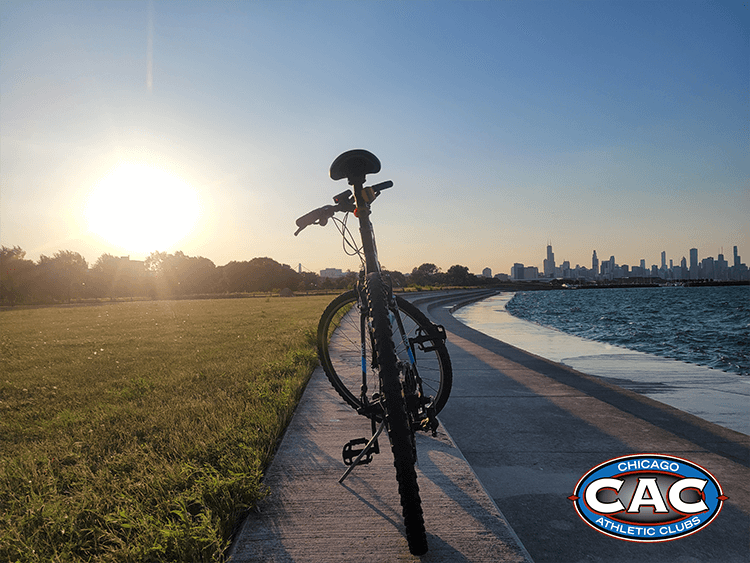 The gorgeous Lakefront Trail is a paved path alongside the Lake Michigan shoreline, extending from Ardmore Avenue on the north to 71st Street on the south. Runners can expect to see a variety of residents going about their day on this trail, from people biking to work to families taking a calming walk and athletes training for the next big marathon.
When you choose the Lakefront Trail for your next run, expect to pass by iconic sights, including Chicago's Shedd Aquarium, gorgeous water fountains, and the iconic Navy Pier. The trail offers plenty of amenities to ensure your workout is as comfortable as possible. If you're looking for a running trail to see the gorgeous cityscape and find some of the best landmarks Chicago offers, you can't go wrong with the Lakefront Path.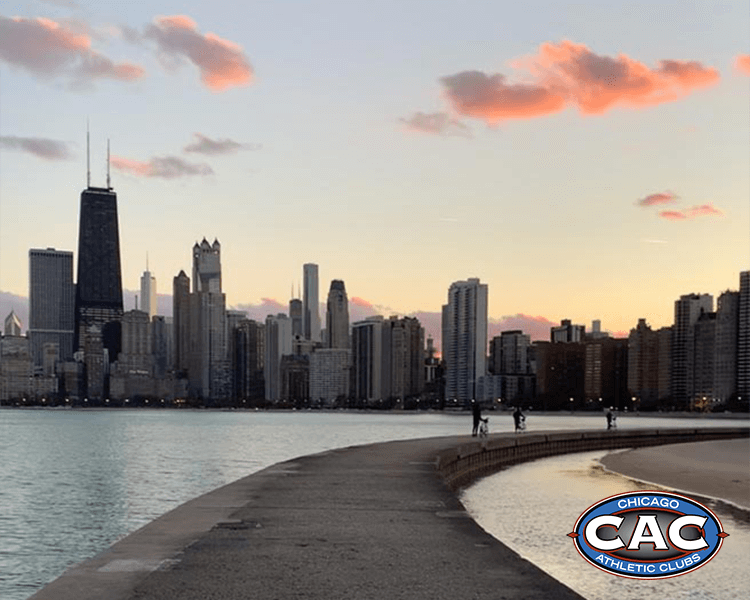 2. Millennium Park and Grant Park Loop
Let's face it: not everyone looks for a super long running trail when they go out for their morning jog. If this is the case for you, consider another excellent option on our list of the top running trails Chicago residents can turn to. The Millennium Park and Grant Park Loop paved trail extends about 3.5 miles, perfect for a shorter run or a leisurely stroll.
While it's shorter than the Lakefront Trail, there are still plenty of beautiful sights to behold on this running path. Grant Park, home to stunning architecture backdropped by the city's skyscrapers, goes through about three miles of stunning paths between Michigan Avenue and Chicago's Museum Campus.
When you reach the northwest corner of Grant Park, you'll find a quaint loop–about one mile long–surrounding Millennium Park and the world-renowned Art Institute of Chicago.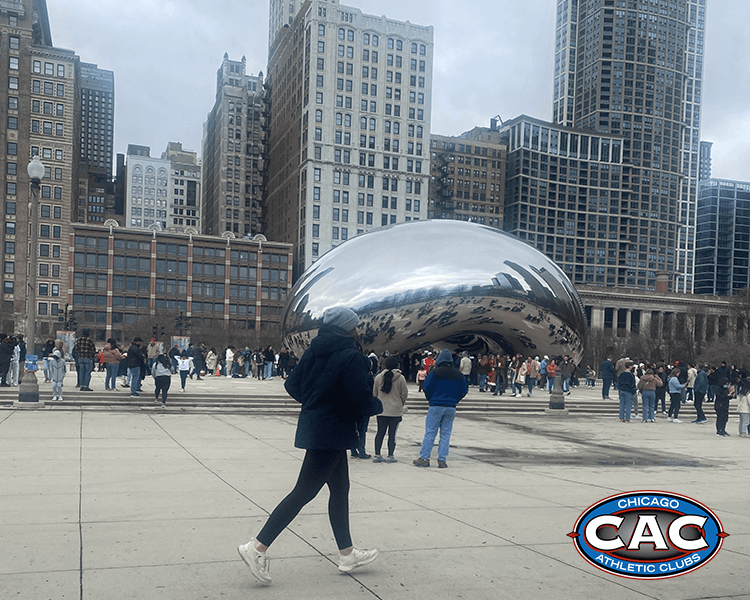 3. Lincoln Park
The gorgeous neighborhood of Lincoln Park not only has a rich history but an excellent running trail to match. Spanning 5 miles, this paved loop trail is one of Chicago's best and most accessible. The Lincoln Park Trail is full of gorgeous sights and some of Chicago's most iconic spots, including the Lincoln Park Zoo, the Lincoln Park Conservatory, and the Chicago History Museum.
Lincoln Park is also home to Chicago's annual Run for the Zoo, a 5K or 10k run for all Chicago residents to earn money and support the beloved Zoo. Open year-round, you'll love the backdrop of Lincoln Park's Victorian-inspired architecture and the camaraderie between other Chicagoans out for a stroll.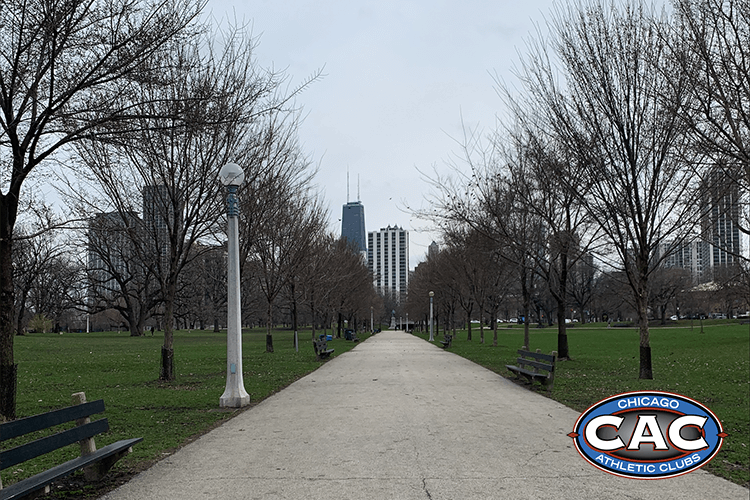 4. Downtown Chicago: "The Loop"
Downtown Chicago, or "The Loop," is home to plenty of exciting places to visit and adventures to experience. Aside from its gorgeous architecture and the invigorating hustle and bustle of downtown, The Loop is the perfect spot for a quick jog to take in everything Chicago offers.
While The Loop doesn't have a designated running path, many people like to take advantage of early morning jogs. The route is paved, with the top running spots stretching about 2 miles. If you're not interested in the early morning or evening runs, consider taking a pleasant stroll during the daytime to put yourself in the heart of Chicago's architectural beauty and history.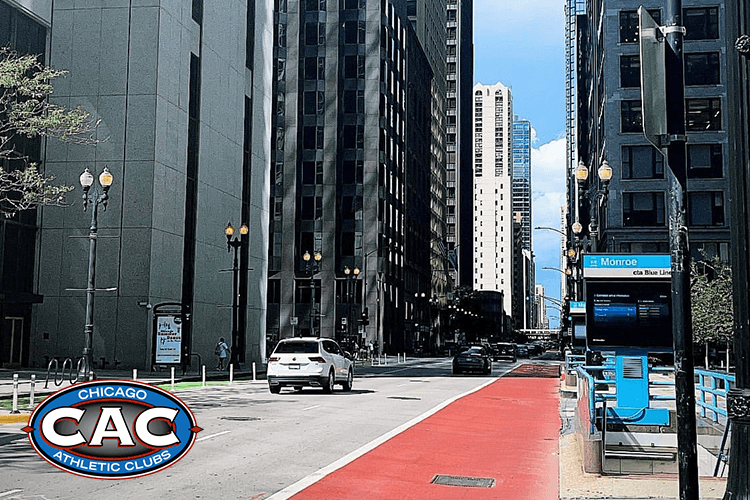 5. Chicago Riverwalk
Next on our list is the iconic Chicago Riverwalk in Downtown Chicago. Despite the rapid pace of the city, the Chicago Riverwalk is an excellent place to run at any time of day. This paved route spans an estimated 4 miles, where you'll pass endless sights and discover everything Chicago offers.
Whether looking for a running path with a view of the city's gorgeous skyscrapers or a place to jog alongside the river to see people kayaking and enjoying a calming boat tour, you'll see it on the Chicago Riverwalk. The trail's easternmost end begins at North Lakeshore Drive and East Lower Wacker Drive, then follows the south side of Chicago's River.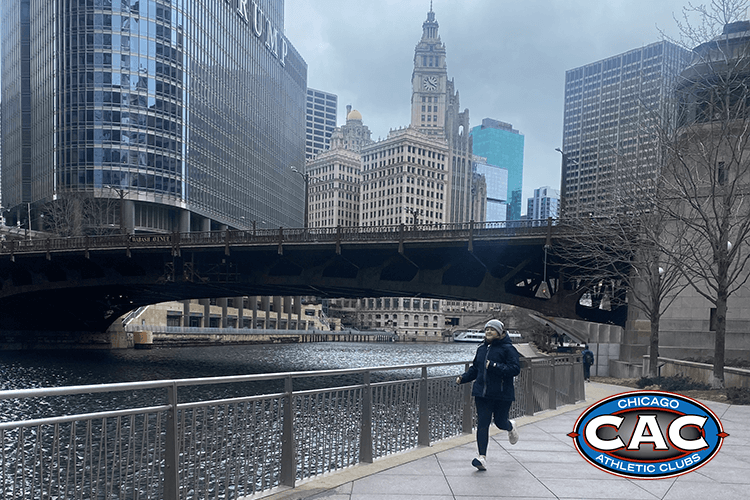 When traversing the Chicago Riverwalk, you'll run across numerous landmarks, from NBC Tower to the Wrigley Building and the unmistakable DuSable Bridge. No matter what your running preferences are, there's something for everyone to enjoy on this trail.
6. Oz Park
Sometimes, all you want from a run is a quick, easy path to start or end the day. If you're looking for a shorter route, consider Oz Park, an easy-to-run, 0.6-mile loop trail that only takes about ten minutes to complete.
Oz Park is perfect for those seeking a quiet and quaint spot away from the chaos of downtown but still immersed in Chicago's rich culture. Considered one of the more laid-back running spots in Chicago, virtually anyone can enjoy this route, no matter your experience level.
This paved route has an estimated 0 feet elevation gain, making it ideal if you want an exercise that isn't too strenuous. It's inspired by the Wizard of Oz, so you'll pass statues of your favorite characters during your run.
7. Jackson Park
This gorgeous route spans 4.2 miles–about 9,500 steps–traversing through the gorgeous neighborhood of Jackson Park in Chicago. The trail is relatively easy and perfect for individuals looking for a relaxed jog filled with beautiful scenery and stunning nature. Most notable for its quiet, quaint, dirt-path route referred to as the Bobolink Meadow, the Jackson Park trail is perfect for people looking to escape the city and connect with nature.
Named after the Bobolink, a native bird to Illinois, Jackson Park and its breathtaking Bobolink Meadow is a hidden gem among Chicago runners. Enjoy a mulch trail maintained by a dedicated community that keeps the space clean, healthy, and accessible for runners of all experience levels. Considered one of Chicago's best-kept secrets, this trail is sure to wow you.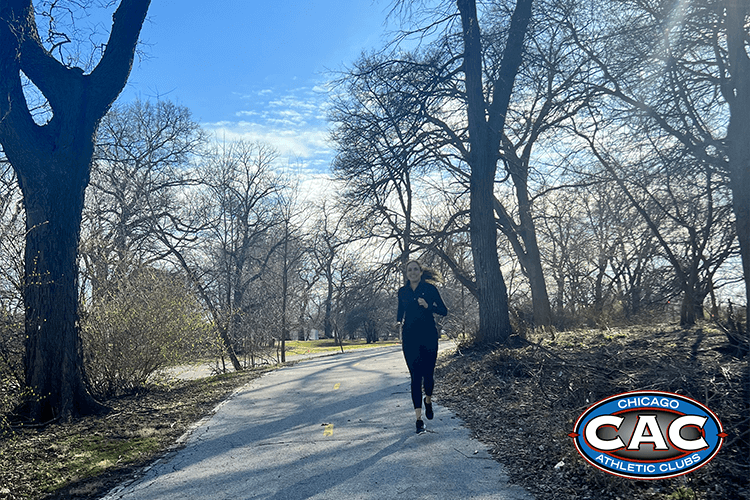 Surrounded by the popular Hyde Park, Jackson Park is also near the noteworthy University of Chicago and the stunning Washington Park, and contains the Museum of Science and Industry, making it a perfect spot to connect you with the rest of the city.
8. The 606 "Bloomingdale" Trail
One of Chicago's most historic running trails is the 606 Trail, also known as the Bloomingdale Trail. This 2.7-mile elevated rail line trail is located on the northwest side of Chicago, traversing the trendy neighborhoods of Logan Square, Humboldt Park, and West Town.
Surrounded by the popular neighborhoods of Wicker Park and Bucktown – well-known among Chicago natives – is a paved trail developed to encourage more green space in Chicago's concrete jungle.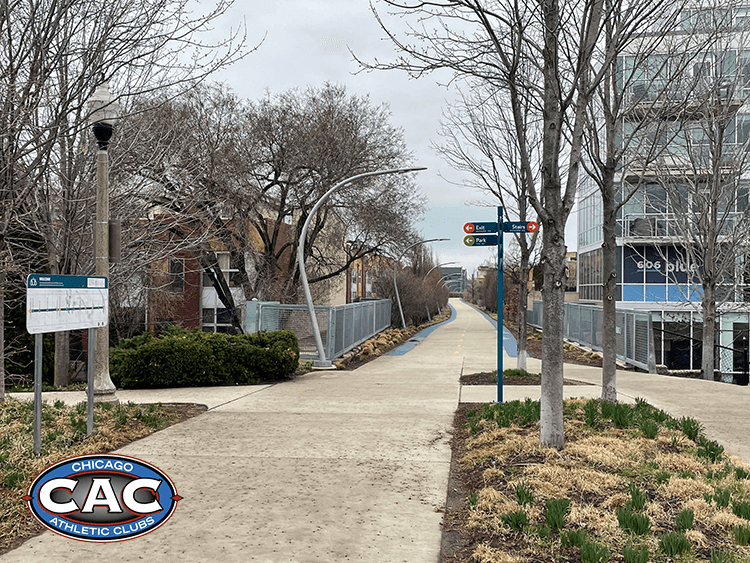 Logan Square was chosen as the destination for the 606 Trail to meet Chicago's minimum open space standards. At the time of the trail's development, the neighborhood had the least green space available in all of Chicago.
Logan Square has been completely transformed thanks to teamwork between the city and Friends of the Bloomingdale Trail, a group of people integral to the 606's development.
A relatively new track – unveiled in 2013 – the 606 Bloomingdale Trail combines a vibrant art culture where runners, walkers, and bikers come together to enjoy a more natural side of Chicago. Its unique history alone is enough to make the 606 Trail one of the most iconic in the city.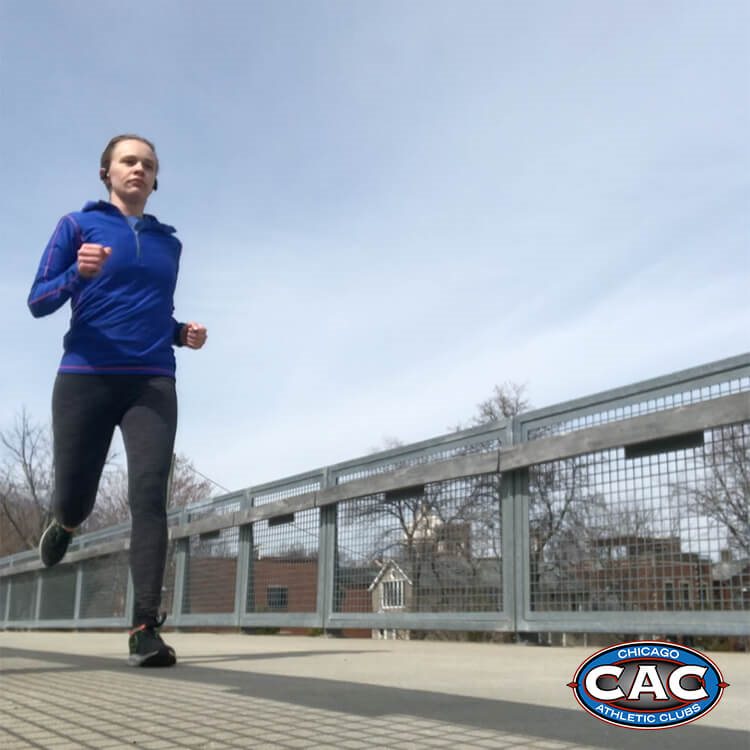 9. Humboldt Park
An excellent add-on trail for running along the 606 Trail, Humboldt Park's trail runs for about 0.6 miles in the neighborhood of the same name. Running along the path of North Humboldt Boulevard, this trail is relatively easy to traverse but has a few inclines for those that want a little extra from their exercise.
Enjoy the stunning sights of Humboldt Park as you run through this neighborhood, from beautiful greenery to appealing ponds and a stunning conservatory. This paved path is perfect for runners, walkers, and bikers alike looking to enjoy the fresh air outside of Downtown Chicago.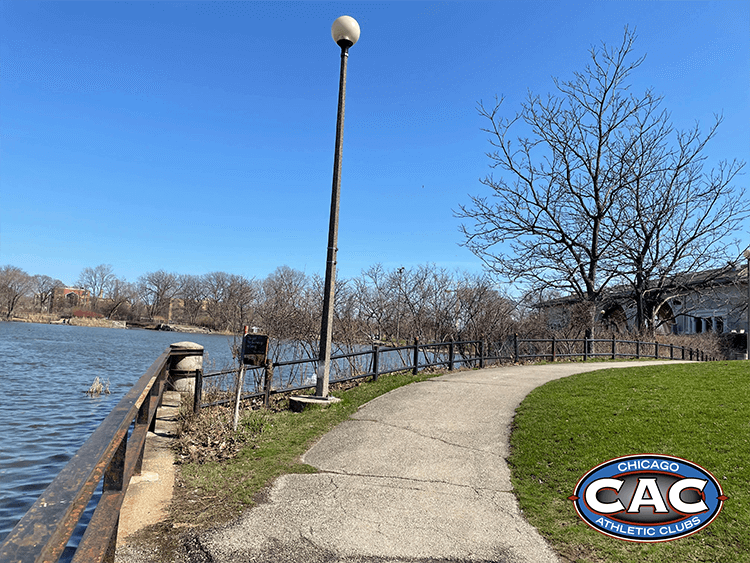 10. Garfield Park
Once you've made your way through the Humboldt Park Trail, jog through Garfield Park, which the former will lead you to–or start in Garfield Park for an equally enjoyable experience! The Garfield Park Trail stretches for 2.4 miles and lasts about 41 minutes until completion, making it an ideal middle-ground for people that want to push themselves without going beyond their limits.
Garfield Park is the perfect spot for fall and spring running, biking, or simply strolling alongside Chicago natives while maintaining a tranquil, pleasant experience. This paved path is lovely on its own or combined with a jog through the 606 Trail and Humboldt Park to extend your run.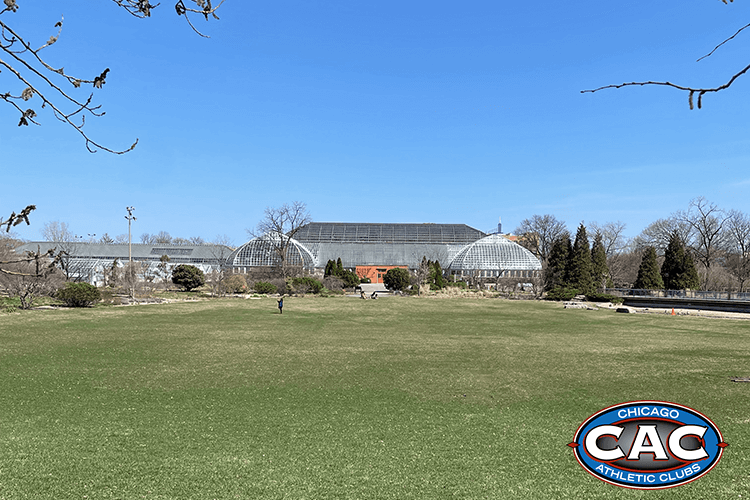 11. Ravenswood - Malt Row Area
If you're looking for a running path with plenty of places to drop in when you need a break, then the Malt Row Area in Chicago's Ravenswood neighborhood is undoubtedly one of your best choices. Home to nine unique craft breweries, a winery, and a distillery, Malt Row is the perfect spot to explore a charming neighborhood, exercise, and end your day with a refreshing drink.
Traverse along a paved pathway while checking out some of Chicago's most notable small businesses and historical breweries. There's something for everyone to enjoy when jogging or taking a stroll through Malt Row.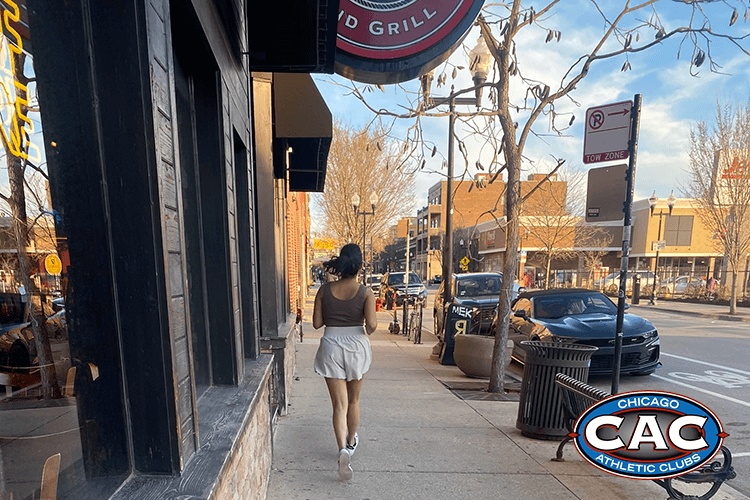 12. Busse Woods
Another one of Chicago's best-kept secrets for runners is the Busse Woods Trail, located in the tranquil Ned Brown Forest Preserve in Chicago's northwestern suburbs. This paved trail covers 11.2 miles of land near the prevalent Woodfield Mall, with the trail's main loop stretching nearly 8 miles long.
The route is adored by runners, cyclists, or casual pedestrians looking for a stroll through nature. Enjoy the gorgeous meadows, lakes, and sights of nature as you go through this forest preserve. Busse Woods is perfect for people motivated by lively greenery and fresh air, allowing you to become one with your surroundings.
On the west, Busse Woods Trail connects with the fantastic Schaumburg Bikeway, while on the north, the path connects to the Rolling Meadows Bikeway.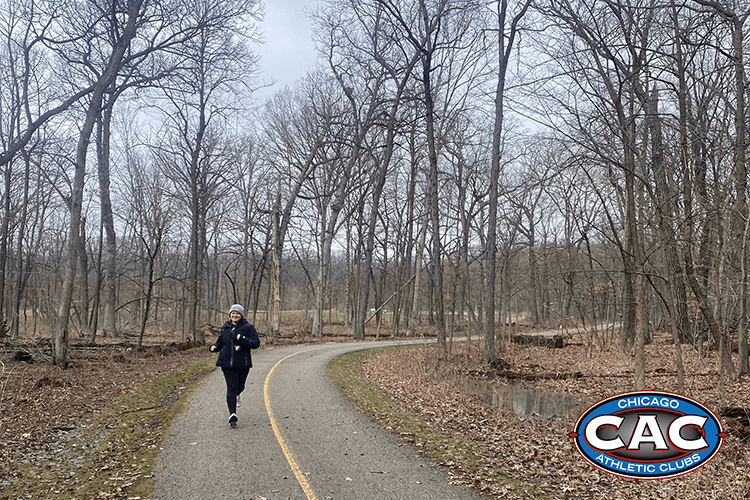 Running is far from the only activity you can take part in on this breathtaking trail. Consider other fun activities the Ned Brown Forest Preserve offers, including boat rentals and fishing with the family. No matter what you're hoping to find, you can't go wrong with Busse Woods.
13. Waterfall Glen
One of the most scenic running trails just outside Chicago is the breathtaking Waterfall Glen Trail, stretching for nearly 10 miles through the gorgeous preserve land surrounding the Argonne National Laboratory. This charming limestone trail is perfect for a long jog or a daytime stroll.
The trail system for the Waterfall Glen Path features seemingly endless natural sights, from the iconic waterfall itself to a gorgeous overview of the Des Plaines River. You'll also find fascinating geological formations on this trail, including ravines, wetland potholes, and glacier-carved rock ridges that will assuredly leave you awe-struck.
The stunning woodlands surrounding the trail are the cherry on top of this gem. Waterfall Glen might be your best bet if you want to feel truly in sync with nature on your run.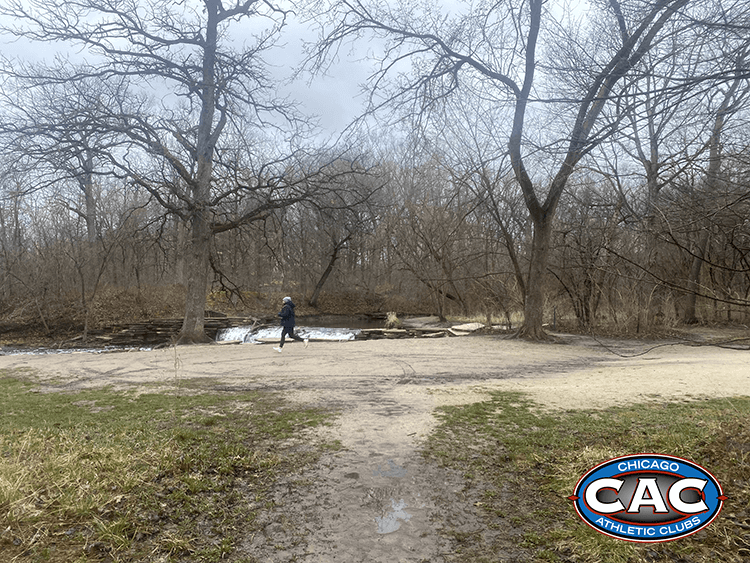 14. The Riverwalk North End
Known as the North Branch Riverwalk trail, this 0.6-mile path is alongside the Chicago River, traversing between Gordon Tech and Lane Tech High School. While it might be a smaller trail, the North Branch trail is perfect for people who want to run surrounded by the tranquility that only nature can offer.
Regarding the best running trails Chicago offers, the Riverwalk North End is certainly not as well-known but is undoubtedly a favorite spot for people familiar with the area. Nearby, you'll find boat rentals and a dirt bike path. There are potential plans to expand the North Branch Riverwalk in the future, making it a perfect place for those just starting that want to grow their running journey alongside a flourishing path.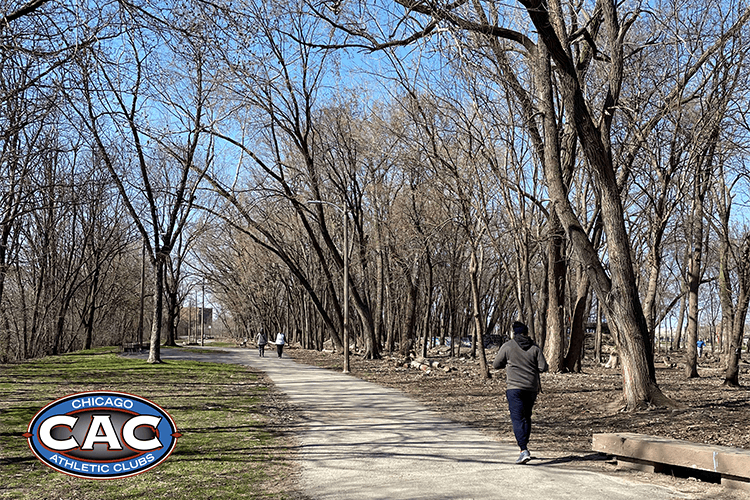 15. Milwaukee Avenue
Stretching across numerous neighborhoods for about 11 miles, Milwaukee Avenue is a popular spot for runners and bicyclists, especially in areas that run through modern Wicker Park.
Stretching from the quieter northwestern edge of Chicago and making its way through Wicker Park and the Loop, Milwaukee Avenue is a trendy spot for fitness enthusiasts to exercise while surrounded by the vibrant, youthful neighborhoods and gorgeous homes the path traverses through.
Take a nice run before hitting popular nightlife spots in Wicker Park, from bars and restaurants to unique and off-the-wall shopping. When you take this route for your next run, you're sure to find something fun to do afterward.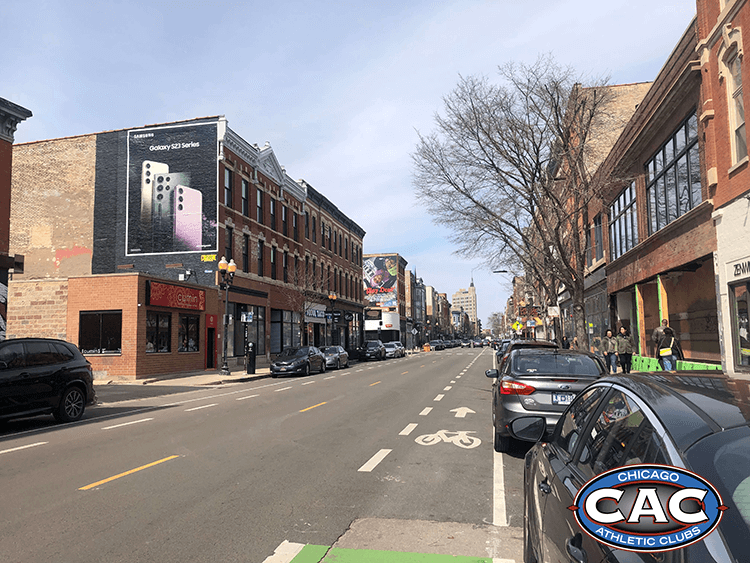 16. Schiller Woods
Situated alongside the Des Plaines River Trail, the peaceful Schiller Woods is home to some of the best trails in Cook County. Visitors come to Schiller Woods for various activities, from fishing in nearby ponds to enjoying a summertime picnic with the family.
The Des Plaines Trail combines over 50 miles of paths, where you'll find gorgeous forest preserves, breathtaking natural habitats, and the local wildlife. The dirt path at Schiller Woods covers a 2-3 mile section of this trail, making it perfect for a quick run or if you're considering extending your run.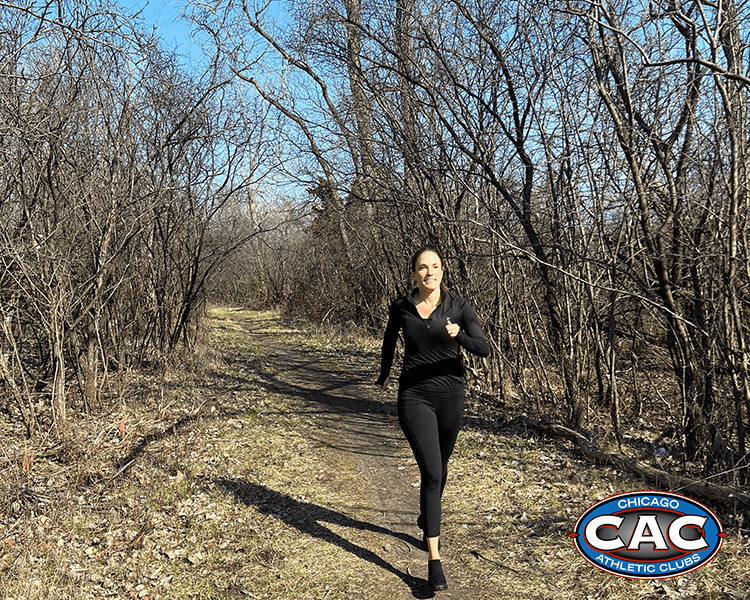 Nature lovers looking for an excellent running spot can't go wrong with Schiller Woods. You'll find plenty of areas to relax and enjoy the scenery when you need a break from your run.
17. Montrose Point Bird Sanctuary
One of the best parts about going for a run is removing yourself from your hectic daily life and taking time to reconnect with your surroundings and be at peace. If you're looking for a gorgeous trail where you're unlikely to run into large groups of people, the Montrose Point Bird Sanctuary is perfect.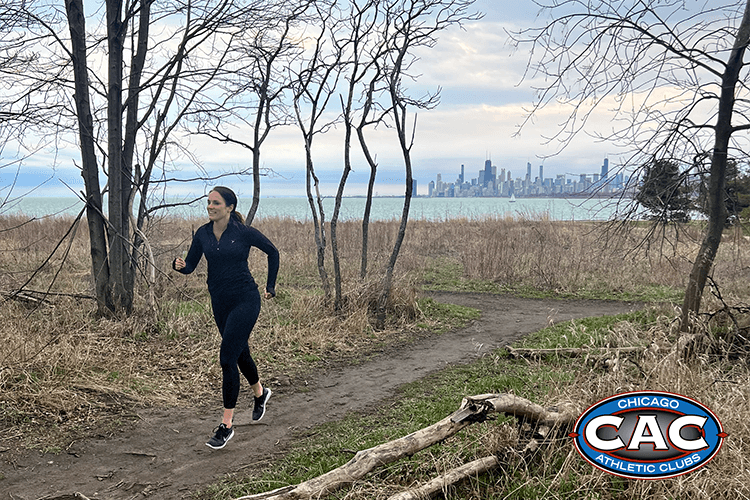 The Montrose Point Bird Sanctuary is evolving into an excellent hiking and running spot as the Chicago Park District is working to create paved, accessible paths for all Chicagoans to enjoy. These changes will make the Montrose Point Bird Sanctuary an accessible route for people of all abilities.
Covering 2.2 miles near Chicago, this path is perfect for taking a stroll or going bird-watching and surrounding yourself with the beautiful sounds and sights of nature in Illinois. You'll catch great views of the cityscape as well.
The path takes an estimated 41 minutes to navigate, but you can certainly take your time and stay a bit longer in this hidden trail gem or finish your walk with a view of Montrose Beach.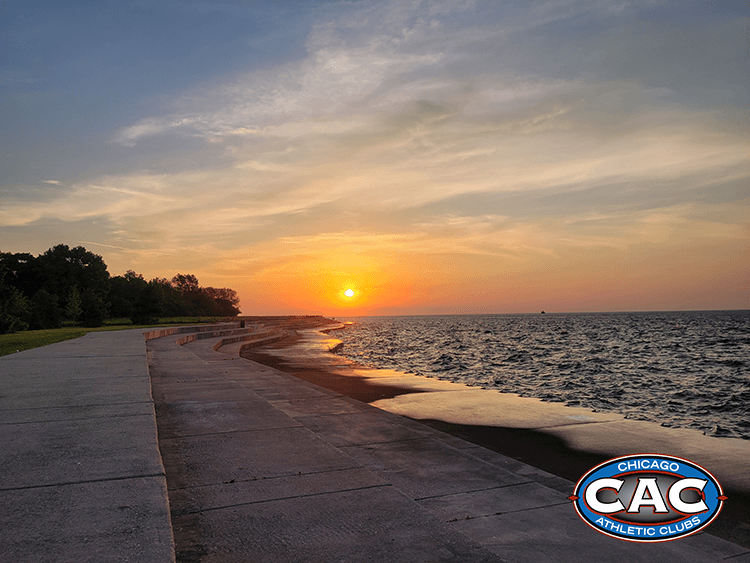 18. Burnham Park
The picturesque Burnham Park spans 654 acres across Chicago's gorgeous Lakefront south of Grant Park. While the park is a hub for numerous outdoor activities, many people particularly enjoy it for its running trail.
While the trail is a small, 0.6-mile loop that only takes an average of 11 minutes to complete, nothing stops people from strolling or jogging through the rest of the park (or taking a few laps) while soaking in the surrounding scenery.
This paved trail is a breeze for experienced runners and newcomers alike and is perfect for much-needed calm and tranquility. Along your run, you'll find the gorgeous Promontory Point, lush nature, and a unique skate park if you want to bring your skateboard along for the journey.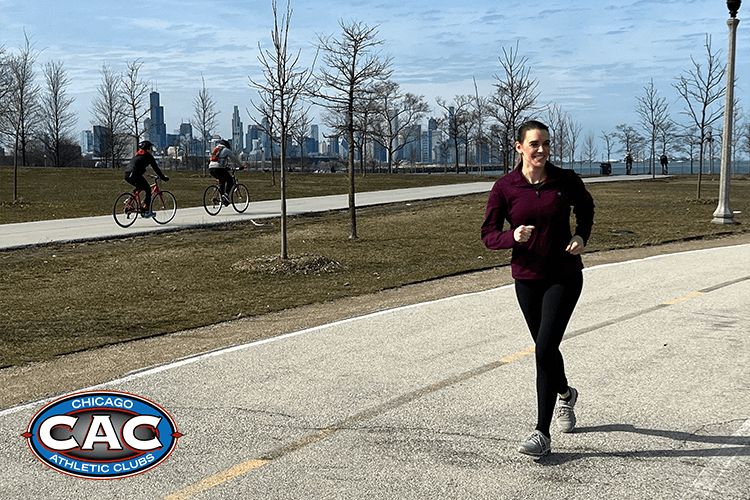 Take a break with one of the many benches available en route to Promontory Point and enjoy the view of Chicago's skylines, or relax by one of the many beaches in this area. While Burnham Park's official trail is relatively short, multiple ways to extend your run on this route exist.
18 ½ Eggers Grove
Last but certainly not least on our list is Eggers Grove. We like to say Eggers Grove is a half trail because half of the path runs in Illinois before extending over and connecting to Indiana. While it's not solely located in Chicago, Eggers Grove is a widely loved spot for runners in nearby areas.
The gorgeous landscape of Eggers Grove takes you through some of the best nature has to offer, covering wooded land to scenic marsh grasses and recreational spots.
Chicago is never far off, with some parts of the path giving you a perfect view of downtown skyscrapers and vibrant nightlife. The trail covers 241 acres and is perfect for families and solo runners looking to take a relaxing springtime stroll.
The landscape shifts to a small, paved path known as the Burnham Greenway, perfect for running and biking, before returning to its natural surface. And if you want, you can stand in two places at once by straddling the state line before extending your run into Indiana.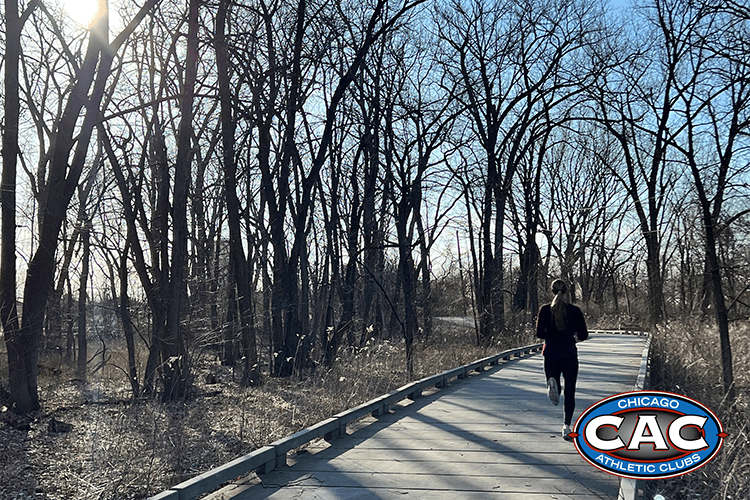 Where to Run When the Weather Won't Cooperate
No matter how much you love running through nature and taking in the great outdoors, often, the weather is not on your side. Chicago is prone to inclement weather, especially during winter. When you find yourself without a place to run outdoors, check out the perfect alternative: Chicago Athletic Clubs.
We have seven locations throughout the city, and a single membership gives you access to all of them, so you can get a workout no matter where you are. We go above and beyond to provide you with the best running experience possible when the outdoors doesn't cooperate.
From our beloved running tracks to our high-quality cardio equipment and fun group fitness classes, you won't be displeased when you choose Chicago Athletic Clubs as your go-to for indoor exercise.
Becoming a member of Chicago Athletic Clubs is easy–visit our website and sign up for a new membership. Whatever you want from your exercise experience, we've got you covered.