So now that we're home, is anyone else wishing they'd thought to add a kettlebell to their holiday wish-list? 2020 X-mas lists are looking v practical right about now.
Dear Santa,
I'd like a 12 month supply of TP; canned goods to last me until the 4th of July; new house slippers in every color option that exists; a yoga mat, dumbbells, resistance bands and an open space added to my 1 bedroom apartment to workout in.
While most of us don't have a plethora of at-home gym equipment on hand, not to mention the space to exercise, (that's what your gym is for) that is NO EXCUSE to stop getting your workouts in. Now more than maybe ever you've got to keep moving during quarantine.
Fear not! CAC Personal Trainer, Matt Hongosh, shares a list of household item basics to creatively help you continue working out. Using these new pieces of "equipment" might challenge you even more than your typical gym-grind.
Bring focus to your well-being this season.
Check out our

Slim, Trim & Tone Workout

for exercise inspiration.
Check out the 5 things you already have at home to use as gym equipment
1. An ottoman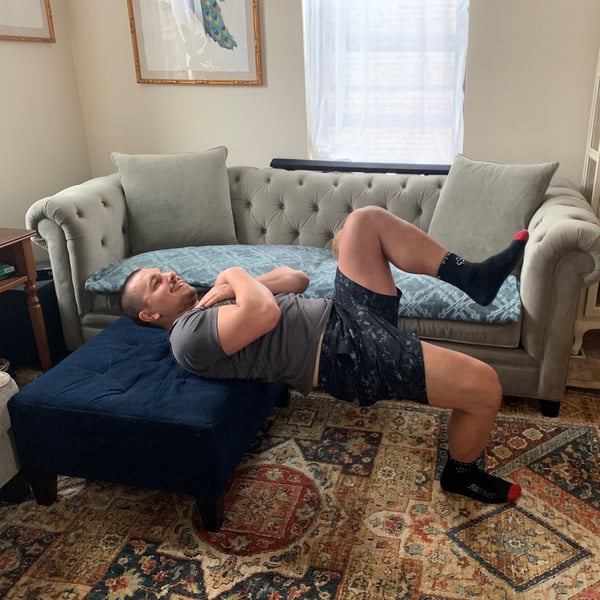 How's this for a quarantine rule: you can't rest your feet on your ottoman unless you've worked out using it that day! The elevated surface of most ottoman's (or if you have a traditional coffee table you can use your couch instead) is perfect for many lower body exercises.
Key exercises:
Rear-foot elevated split squats
Modified traditional push-ups or foot elevated push-ups
Tricep dips
Hip thrusts
Foot elevated hip bridge or shoulder elevated hip bridge
One legged sit to stands

2. Paper plates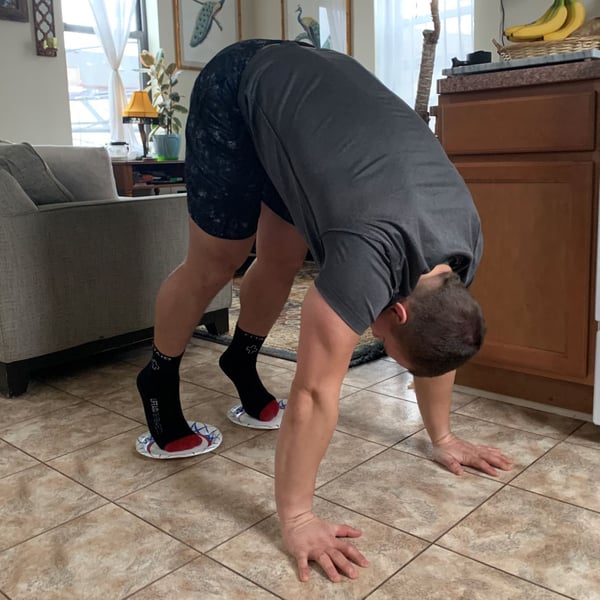 Looking for an effective tool to improve time under tension on your muscles? Use a homemade slider to boost the muscular demand of traditional exercises. The sliding surface of a paper plate on your home floor (carpet, tile or hardwood) will make for easy gliding added to tons of exercise options.
Key exercises:
Plank pikes
Plank knee tucks
Plank mountain climbers
Reverse lunges
Archer push ups


3. A broom stick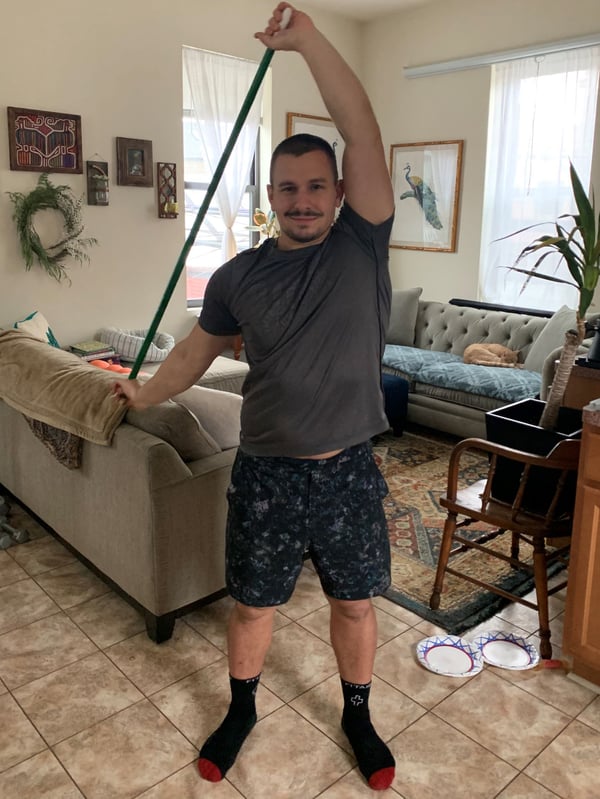 Mobility is key. As we get older, our range of motion becomes limited and needs attention. A broom stick is a great tool to replace a dowel rod or PVC pipe found at most gyms. Practicing mobility exercises should happen daily, just like routine stretching. Stretching focuses on the muscles while mobility exercises target your joints. Pro-tip: remove the broom head if possible to avoid flying dust-bunnies.
Key exercises:
Working in the transverse plane, improve shoulder range of motion with large circular motions around your head.
Working in the sagittal plane, focus on shoulder blade mobility by holding the broomstick horizontally at your waistline and lifting the broomstick up and over your head behind your body, keeping your arms straight.
Overhead squats holding the broomstick with a wide overhead grip will challenge shoulder mobility during the descend.
Focus on ankle mobility by positioning the broomstick right next to your pinky toe with your foot flat on the ground. While keeping your heel on the ground move your knee forward to wrap your knee around the outside of the broomstick.
Use the broom stick for assistance if you're unsure about lunges or other exercises incorporating body weight balance.

4. A hand towel

Day to day life means constant forward actions on our bodies, so practicing pulling motions is very important. While at home you can create pulling tension by using a hand towel and isometric pulls. A towel substitutes for band shoulder work and reverse dumbbell flies.

Incorporate isometric pulls while doing key exercises like:
Overhead squats
Dead bugs: try pulling a towel overhead to also challenge your shoulders during this traditional core exercise
Rows: with a partner, you can each hold one side of the towel creating tension and take turns doing a one-armed row while the other resists your pull. Or with two towels you can do two-armed wars. This one's like tug of war!
Pull-aparts: hold your towel out in front of your body pulling the towel apart with tension as if you're determined to rip it apart.


5. Your household animal (can include children, partners, or plants)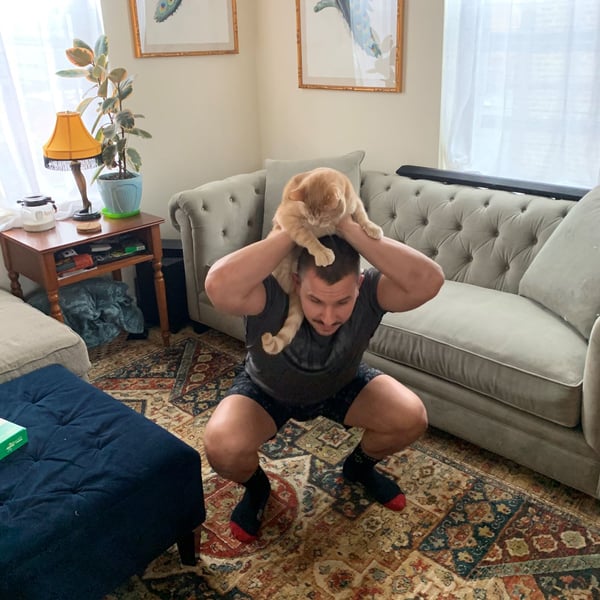 Many of you are just missing some extra weight to load up with. In the spirit of connection with those you're quarantined with, your fur-mates or people in your house can get incorporated into your workouts to help! If you're rocking the isolation train at home by yourself, you can create dead-weight by packing up a backpack or suitcase full of canned goods to get the job done.
Key exercises:

Front loaded squat
Front loaded Romanian Deadlifts (RDL)
Over head press (this will likely be the most challenging!)

The most important thing during your workouts whether you're at a gym or at home is remembering there's always room for creativity in fitness, in fact that's what it's all about! So whatever you do, keep it fun and keep on moving. Time to gather these items around your house and get to work!