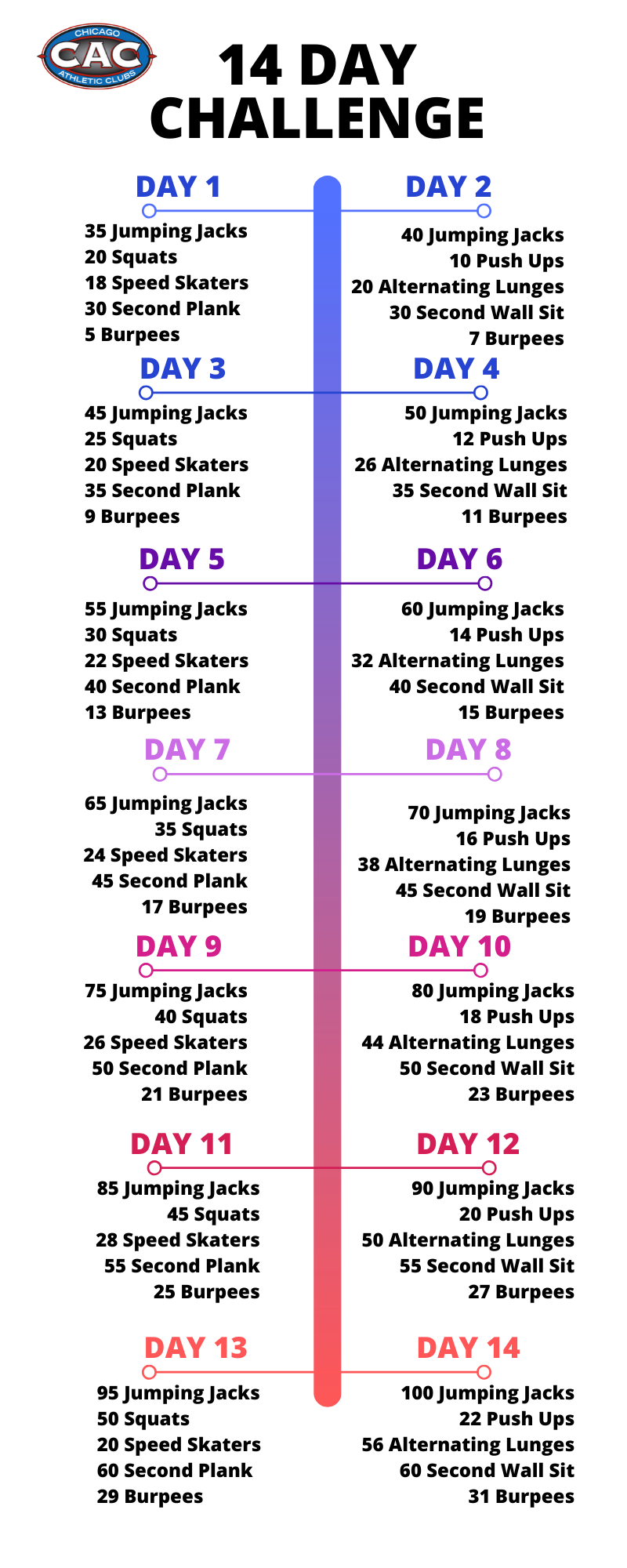 Grab your sneakers, a towel and a water bottle and try this at home 14 Day Challenge! This workout is body weight only and will require no equipment.

Complete each day's set of exercises one time through OR for more of a challenge complete each days set of exercises, rest, then repeat 2-3 times for a longer workout.
Tips for Success:
Establish a routine. Set your workout schedule for the same time, same place every day. This will keep your momentum going.

Make a playlist of your favorite, upbeat songs to energize and motivate you.

Connect with us and let's workout together using hashtag #cacathome
Wanting even more of a challenge? Keep this workout fresh for way longer than 14 days by swapping out these versions of each move:
Jumping Jacks

Alternating tap out to the side
Star Jumps

Push-ups

Kneeling or on the knees
Inclined against the wall or counter
Decline with feet elevated on a chair or bench
Jack push-ups
Alternating Lunges

Forward stepping
Back stepping.
TIPS: Keep the chest lifted when lunging. Create two 90 degree bends at the knees. Make sure your front knee is stacked over your front toe. Push through the front heel and mid-foot to activate hamstrings and glutes
Wall sit

Single leg wall sit
Lifted heels wall sit
Alternating legs/marching wall sit
Burpees

High-impact: Add a push-up and squat jump
Low-impact: Walk feet out to plank on the bottom

Squats
Speed Skaters
Planks

On the knees. TIP: Make sure the top of your foot (shoelaces) is on the floor to protect your low back.
Add an alternating shoulder tap
TIPS: Make sure your shoulders stay over your hands and hips are level with your shoulders. Push hands down into the floor to take weight out of the shoulders and activate your core more.
READY?! SET! GO!!! GET STARTED ON THE NEXT 14 DAYS TODAY!
Looking for more at home workouts and resources to carry your through your new at-home-lifestyle? Visit our growing library of resources at CAC at Home and CAC Instructor & Personal Trainer Virtual Workouts. Content is added regularly, so check in often!