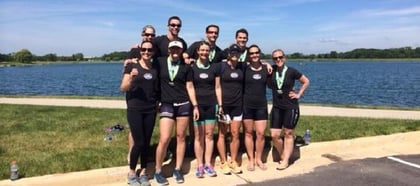 Even though we've barely arrived at spring, it's already time to start thinking about summer races. If a triathlon is on your summer bucket list, I can't think of a better way to get ready than by joining CAC's very own Triathlon Club.
A few years ago, I decided to take a break from my beloved marathons and give my first Olympic-distance triathlon a try. As a die-hard runner, I had no idea how to train for such a race. I thought Tri Club could help. I loved not only the guidance of the coaches to help me improve in each sport, but also the camaraderie of my fellow Tri Clubbers. I spent the summer making new friends and getting ready for the triathlon. When race day came, I was ready thanks to all my preparation with the team. It was an awesome experience and I would recommend a triathlon to anyone who's looking for an intense and fun physical challenge.
Since Triathlon Club is now back in session for 2016, I reached out to head coach Eunate Garro to get more info for anyone who's considering joining.
First off, I found out that Eunate is a fantastic athlete who definitely has impressive triathlon chops! She even qualified for the Triathlon National Championships on the national level this summer.
Eunate swam competitively in college and on the national and international level for over 15 years before transitioning to triathlons. "This presented new challenges, a much more dynamic and fun training preparation, and the opportunity to keep meeting athletes around the world with diverse backgrounds (swim, bike and run) and perspectives," Eunate told me. "In short, triathlons have given me the opportunity to transform as an athlete, from swimmer to triathlete!"
Meet Tri Club's 3-Part Coaching Team
As the head coach of Tri Club, Eunate supervises the team and develops the training program. But the club actually has three coaches, one who specializes in each sport. Eunate coaches the swimming workouts. The other coaches are Raquel Flores, who coaches the biking workouts and Keith Klebacha, who coaches the running and strength training workouts. Between the three of them, they've completed over 80 triathlons!
Each coach leads dedicated workouts in their sport and are there to help you improve your technique.
Do You Have to Be an Advanced Triathlete to Join?
Nope! First-timers are totally welcome to join. The club is open to all CAC and even non-CAC members. When I did Tri Club a few years ago, my teammates were a combination of people who were brand new to the sport and those who had already competed in several races. It was great for me because I could ask the veteran racers and coaches every newbie question I had about completing a triathlon.
There is a minimum swimming level requirement to participate in the Tri Club swim practices. You must be able to swim approximately 100 yards non-stop.
Even if you can't swim that far, you are still welcome to join Tri Club and take small group or one-on-one swim lessons to improve your swim stroke. Eunate also leads swim stroke clinics to help. So if your main sport is running or biking and you're not such a strong swimmer, don't worry. Eunate is a top-notch swim coach and will help get you swimming confidently in no time.
Which Races Will the Team Compete In This Year?
The coaches are helping Tri Club team members train for three races this summer. All races offer differents distances, so you can start small or go big.
Pleasant Prairie, Wisconsin, about an hour North of Chicago
Sprint + International Distance
Sunday, June 26th, 2016
Triathlon National Championships
Omaha, Nebraska
Sprint + International Distance
Saturday + Sunday, August 13-14th, 2016
Transamerica Chicago Triathlon
Takes place downtown and along Lake Shore Drive
Super-Sprint, Sprint & International Distance
Sunday, August 28th, 2016
How Much Does Tri Club Cost and What Does It Entail?
Tri Club offers two options for training. You can either attend coached practices and train with other members 3-4 days a week. For a more affordable option, you can get online training schedules from the coaches and train on your own time.
Program A
Includes a complete training program online + access to 3 weekly practices (March-April) and 4 weekly practices (May-August). There are also monthly team social events and weekly email updates.
You can either pay monthly ($99/month for members and $129/month for non-members) or pay for all 6 months up front ($594 for members and $774 for non-members). If you choose the up-front option, you also get a free month of CAC membership.
Indoor Schedule (March-May)
– Tuesday, LPAC: Spinning 5:30-6:30AM
– Thursday, WAC: Swimming 7:00-8:00PM
– Saturday, LPAC: Swimming 8:00-9:00AM
Outdoor Schedule (June-August)
– Thursday, WAC: Swimming 7:00-8:00PM
– Saturday, LPAC: Swimming 8:00-9:00AM*
– Saturday, LPAC: Outdoor Running 9:00-10:00AM
– Sunday, TBD: Outdoor Biking TBD (2 Sundays per month)*
*Outdoor practices start as soon as Chicago weather decides to shape up!
Program B
This is the online training program option. It costs $49/month for members and $79/month for non-members. You're also invited to attend the monthly social events and get weekly updates.
Ready to sign up? You can register for Tri Club using this form. If you're on the fence and have any other questions, email Eunate* and she'll get back to you right away with whatever info you need. She'll even let you swing by for a free trial practice if you want to try out Tri Club to see what you think.
*As of July, 2016, the new Triathlon Club head coach is Alex Card. Please feel free to reach out to Alex for more information.