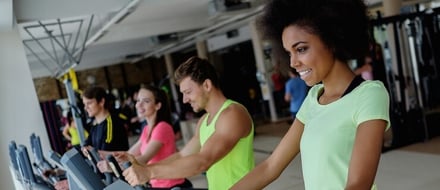 There's a lot of familiar advice out there about how to stay motivated to work out: Set goals, get a workout buddy, reward yourself. It all can work, but if those things aren't doing it for you, or you need an extra push, check out these insanely easy, super-effective tips from trainers who see them motivate their clients every day. But first, grab your sneakers and change into your exercise clothes – you're going to want to hit the gym before you even finish reading.
Remember who's the boss
Maybe you can't control your work schedule or family's needs, but giving yourself a pep talk and reminding yourself you still have the power to make healthy choices can be the nudge you need. "Nothing is going to change unless you choose to do something different," says Chris Wiles, an elite-level trainer at Chicago Athletic Clubs.
Start now. Yes, now.
The timing will never be perfect to start working out, and the longer you sit at the bottom of the hill that is your goal, the steeper and more daunting it looks, Wiles says. So, stop at the gym and join on your way home tonight. Or, schedule a class or personal training session right now.
Set stupid-easy goals
Your big objective may be to lose 20 pounds, but the reality of it can feel too far off to get you in the gym at 6 a.m., says Andrew Leonard, a specialist-level trainer at Lincoln Square Athletic Club. So pepper in a thousand mini-goals that are so easy to achieve, you will, every time: Go to the gym just once a week, jog a mile at least 30 seconds faster or do one more pushup. Those small wins are like having a constant, slow-drip of motivation.
Get emotional
Don't just decide on a goal, imagine how reaching it will make you feel, Leonard says. What will it mean to you? How specifically will it change your life? Maybe you'll feel less self-conscious taking group pictures or have more energy and fun during pickup basketball games. "An emotional connection motivates you more than a goal," he says. It also turns a negative ("I don't like the way I look") to a positive ("I will have more energy for fun"), which tends to be a more powerful motivator.
Find your fit
Going to the gym will be infinitely harder if you hate everything about it. So, for starters, join one that's friendly, is brightly lit with nice, clean amenities and equipment, and offers a wide range of classes. "You will find a class you love; the right one feels like adult recess," Wiles says. To find it, talk to a gym manager. He or she can help you decide what to try and which instructors' teaching styles best fit your personality, says Nikki Schultz, group fitness manager at Wicker Park Athletic Club.
Stay accountable
More important than a workout buddy is finding the right buddy. "If your motivation is low and your buddy has even less, you could end up going shopping," Schultz says. What's more, a study in the Journal of Medical Internet Researchfound that when people exercised with a pal who was in better shape, they felt more motivated. None of your friends fit the bill? Make new ones at the gym. "I walk into classes, and everyone is staring at the mirror not talking — say hi!" Schultz says. "You see the same people each week, you all have similar goals, you'd probably be good friends."
Post your progress
A study from the University of Pennsylvania found that when people shared positive exercise messages with virtual workout buddies on social media, they stayed motivated and kept exercising, unlike those who didn't share. So join or set up a Facebook group and start posting your best "swelfies" — sweaty selfies. "They're the down-and-dirty side, you doing pushups or looking like total junk. Show off what you've achieved and how you feel, not only how you look," Schultz says.
Redefine yourself
Create cues or reminders that you are no longer a couch potato, but an active person: Wear a fitness tracker, subscribe to an Instagram feed from your gym or an inspiring fitness personality, leave your sneakers by the front door. It all helps you feel more like the person you aspire to be — and soon will be.
Take it easy
Don't feel like working out? Don't – but put on your workout clothes or go to the gym anyway. If you still don't feel like it, take off. Chances are, though, you'll stay and shed a little sweat. "You don't have to go as hard as possible every time," Leonard says. But do go; consistency makes exercise a habit.