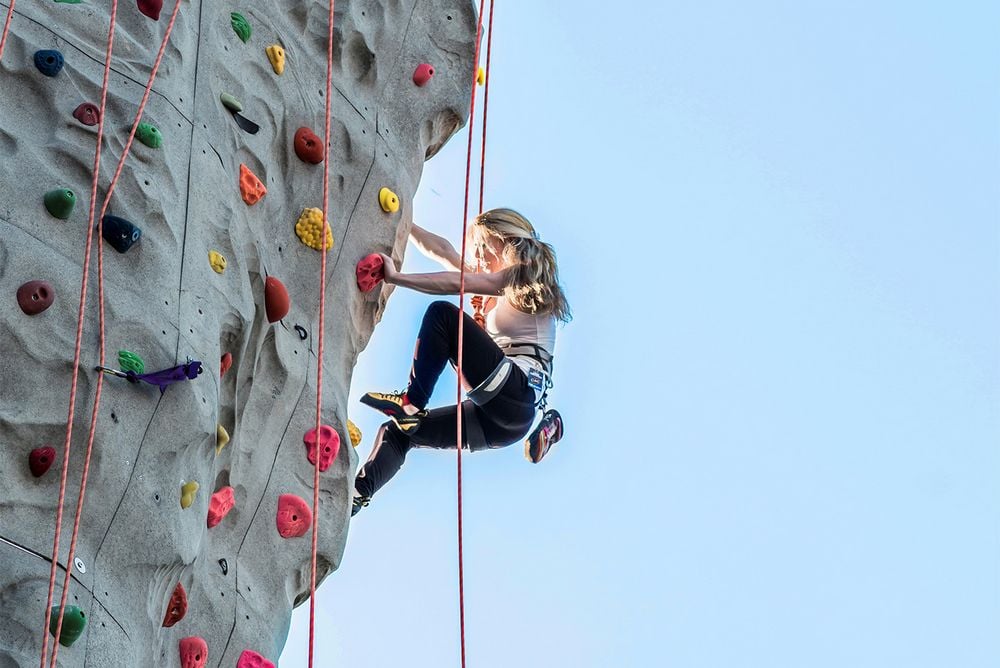 Lincoln Park Athletic Club features a 65-foot high outdoor climbing wall. (Photo credit: Jason Price for Chicago Athletic Clubs)
Beach days, bike rides along the lake, outdoor festivals, al fresco dinners, charity runs — summer is when the city comes out to play. And all that fun (and sweat) in the sun can make you wonder whether you still need a gym membership.
But the warmer months can be the best time to take advantage of what a club has to offer. From special training programs to digital support to other amenities that make squeezing workouts into your schedule easier than ever, your membership can help keep your healthy goals on track when backyard barbecues, late nights on the deck and frozen treats tempt you off course. Check out these ways to get the most out of your gym.
Join a training team
Summer races let you enjoy the outdoors and stay in shape, and your gym can ensure you won't train alone. Clubs often organize groups led by experienced trainers that regularly meet for bike rides, runs and swims. The groups provide expert coaching plus the motivation to prep for upcoming races or simply build fitness, strength and confidence.
For example, Chicago Athletic Clubs' Tri Club meets all year, and has a June through August program, says Ray Crooks, membership director at Evanston Athletic Club. The training program includes consultation and assessment sessions, clinics and social events, and helps you find local races.
Mix it up
Workout motivation on summer holiday? A gym is the perfect place to try new workouts, which help keep you inspired. "It's a great lab to learn what you like and don't like," says Sam Zizzi, professor of sport and exercise psychology at West Virginia University. "Gyms give you access to a wide variety of classes and supervised staff you can learn from." Many gym classes also move outdoors to take full advantage of nice weather, so check the schedule for special seasonal offerings. "Our clubs offer outdoor yoga, boot camps and water workouts at our outdoor pool," Crooks says.
Go mobile
Your membership can work for you inside and outside the gym when you use your club's mobile app. "Our apps help you track all your workouts, whether you take a Spin class or jog around your neighborhood," Crooks says. "You can also use your gym app to get up-to-date info on class schedules, fun fitness challenges and rewards programs that score you complimentary personal-training sessions or free gym access for your friends."
Find social support
Speaking of friends, the people you meet at the gym can help you stick to your fitness goals. "You start going to the gym on your own willpower, but it's often others you see at the gym — a trainer, workout partner or even the front desk attendant who knows your name and offers their support — that motivate you to keep going back," Zizzi says. Social functions hosted by clubs also help you meet fitness-minded friends. And research shows that healthy habits can be contagious among people in the same social circle.
"Along with hosting races, we just organized an event with Goose Island Brewery where everyone took a workout class together, then stayed for beer," Crooks says. "Each club has a strong sense of community that welcomes all experience levels."
Work with the pros
Where else than a gym do you have access to some of the best personal trainers in the biz? "The hardest part about working out is getting in the door; once you're here, we can match you with a trainer who can show you the best way to reach your goals," Crooks says. "Trainers hold you accountable for your workouts, get you on that climbing wall you've been too nervous to try, or help you feel more confident with gym equipment so you can then feel confident working out on your own." Many gyms can also connect you with nutrition coaches to evaluate your diet and help you plan healthier meals. Not sure a trainer or diet pro is in your budget? Seek out member services, which usually offers new members deep discounts.
Don't forget the amenities
If you love summer's sunny days but not its bouts of suffocating heat and humidity, remember a gym lets you sweat sans risk of heat stroke (thank you A/C). Locker room perks like rainfall showers, self-locking lockers, fluffy towels and work lounges with free Wi-Fi also make it easy and convenient to squeeze in a workout on your lunch break or freshen up after an outdoor run in time to meet friends for dinner on the patio.
—Kelly Rowe for Chicago Athletic Clubs
This sponsored content is produced by Tribune Content Solutions on behalf of Chicago Athletic Clubs. The newsroom or editorial department of Tribune Publishing was not involved in its production.