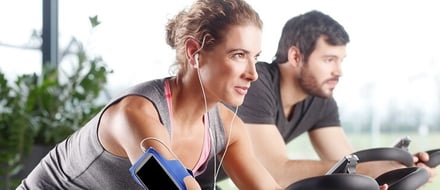 Turns out music really does move you: Listening to a workout playlist can increase endurance by as much as 10 percent and make workouts feel more pleasurable, even when you're working at a high intensity, according to research in the Journal of Sport & Exercise Psychology.
"Music has a distractive effect, reducing your perception of exertion and making you feel as though you're working less hard," says Costas Karageorghis, Ph.D., the study's lead researcher, a sports psychologist at Brunel University and author of the upcoming book, "Applying Music in Exercise and Sport." "It also influences how we feel, coloring our sensations of fatigue and making a workout more bearable or even enjoyable."
Any melody you like can work, but there are some tricks for choosing songs that maximize music's performance-boosting, mood-lifting effects. "Music drives your energy, so it's important to have a mix that complements your workout and keeps you engaged," says Stephanie Beck, instructor and master trainer at Chicago Athletics Clubs. Check out these 4 secrets to build a workout mix that will truly pump you up, then test drive the tips with our sample mix below.
Set the mood
Save the tearjerkers for the car or singing in the shower. (Sorry, Adele.) Instead, go with tracks featuring happier, upbeat harmonies. "Major [key] or positive harmonies tend to work better for exercise," Karageorghis says.
Match music with intensity
Use music to mirror what you're trying to achieve physically. "For the first track, I always pick something welcoming and fun to help ease into the workout," Beck says. Then choose faster, heavy-beat songs as your workout progresses to help you build intensity and get through sprints, hills or circuit-training sets. "It's amazing how music can carry you," Beck says. "Even if you're checked-out mentally, the beat will push your body."
Finally, tack on a cool-down song at the end. "Always finish with a slow-paced track to help you catch your breath and stretch," Beck adds.
Get Inspired
"Whether it's an artist you admire or lyrics that motivate you, choose songs that inspire personal meaning," says Karageorghis. "Lyrical affirmations help narrow your focus and get you in the right mindset, which can be especially helpful if you feel anxious, like before an athletic event."
You can also use lyrics to complement your movements. "In addition to matching the sound of the music to the level of intensity, try to match the lyrics to the action, like a cool down song that contains the words 'breath in, breathe out,'" Beck says.
Move with the groove
"Humans seem hardwired to respond to music. There is something about moving in time to a beat — and it's especially magnified in a group context — that feels pleasurable," Karageorghis says. "You naturally lock into the rhythmical quality of music, which can make repetitive movements like running, walking, swimming and cycling more efficient," he says.
So let the songs in your workout playlist be a sort of metronome. "A tempo of about 120 to 145 beats per minute (BPM) is ideal for most repetitive activities," Karageorghis says. Test out a few tracks to find a song that matches your comfort zone, then, for your next workout, choose songs with a slightly higher bpm. "You'll work harder without even realizing it," Karageorghis says. For help identifying BPMs, check out the websites All8.com or Songbpm.com.
Ready to test drive these tips? Try Beck's energy-pumping playlist to power you through a corresponding 30-minute fat-blasting cardio workout.
"Everybody (Backstreet's Back)" by Backstreet Boys:Warm up
"Stronger" by Kanye West:Build up to a moderate pace, letting the lyrics psych you up to increase intensity
"We Came To Bang" by3LAU: Maintain a moderate pace and during each chorus, add an incline or resistance or run, walk or bike up a hill.
"All My Life" by Foo Fighters:During this song, sprint during the chorus and recover at a moderate pace during the verses.
"Dirty Vibe" bySkrillex: Maintain your fastest pace or highest intensity possible for all 3 1/2 minutes of this song.
"B.O.B." by OutKast:Use this song for an active recovery; go at a steady, moderate pace or intensity.
"American Oxygen" byRihanna: Cool down using the lyrics "breath in…this feeling" to slow your heart rate and feel accomplished.
—Kelly Rowe, Tribune Content Solutions