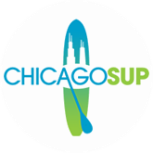 The weather is warming up, and CAC and CHICAGO SUP have teamed up again!
Are you looking for the hottest way to stay cool and in shape this summer in Chicago? CAC members can enjoy Stand-up Paddle Boarding, or SUP, at Chicago SUP on North Avenue Beach or Diversey Harbor. SUP is a hybrid of Surfing and Kayaking, which involves standing on an oversized surf board, and paddling with a single bladed paddle. The concept, which was originally used by ancient Polynesian cultures, has seen a revival in the last 15 years. Stand-up Paddle Boarding is a sport that can be enjoyed by just about anybody. It is a family friendly activity that offers an unparalleled form of exercise. Targeting every major muscle group, with an unmatched emphasis on the core, it is truly a full body workout.
Rent a board for an hour for a guided session by an experienced SUP Instructor, during designated CAC times and bring a friend! Now through the end of September, weather permitting.
LOCATION
Just south of Castaways Bar & Grill (1603 N. Lake Shore Dr. Chicago, IL 60611), on the bike path. On North Avenue Beach. In case of inclement conditions, SUP could launch from Diversey Harbor (2421 N. Cannon Dr. from the big blue shipping container on the south end of the harbor parking lot). Call 773.575.4787 to check current status or view online at www.chicagosup.com.
INCLEMENT WEATHER
In the event of high winds (15+ mph), choppy waters, lightening or extreme conditions, paddle sessions will be canceled. Other than that, SUP is on, rain or shine!
INTRO TO PADDLING: SUP LESSONS
It is highly recommended that SUP participants take a lesson prior to SUP rentals, unless you have prior paddling experience.
SUP LESSONS PRICING
As a member of CAC, you will receive a discounted rate of $50 for the one-and-a-half hour lesson experience. That includes a 30 minute orientation with in-water instruction and one hour on the boards.
TO SCHEDULE YOUR INITIAL SUP LESSON, visit www.chicagosup.com/reservations to make a reservation and use promo code CAC2017 when booking to receive the CAC discounted rate.
ATTIRE
Wear a bathing suit or other moisture-wicking clothing (for example, board shorts, rash guard t-shirt, etc.). Sunglasses are not advised, unless on a neck strap. Chicago SUP does not have changing rooms, but there are restrooms at Castaways.
PERSONAL ITEMS
We advise you to leave your valuables at home. There is a small space for keys in the hut and there are lockers available to rent for $3.
PARKING
For the North Avenue beach location, there is a parking lot with a pay gate at 1601 N. Lake Shore Drive (North Avenue and Lake Shore Drive). Prices are between $12-$16. Public transportation is easy and recommended. It is street parking at Diversey Harbor.
CAC SUP PADDLE TIMES, STARTING IN JUNE
Monday through Thursday 9am – 7pm
Friday 9-11am and 5-7pm
Saturdays 5:30-7pm
Sundays 7:30 – 9:30am and 5:30-7pm
Last renters in water by 7pm
Holidays excluded
PRICING
Lessons: CAC Members receive $50 Lessons (highly recommended for first-timers)
Rentals: $25 per hour
All registrations made and fees paid at Chicago SUP.
FOR MORE INFORMATION CONTACT
e: info@chicagosup.com
p: 773.575.4787
w: www.chicagosup.com