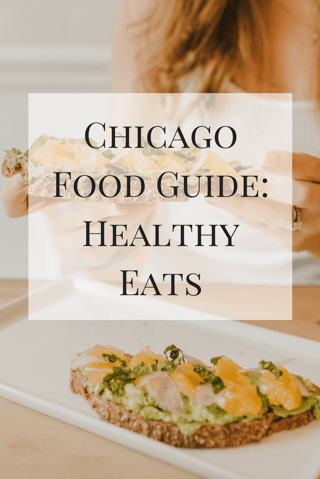 Who says healthy food needs to be tasteless? In the Windy City, there's a wide array of culinary options that you'll likely discover that a nutritious meal does not have to be devoid of flavor. You can visit this site for more information about these healthy eating joints.
Are you coming off a tough work week and are thinking of eating out without feeling guilty later? Well, here are five top restaurants where you can treat your gym body to a sumptuous feast.
AMITABUL 6207 N Milwaukee Ave, Chicago, IL 60646
Considered one of the best vegan restaurants in Chicago, Amitabul—which means "awakening"—prepares South Korean dishes without salt, sugar, or oil, yet their menu is tasty.
Classic cuisine such as bibimbap, tofu mandu, and a wide variety of sushi maki, vegetable pancakes, and spicy noodle salads and soups are ready for ordering.
One of their customers' favorites is a vegetable and rice noodle dish called "Dark Side of the Moon," featuring black bean miso sauce and mushrooms.
Chef Bill Choi and his brother, Dave, have been operating Amitabul in the city's cycling street of Milwaukee Avenue since 1995.
When they started, the siblings would source the vegetables for their meals from the produce the Buddhist monks brought to their family temple.
The Chois continue to use organic ingredients for their dishes, including their soy sauce, kimchi, and miso that they ferment in-house.
EMA 74 W Illinois St, Chicago, IL 60654
Ema is a go-to place for satisfying your Mediterranean craving in the River North area.
Meals come in small plates for sharing, but the restaurant does not base its menu on the 1990s diet fad. Instead, the food has the mark of chef CJ Jacobson's California-style, hyper-seasonal cooking.
His signature creations include spicy hummus, stracciatella with vine-ripened tomatoes, green falafel with beet tzatziki, lamb and beef kofta kebabs, and grilled octopus with fingerlings in a lemon vinaigrette.
Try their Greek yogurt sprinkled with sea salt and olive oil for dessert.
For those on the go, the newly open, self-service Rotisserie Ema allows customers to personalize their meals. You can pick your own greens individually or pick up set salads and pair them with grains, sauces, soup, or beverages.
LOVING HEART 838 W Montrose Ave, Chicago, IL 60613
Loving Heart is a lunchtime hot spot near North Lake Shore Drive despite its compact setting. Hop on to this uptown cafe if you follow a strictly vegan diet and need something light—over 80% of its ingredients are USDA-certified organic.
Choose from a wide selection of drinks from herbal water to smoothies and kombucha suja, as well as soups, salad bowls, burgers, and wraps featuring vegetable protein patties and non-GMO chicken alternatives.
Loving Heart also has something for those with a sweet tooth: vegan chocolate fudge, matcha cheesecake, plain cheesecake, and chocolate cake.
This cafe is open to delivering planned meals every week.
ROTI Modern Mediterranean Lincoln Park, Downtown, West Loop
Roti Modern Mediterranean is another excellent choice if you are after fast-casual dining.
You can "create your own plate" with a base of a salad, rice, pita sandwich or laffa wrap, a protein meal of their chicken roti, steak, or salmon kebab, and a choice of sides—feta cheese, hummus, couscous, or red cabbage slaw.
Finally, top off your meal with cucumber with dill, yogurt, tahini, or red pepper sauce.
Superconscious about your food intake? You can check out Roti's online menu to determine each meal's calorie, protein, carbs, and fat content. You can also view the nutritional value of each Roti meal on the MyFitnessPal app.
The restaurant uses organic chickpeas, fresh salmon filleted in-house, and grass-fed beef for their meals, as well as for their salads and sandwiches.
TANTA 118 W Grand Ave, Chicago, IL 60654
Thanks to Tanta chef Jesus Delgado's versatile nature, Chicagoans are experiencing the best Peruvian meals in the portions and time of day that are more palatable.
Delgado slightly downsized the large meal sizes typical in his native land and served ceviche at night instead of in the morning like they do in Lima.
His adjustments paid off as this River North establishment has delighted customers since its opening in 2013.
The restaurant uses locally sourced products from sustainable farming and fishing vendors.
Vegetarians will want to sample their pastel de choclo—a Peruvian corn cake with mushrooms served with onion salad—and broccolini chifero, or roasted broccoli florets.
Tanta's tiradito meals—raw fish in spicy sauce—are also worth trying.
Choices include the salmon belly, fish in water chestnut sauce, or yellowfin tuna in the rocoto-ponzu sauce.
Chicago's Healthy-Eating Market
Chicago has gone a long way from its original identity as the city of hot dogs and deep-dish pizza. The transforming landscape of the Windy City is a testament to the growing obsession with fitness.
Besides Chicago's lakefront running paths, bike lanes, and gyms open 24-7, fresh markets and vegan restaurants are helping convince Chicagoans to live healthier lifestyles.
As local communities keep working on food accessibility throughout the city, gym enthusiasts can contribute their share toward a healthier Chicago. Stay fit and inform others about establishments with nutritious offerings.
~Maintain balance~
Insider tip: "An apple with peanut or almond butter; plain Greek yogurt with berries; whole wheat crackers and cheese — these kinds of snacks are like mini-meals that contain all the nutrients our bodies need to stay consistently energized over a longer period of time"
— Chicago Athletic Clubs