We all know what this time of year means: parties, celebrating, festivities and lots of food and commitments! Sometimes it seems like every moment of every day is already accounted for, and those cookies look so darn good...what's the harm in just one, right? In reality, during busy times like the holidays (and for some of us, just regular life seems holiday busy all the time!) we are more prone to make less healthy choices that are more convenient in the moment, like skipping the gym for some extra shut-eye, or eating workroom treats instead of packing in a healthy salad. So what should we do about it? Don't fret, don't stress, when you find yourself facing busy times there are easy ways to make healthy choices, and some quick go-tos to stay active and healthy without extensive planning. It's all about mindset and being prepared! Read on for some easy tips from our Chicago Athletic Clubs group fitness director Sarah Ruhl and registered dietitian Stephanie Fiorentino on making healthy choices this holiday season.
Sarah's tips on staying active:
Schedule time to go to the club. At CAC we offer so many 30 minute, "Express" classes… you don't have to spend a lot of time in the gym! Consider it taking care of yourself. We spend so much time around the holidays doing everything for everyone else; it's important to do something for you.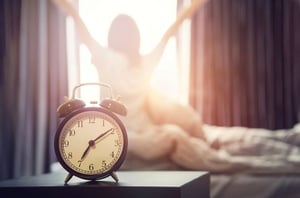 Go to the club early in the day. You will be able to check it off your list (eliminates procrastination!) AND it will give you more energy throughout the day.
Make a "date" with a friend or partner. This will not only make it more fun to workout together, but also hold you accountable.
Sneak in fitness where you can. If you can't get into the club for a workout, consider walking instead of driving or taking the train. Take the stairs instead of the elevator. Run the stairs in your building! If you find yourself watching tv in the evening, challenge yourself to hold a plank for an entire commercial. Work your way up to two commercials, then three, four…
For an at home workout: download a Tabata Timer App… 20 seconds of your hardest effort, 10 seconds of rest for 8 rounds. Do jumping jacks, high knees, jump squats… 4 minutes and you're done!
Stephanie's tips on eating healthy:
Don't Show Up Hungry. It might seem like a good idea to skip breakfast or lunch in preparation for a big meal later in the day. But arriving to a party with a ravenous appetite will make it much more difficult for you to moderate your intake. Choose meals that contain a mix of carbs, protein, and fat to ensure you have steady energy throughout the day.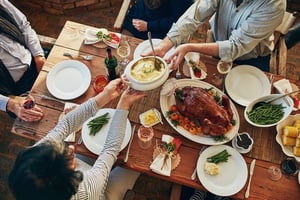 Appetize Mindfully. Yes, that brie spread is delicious but remember there's a whole other meal coming! Choose one or two appetizers that you're really excited about eating. Sure chips and guac are awesome but you can probably have them anytime. And remind yourself how much you're looking forward to the actual meal. Remember, if you're already full on appetizers, you won't enjoy your entree nearly as much.
Eat What You Love. This time of year the break room is constantly stocked with a variety of cookies, cakes, and candies so make it a priority to choose a treats you really enjoy. Did Janice bake her famous pecan nut cups? Or did she just pick up a package of brownies from the grocery store? Are those your very favorite Christmas cookies from your local bakery? Or did you grab a piece of only-ok candy from one of those giant warehouse store holiday baskets? Three-day-old refrigerated cake just isn't very good. Find satisfaction in eating foods that are actually delicious!
Sarah Ruhl is the Fitness Director for Chicago Athletic Clubs. She is passionate about fitness for all walks of life and in her own training and she aims inspire and make every workout fun.
Stephanie Fiorentino has a Master's in Nutrition Science from the University of Illinois at Chicago. She is currently working as a registered dietitian and personal trainer for Chicago Athletic Clubs.