Sometimes the day gets away from you, and before you know it its 2pm, you're starving and willing to eat anything...and we mean anything. And that particular lunch choice may not be the best for your mind or your body. We've put together a few healthy, easy lunch ideas you can eat in the office that won't undo all the hard work you've done at the gym. Some are simple recipes you can bring from home, some are quick ideas you can grab locally on the go.
Looking to clean up your eating habits?
Get started with our

Fresh Start Clean Eating Plan

.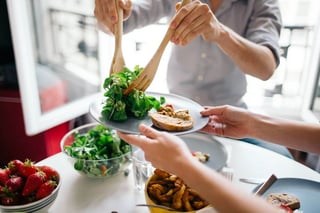 Super Salad
This easy throw together salad is clean, fresh and covers all the basics, with a surprisingly simple deliciousness that you will actually crave. And you can put it together in the morning in less than five minutes.
Ingredients:
2 cups greens (buying pre-washed bagged greens is an easy way to save time. Heartier greens like spinach, arugula, baby kale or power greens, hold up better over the course of the day and still taste fresh and firm come lunch time)
1 cup shredded carrots (again, buying pre-shredded is the way to go)
1/2 cup canned garbanzo beans
1/2 an apple, diced
1 oz goat cheese
Handfull of raw pumpkin seeds
Mix all ingredients together in a travel container. Sprinkle with a pinch of sea salt and fresh ground pepper, drizzle with olive oil and the juice of half a lemon. Cover your container, shake up and go.
Simple Sushi
1 Sushi roll of your choice (avoiding anything fried, breaded or with cream cheese - after all that's not really sushi anyway!)
Accompany with a side of seaweed salad
Clean and easy, this lunch can be satisfying and surprisingly easy to find on the go - so many grocery stores like Mariano's and Whole Foods are now making fresh, quality sushi daily, even with brown rice or black rice for an added nutritional bonus. Seaweed also packs a ton of essential vitamins and minerals like magnesium, iron and folate, in addition to providing a satisfying crunchy compliment to your sushi roll. Just go easy on the soy sauce to keep sodium down.
Especially as fall chill starts to hit the air, sometimes you just want something warm and comforting - without all the calorie hazards. Enter Potbelly's Turkey Chili! A cup of their chili will keep you going at lunch, and with only 250 calories it still packs in a whopping 15 grams of protein to keep you full. Skip the toppings to keep it trim, or only one pack of oyster crackers if you must (it IS chili after all!)
Lunchmeat roll-up Bistro Box
An easy put-together at home. Grab some sliced provolone cheese and your favorite lunchmeat (check for sodium content and go for the lowest you can find - the natural or handcarved options are usually best), and using the provolone slice as your "wrap", build a mini breadless sandwich! Layer a dollop of low fat mayonnaise, mustard, a lettuce leaf, a slice of tomato and your lunch meat, roll-up and secure with a toothpick. Make two, throw in a side of baby carrots, a handful of pepitas mixed with dried cranberries for a sweet finish, and you've got yourself a tasty, healthy, satisfying lunch!
Mediterranean Wrap
Sometimes you just crave a little carb, and a whole grain tortilla can really hit the spot. For this super simple and flavorful wrap you throw together in the morning, but some pre-made tabouli from the store to add easy flavor and excitement! In the tortilla, layer hummus, sliced avocado, thin slices of cucumber, feta cheese, and a big scoop of tabouli for a delicious and delightful lunchtime option. Bring along an apple for a sweet treat, and lunch is done!
Fritatta Muffins
This one takes a little advanced labor, but once these puppies are made, they taste delicious right out of the fridge and at your lunch table in the office! Pair with a small simple salad and you are ready to go. This particular recipe comes from the blog Clean Food Crush, but there are plenty of recipe options to find online. What makes this such a great meal option is the versatility - you can add almost any ingredients you want to make it your own!
Super Easy Breakfast (or Lunch) Fritatta from Clean Food Crush
Ingredients
Makes 5-6 servings
10 large free-range eggs
1/4 cup unsweetened almond, or coconut milk
1 cup fresh baby spinach, chopped
6 large cherry tomatoes, to garnish
1/2 cup onions, diced
a small bunch of parsley/cilantro, chopped
1 ½ cup mushrooms, chopped
1 bell pepper, chopped
Instructions
Preheat the oven to 350°F. Grease a muffin pan with coconut oil spray.
In a large bowl, whisk together the eggs, milk and 1/2 tsp of salt and pepper. Stir in the spinach, onions, mushrooms, pepper and herbs.
Divide the mixture evenly between the 6 muffin pan cups and bake the muffins for 20 to 25 minutes, or until the egg is fully cooked. Remove the muffins from the oven and let them cool for 5 minutes in the pan then use a knife to loosen the muffins from the cups.