If you have discovered the joy and challenge of Spin® classes as part of your regular workout, then you know what it means to sweat! Whether you are an indoor cycling superhero or a biking beginner, it always helps to shake things up. Below are four types of spin classes to switch up your cycling here at Chicago Athletic Clubs.
Looking to tighten up and feel great?
Check out our

Slim, Trim & Tone Workout

for some added motivation.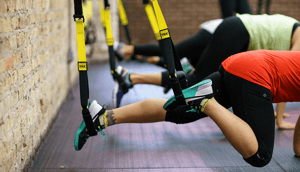 1. BURN combines the benefits of high intensity intervals with slower, longer intervals to increase cardio speed and endurance, metabolism, and muscle mass while burning fat. Definitely not your standard Spin® class! By performing a variety of exercises with a variety of tools, members are doing more with their body than with a traditional, single-discipline workout. There are 5 stations and no more than 6 members at each station so it has the feel of a smaller team-centric workout.
"Studies prove that interval training is more effective in a shorter period of time than a longer duration of steady state training," says CAC Group Fitness Director Sarah Ruhl. "Our BURN classes push you to work smarter for faster results."
Available at Lincoln Park: Mondays@7pm; Tuesdays @9:30am & 7pm; Wednesdays @4:30pm; Thursdays @12noon: Fridays @6am; Saturdays @11:30am
2. LES MILLS SPRINT™ is a 30-minute High-Intensity Interval Training (HIIT) workout, using an indoor bike to achieve fast results. It combines bursts of high intensity work, followed by periods of rest and recovery to get you ready for the next round. It uses your time super efficiently to burn maximum calories, build lean muscle, burn calories for hours & test your limits - the only way to get stronger. New to the workout? Tone it down the first few times to get the idea, then start pushing yourself a little harder each session. Two times a week is ideal to get the most from adding SPRINT™ to you workout routine.
Available at Wicker Park: Mondays @5:30pm; Thursday @7am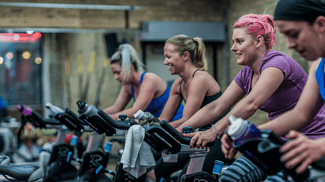 3. Spin® 75 is an example of when a little extra time makes a HUGE difference. Endurance Spinning in our 75 minute class is a chance for members to build or test their cardio endurance and will benefit both endurance and cardiovascular training. Members can ride together as a group and put their legs to the ultimate spin test in a low-impact, safe group fitness setting.
Available at West Loop: Wednesdays @9:30am
Available at Lincoln Park: Saturdays @10am
Available at Evanston: Sundays @9am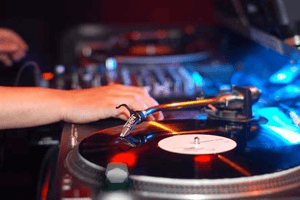 4. Live DJ Spin® is the answer to the variety enthusiast cyclysts out there. Here the classic Spin® class is given a rockin' twist as a DJ mixes music seamlessly with the instructors cues and the spinning format to create a truly interactive experience. No two classes are the same, and you are guaranteed a unique and exciting ride. Feel the beat in the room and push yourself to the music.
Available at Lincoln Park: Mondays @6pm
Available at Lakeview: Tuesdays @5:30pm & 6:30pm
Available at Wicker Park: Wednesdays @5:30pm & 6:30pm
Available at Webster Place: Wednesdays @6pm
Available at Bucktown: Thursdays @5:30pm & 6:30pm
Available at Evanston: Thursdays @6pm
For all CAC Spin® classes, reserve your spot up to 60 minutes before class.