Calling all Chicago residents! Are you tired of working out at home but still looking for indoor exercise to give you a full-body burn and speed up your heart rate? If so, then we've got just the solution – Chicago spinning classes!
Spinning is an incredibly effective workout; its low impact will help improve cardiovascular fitness, build muscular strength, and boost energy levels. But if you want to make the most of this activity, doing it in a Chicago spinning class could be exactly what you need.
Join us on our journey through this amazing city as we explore the top spinning classes in Chicago that offer high-energy rides with certified instructors who can ensure maximum results.
Lakeview Athletic Club
When looking for a cycling studio that provides cycling workouts and high-intensity training, you want a gym that's conveniently located. If you live in Lakeview, Lakeview Athletic Club (LAC) stands out among the many spin classes available in the city for its combination of strength training and indoor cycling. The stationary bikes here are top-notch, providing riders with a high performance and smooth workout.
LAC includes Les Mills Sprint™, which is a 30-minute High-Intensity Interval Training (HIIT) workout, enabling you to achieve fast results. The energetic and motivational instructors ensure class participants get practical training every time they attend.
Not only is Lakeview Athletic Club easy to access, but the gym also provides a number of features in addition to spin classes. These include a 20-yard lap pool with three lanes, an outdoor pool, and luxury locker rooms.
Plus, when you become a member of the Chicago Athletic Club, you also get access to six other gyms located all over Chicago, enabling you to keep working on your fitness goals no matter where life takes you.
Lincoln Park Athletic Club
Lincoln Park is a great place to go for a jog, but where do you go when the weather is bad, or you don't want to run? Chicago's Lincoln Park Athletic Club provides exceptional spin classes in the city, featuring expert instructors and cutting-edge upper body equipment for a challenging experience suitable for both new and experienced riders.
The spin studios boast temperature-controlled settings that guarantee comfort during your workout. Unique metrics enable riders to track their progress and gauge improvements since their last session. Whether you are a novice or a seasoned pro, Lincoln Park Athletic Club is the perfect place to elevate your spinning routine with inspiring classes and exceptional outcomes.
Lincoln Park Athletic Club includes amenities such as personal training classes, weekly group fitness classes, and top-of-the-line cardio equipment to ensure that your cycling workout experience is the best possible every single time. The gym features a main parking lot for easy parking. Plus, even if that lot is full, members will still have access to the parking lot at St. George Church just nearby.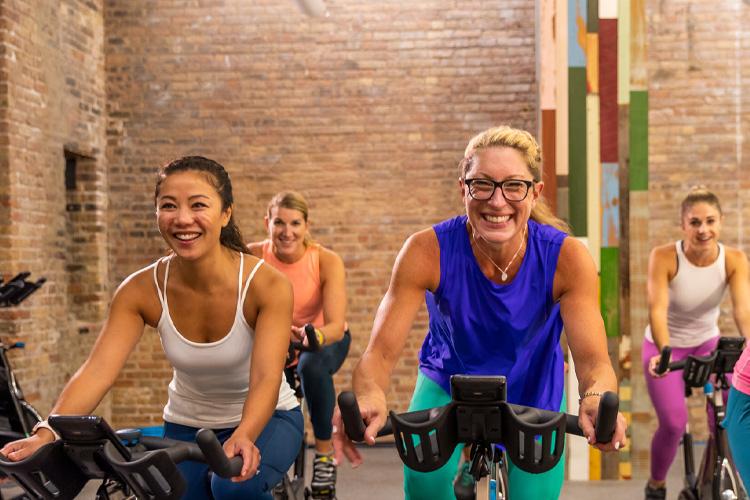 Lincoln Square Park Athletic Club
If you're taking fitness seriously, and you want to find a high-energy spin instructor who feels the
same way, look no further than the spinning classes at Lincoln Square Athletic Club in Chicago. Unlike regular cycling workouts, their cycling classes utilize the newest state-of-the-art technology in stationary bikes, allowing them to be one of the best spin classes in the city.
The studio cycle is a cycling class that combines cardio and strength training, allowing your body to melt away 600 calories in one 50-minute class. Your glutes, quads, calves, and even core will be pushed to the limits. If you're looking to supplement your spin classes with a little strength training, LSAC also features a fully equipped weight room, a 25-yard lap pool with 5 lanes, a small group fitness studio, and more.
Push Indoor Cycle
There are so many excellent spinning studios in Chicago. Spinning studios are fitness facilities
that specialize in spinning and cycling. Although they may not provide as much variety or
flexibility as fully-fledged gyms, they are still excellent choices for spinning enthusiasts. One
example of a place like this is Push Indoor Cycle.
The instructors at Push Indoor are all passionate about ensuring that you have the best workout possible and provide a number of different spin classes ranging from 45 minutes to 1 hour long, where a variety of exercises are incorporated into your spin training.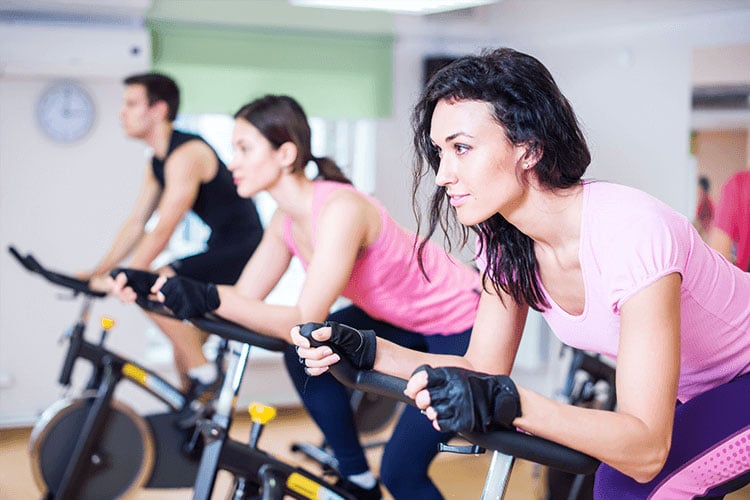 Blazin' Bodies
Blazin Bodies is a fitness facility that seeks to provide "transformational personal training
sessions." Unlike other locations we have mentioned, Blazin' Bodies is less a gym and more of
a training program that features spinning classes, boxing, and body sculpting training. Each class runs between 30 and 50 minutes long, making it easy to fit into your busy schedule.
The classes are designed to provide varying difficulty levels, so you can work towards your fitness goals at your own pace. At Blazin' Cycle, they create an inclusive and motivating atmosphere to ensure everyone feels welcome and encouraged to do their best. If you're looking for an amazing spinning class experience in Chicago, Blazin' Bodies is one of the best places to check out!
West Loop Athletic Club
Taking a spin class at the West Loop Athletic Club in Chicago is an exhilarating and unique cycling experience. Whether you are an experienced cyclist or just starting, the certified instructors have something to offer everyone. Also offering Les Mills Sprint™, carve away excess fat and improve muscle tone in as little as 30 minutes.
From traditional cycling workouts to a class focused on upper body strength, every type will have you challenging yourself and feeling accomplished after it's over. After you're done with the cycling class, shower off and jump in the lap pool to cool off! If you're looking for a great way to exercise and challenge your body in new ways, the West Loop Athletic Club is the perfect place for you!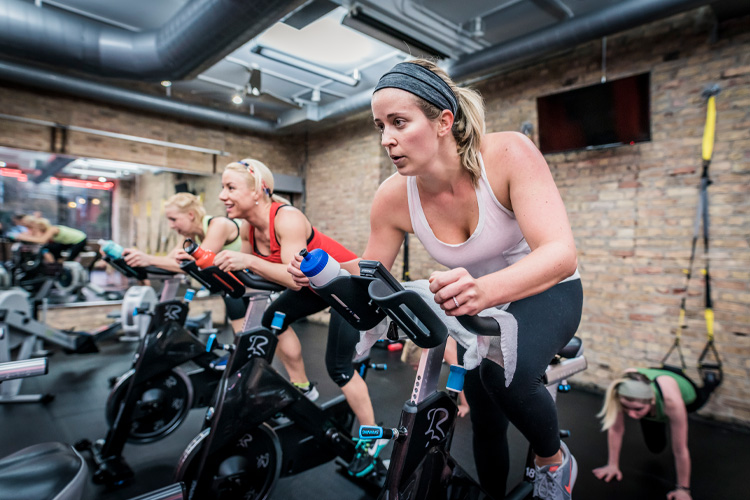 Heights Cycle
If you're located in the southwest side of Chicago, you'll want to check out Heights Cycle. Technically located in Palos Heights, instructors at Heights Cycle cater to bikers of all levels and provide tailored cycling workouts that help riders reach their personal goals.
Their motto, if you will, is "dedicated to the experience," and you'll certainly have a great experience there. Even the most experienced cyclist will find their spinning class challenging and engaging.
The high-tech spinning bikes offer a comfortable and safe ride with spinning technology that tracks your ride. Plus, each spinning class is backed by an engaged staff who strive to create a welcoming environment for everyone. With its dedicated instructors and innovative spinning technology, it's no wonder why Heights Cycle has become a popular spin class in the southwest suburbs of Chicago.
Evanston Athletic Club
Moving from the southwest to the north, we have Evanston Athletic Club. It offers some of the best spinning classes available in the northern suburban area. With body workout-focused cycling classes, cyclists of all fitness levels can enjoy a high-intensity cycling experience.
Instructors lead guests through an intense cycling session during each class for an ultimate body workout experience. The facility also offers various endurance levels, such as beginner, advanced and competitive options, to enable users to find the best program.
Evanston Athletic Club's spinning classes can provide an exciting and challenging body workout experience. But it also has weekly group exercise classes, a 20-yard lap pool with 4 lanes, luxury locker rooms, a full basketball court, and more!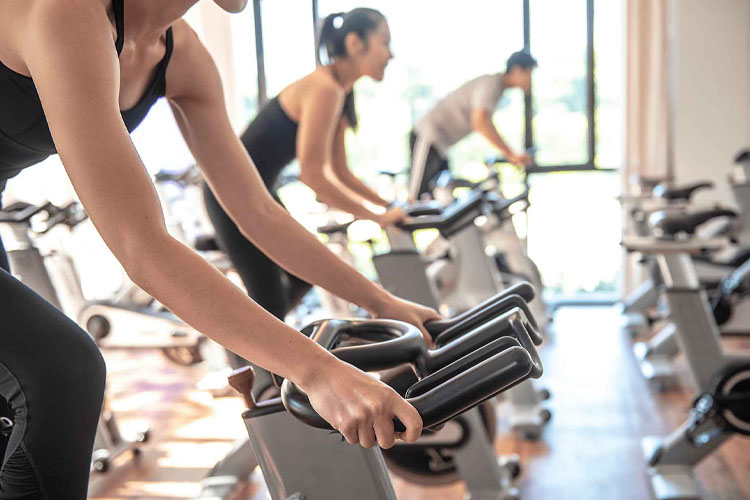 Bikettle South
Bikettle is one of the best spinning classes in the Grand Crossing area of Chicago. Providing a fantastic cycling experience, Bikettle's spinning classes are highly affordable and feature music and lights to help you focus and enjoy your time on your bike.
Whether you want to engage in spinning as a great way to work out your daily cardio needs or are simply looking for an efficient and effective way to get cycling workouts into your routine, spinning with Bikettle is a great choice.
Synergy Fit Club Chicago
The Synergy Fit Club can be found on the southern border of Chicago city proper but is still
within easy reach of many neighborhoods. This gym is dedicated to providing you with
high-energy workouts that challenge your body and help you build fitness.
In addition to spin classes, Synergy offers personalized nutrition plans, Pilates classes, group training, and personal one-on-one training sessions with the instructor of your choice. Their spin classes are 1 hour long and can be booked for Monday through Wednesday as well as on weekends.
Cyclebar
If you're looking for an intense and unique spinning class experience with amenities and services, Cyclebar in Chicago is another great place. Their spinning classes are led by experienced, friendly instructors who provide participants with professional guidance and challenging, tailored cycling workouts.
In addition to offering spinning classes catering to all fitness levels, they provide digital sessions from world-renowned cycling trainers that help everyone challenge themselves further. Participants can track their progress and success over time, set individual goals, and enjoy different music depending on the cycling class.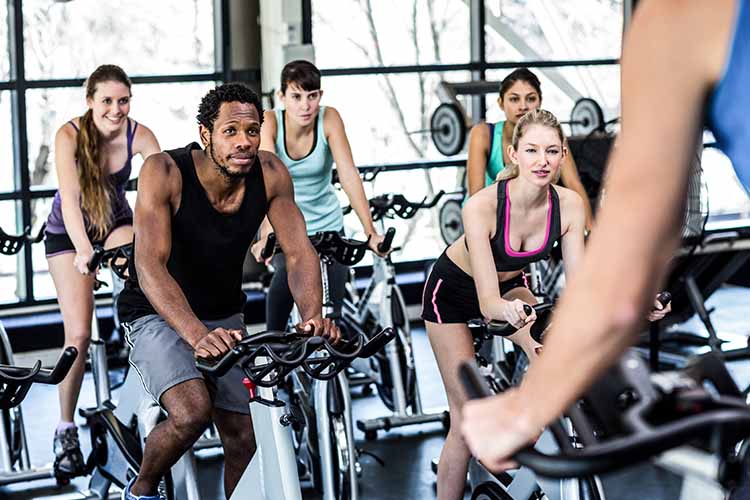 Wicker Park Athletic Club
Last but certainly not least on our list of the 12 best Chicago spinning lasses is Wicker Park Athletic Club (WPAC). Whether you live in Wicker Park or you are a CAC member passing through the area, WPAC gym will help you meet and exceed your fitness goals!
Also featuring the High-Intensity Interval Training (HIIT) workout Les Mills Sprint™, WPAC's spinning classes will leave you feeling energized and ready to conquer the day. In addition to its spin classes, WPAC also features weekly group fitness classes, functional training turf, world-class yoga classes, and a lot more!
Why Try Spinning Classes? What's the Benefit?

Cycling is a Low-Impact Workout
One of the main benefits of cycling is that it is a low-impact workout, which means it is easy on the joints and muscles and is a good option for people unable to do high-impact activities such as running or jumping. Additionally, because cycling is a low-impact workout, it can be done by people of all fitness levels.
Cycling Burns Calories
Another benefit of cycling is that it can help to burn calories. In fact, according to Harvard Health Publishing, a 155-pound person can burn approximately 250 calories in 30 minutes, biking at a moderate pace. Additionally, cycling is aerobic exercise, so it can increase the calories you burn at rest.
Cycling Improves Heart Health
In addition to burning calories and being easy on the joints, cycling also has heart health benefits. Cycling can help to improve cholesterol levels, blood pressure, and heart function. According to the Department of Health and Human Services, exercise can lower your risk of cardiovascular disease (including heart disease and stroke), lower your risk of hypertension, decrease the risk of type 2 diabetes, and a lot more.
Cycling Strengthens Muscles
Another benefit of cycling is that it helps to strengthen the muscles in the legs and lower body. Because cycling involves pedaling with both legs, it can help to improve muscle symmetry and balance.
The Best Chicago Gym For Spin Classes
When you're looking for spin classes, you want to find the gym membership that will give you
the best value. You'll find that at Chicago Athletic Clubs (CAC). We have seven different
locations throughout the Chicago area and provide a variety of personal and group fitness
classes, including spin classes.
Care to expand your fitness horizons? CAC's locations provide swimming pools, professional weight rooms, and several other features to suit your specific needs and preferences. Your first visit is on us. Try out our free guest pass, and check us out today!