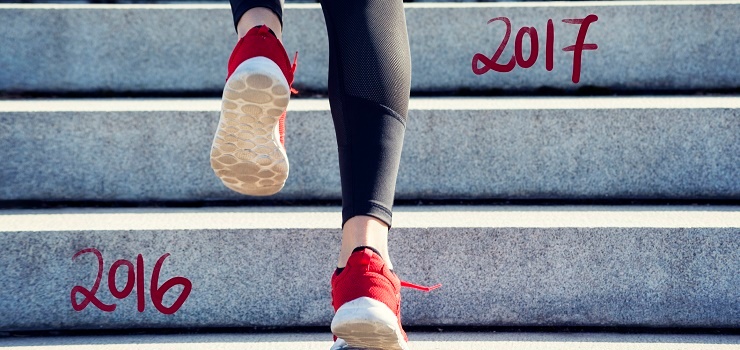 So the new year is almost here, and inevitably resolutions follow. And why shouldn't they? What a great opportunity to set goals for ourselves that we can work toward throughout the year. The important thing is that those goals are meaningful for you, and go-to resolutions like "Work Out More" or "Lose 15 Pounds" don't always speak to the things that really matter to us. So here are 5 non-gym resolutions, with examples of how fitness and a healthy lifestyle will help you achieve them.
1. Travel more
And who doesn't want to see the world? With so many amazing destinations, cultures and wonders of the world to experience, it's a no-brainer that travelling more is at the top of most people's lists. But all that globe-trotting requires a lot of stamina; walking around cities, climbing ruins or even just running through airports. Make sure you're prepared for the trip by investing a little time in regular cardio exercise so that you're not to pooped to pursue adventure. Even 30 minutes of walking a day will help you make the most of your time on the road.
2. Save money
A big one for everyone, whether to make a special purchase, invest in retirement or fund that small business you've been dreaming of for yourself. A huge way to save money for most people is by cooking more at home. And more than just cooking; taking the time one day a week for meal planning an prepping for the week ahead not only saves you money from eating out and unused produce, but saves you time deciding what to have for dinner! While you're at it, it's an easy jump to go the extra mile and plan out a healthy, well-balanced menu to follow. Pre-planned, nutritious meals cooked at home save you money and improve your energy and well-being.
3. Be more organized
Time is the one thing we can never get back, so for a lot of us it's important not to waste it. Organization is a skill that takes dedication, but gives us some of that time back. Building a routine or schedule is the framework for good organization, and by scheduling something concrete, like a specific amount of time at the gym, you give yourself an excellent building block for your organization framework. Being able to set that time, however little, and stick to it, will set you on a path to organization and ultimately freeing up more precious time.
4. Give more
In this day and age, with all that's happening around the world, we all want to do something more to help out. But what? It just so happens that many charitable organizations sponsor fun runs and events to benefit those in need. Girls on the Run, CARA and Team PAWS are some right here in Chicago. By participating in events like these, you are able to give back while making your health and fitness a priority at the same time, and what could feel better than that?
5. Be nicer
This is the loftiest of resolutions; it is at once such a simple-seeming goal, but one of the hardest to execute. Because there are so many jerks, idiots and haters out there, right? But the truth is, the happier we feel, the more capable we are of being nicer to others, even those we may not agree with. Regular exercise is a scientifically proven component to increasing individual happiness in a human being, and not necessarily daily killer workouts. It's more about focused exercise, which means that for the time you are working out, even if it's only 20 minutes a day, do your best to focus just on your work out and nothing else. Leave your day, your week, your month at the gym door and allow yourself some you-time that is just about you and the movement you are doing. The focus is key to fostering happiness, and the happiness is guaranteed to make you nicer.
So remember, no matter your resolution for 2017, or even your goals for the week ahead, we can guarantee that fitness and health can only help you get further.