Chicago is known for having the best cocktail bar scene. So, what do you do if you want to grab a drink with your friends but also want to watch your calorie intake? We have you covered! Check out this list featuring several popular bars and low-calorie alcohol drinks in Chicago!
10 Delicious Low-Calorie Cocktails in Chicago
Why should you care about the calories in your drinks? Alcohol is high in empty calories. That means the calories have little to no nutritional value, they won't fill you up, but the effects of alcohol on the brain will prompt you to desire more.
If you are conscious of your calorie intake for health, weight management, or personal preference, we have good news! You can grab some cocktails and still maintain a calorie count that makes you happy.
There are a few things to know about calories and cocktails. First, although the FDA strictly requires food menus to display calories for food and drinks, bar services are not required to provide this information.
You can prepare to keep your calories in check for a night on the town by familiarizing yourself with calorie counts for various spirits, beer, and wine. Lastly, when in doubt, leave the mixers out. Generally, spirits without all the add-ins are low in calories. They can often be just as fun with something bubbly, like sparkling water.
So let's dive into these cocktail bars and some low-calorie options. All of these cocktails are featured at various bars in Chicago.
Le Colonial
The first three low-calorie cocktails we are featuring come from Le Colonial. For over twenty years, Le Colonial was located on N. Rush Street. In 2018 the restaurant moved to Oak Street. Known for its gorgeous all-season terrace and perfectly curated low-calorie cocktails, Le Colonial tops our list for the best variety of low-calorie cocktails in Chicago.
Each drink comes in under 150 calories and will delight your senses no matter what your style of drink may be. We have selected three drinks to feature for our low-calorie cocktail suggestions. The menu may change, but when ordering at Le Colonial, it is nice to know every cocktail is made for those of us counting calories while we partake!
French: Prairie Organic Vodka, Crème de Casis, and Pineapple.

Eternal Spring: Grey Goose Le Poire, Domaine de Canton Ginger Liqueur, Cucumber, Pear, and Basil.

Ha Long Julep: Rittenhouse Rye, mint, lemongrass, and ginger
MoneyGun
Located in the Fulton River District, MoneyGun is known for drawing diverse crowds, including sports fans, professionals, and musicians, to name a few. Friendly bartenders and an overall hospitable atmosphere make MoneyGun a special place to hang out and enjoy a drink with friends.
With a focus on the classics, this is a great place to go for low-calorie cocktails. We chose to feature the Negroni and the High Ball. A Negroni typically averages about 96 calories (about 8 minutes of running) and a high ball 110 calories (about 9 minutes of running).
Negroni (pictured below): gin, sweet vermouth, Campari, and fire

High Ball: Jim Beam, citrus, and bubbly water.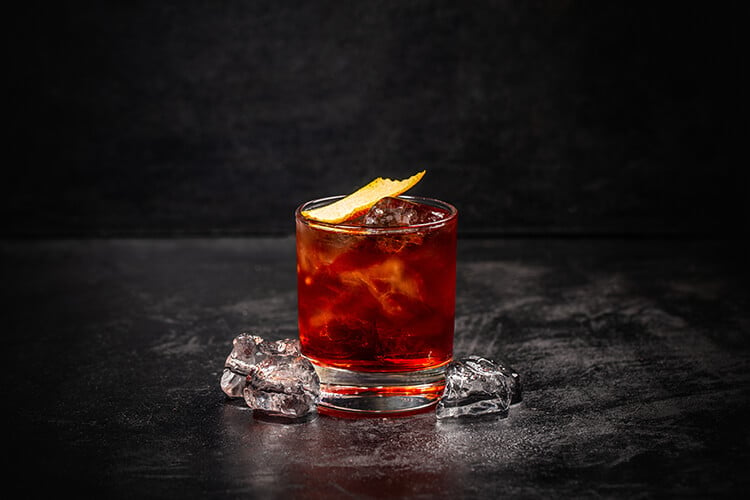 The Victor Bar
Located in Northcenter, it is known for its Parisian flare and specialty cocktails. Small and lit with candles, The Victor Bar is inviting and intimate with a classic aesthetic. We featured the classic Old Fashioned because it is always a safe bet at around 150 calories on average.
The Old Fashioned: made with Bourbon, Rye or Mexcal
Bordel
Speakeasy Parisian style, the Bordel transports you to another time. The Bordel is an experience, a cozy cocktail lounge with candlelit tables, velvet couches, and a burlesque show. The bartenders are known for making strong drinks, so buyers beware.
That also means that counting calories can be different-more alcohol means more calories. We are featuring the White Negroni on our low-calorie cocktail list. A White Negroni averages 160 calories.
White Negroni: wild banana aquavit, Bianco bitter, aromatized wine, Verjus, and falernum.
Scofflaw
Scofflaw is known as a gin-focused cocktail bar in Logan Square. A gin-focused menu is great news when you are counting calories. Full of comfortable mismatched furniture, Scofflaw feels homey and warm in the winter with a working fireplace. We chose a simple Gin and Tonic as our feature drink from Scofflaw. A gin and tonic averages about 96 calories per drink.
Gin and tonic: Scofflaw Old Tom Gin, house tonic, juniper, rosemary, and lime.
The Violet Hour
Featured in worldsbestbars.com, The Violet Hour is known for its unassuming exterior and dramatic interior and even more for the drinks and famous mixologist Toby Maloney, winner of a James Beard Award for Outstanding Bar Program 2015 for his work at The Violet Hour. Many of the drinks are gin-focused or whiskey-based.
We chose to feature the Gin Gimlet and Tom Collins. Both are low-calorie options that will satisfy your taste buds without adding too much to your daily count. A Gin Gimlet averages about 132 calories, Tom Collins about 122, and a Vesper martini about 191 calories. One more thing about The Violet Hour - the House Rules. You'll want to read them before you go!
Gin Gimlet (pictured below): London dry gin, lime, and sugar or made with CH gin, lime, and sugar

Tom Collins: Hayman's Old Tom Gin, lemon, sugar, and sparkling water.

Vesper Modern: Maplewood Brewer's Gin, Haku vodka, Amaro Nonino, Mattei Cap Corse Blanc, and lemon peel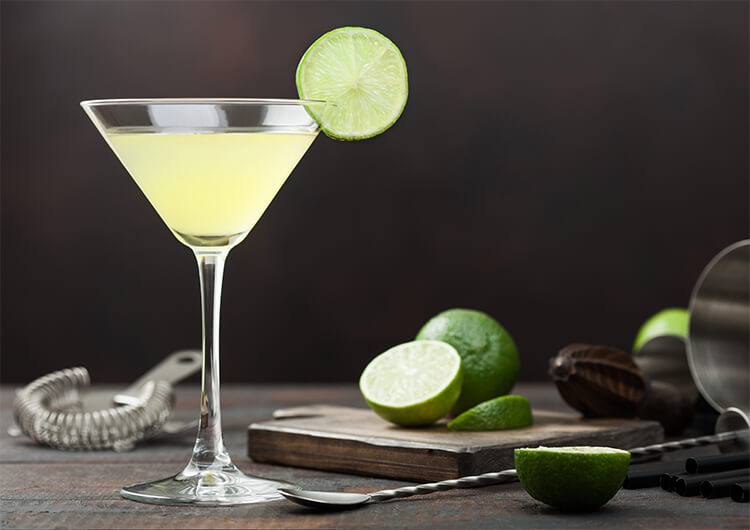 Tips for Choosing Low-Calorie Libations
Calories are a big reason to stay away from many popular alcoholic drinks. Still, it's not just the calories that become an issue if you are counting calories. Drinking alcohol lowers your inhibitions and can often lead to overeating.
If you don't want to undo all of your low-calorie cocktail choices by overeating, being aware of the potential for lowered inhibitions is an excellent place to start. You don't want to drink without eating, so it's a good idea to make a plan, look ahead at menus, and choose bites that help you stay within a range of calories you are comfortable with and order those.
Here are a few tips for enjoying some drinks while watching calories:
Stay away from craft beer. Most craft beers average about 300 calories per serving. If beer is your drink of choice, try a light beer like

Michelob Ultra Light

(95 calories).

Alternate drinks: Alternating cocktails with non-alcoholic beverages like water or low-calorie sodas will help you reduce your calorie intake.
Ordering on the rocks: skipping the mixer and extra syrups decreases the calories per drink.

Diluting with club soda or sparkling water: diluting your drink will make it last longer.

Have a plan: if you plan for your night out, you are more likely to stick to your plan.
Another popular option to make cocktail hour healthier is by ordering a mocktail. Mocktails are alcohol-free versions of your favorite cocktails and usually have fewer calories than their alcoholic counterparts. Not all mocktails will do the trick, though. It's safer to avoid higher-calorie mocktails (or cocktails) like mudslides or long island iced tea.
More Chicago Cocktail Bars
There are cocktail bars all over Chicago. Three Dots and a Dash in River North, Lazy Bird in West Loop, and Kumiko, the renowned Japanese dining bar where you may catch a glimpse of Julia Momosé, one of Chicago's famous mixologists.
The Green Mill Cocktail Lounge is great for grabbing a martini and listening to some live music. The Aviary features a five-course tasting menu pairing cocktails with bites. Wicker Park is full of cocktail bars and wine bars.
Almost everywhere you go in Chicago, you can find something to do, somewhere to eat, and a place to grab a drink. Remember, some of the best bars in the city are dive bars. Another place you can always find some fun and grab a low-calorie cocktail is at one of Chicago's hip-hop cocktail bars like Y Bar or The Revel Room.
Stay Fit With Chicago Athletic Clubs
The best way to stay in shape and keep up with your health goals is to join a gym where you can find a community of people to encourage and support you along the way. Gym membership has many benefits.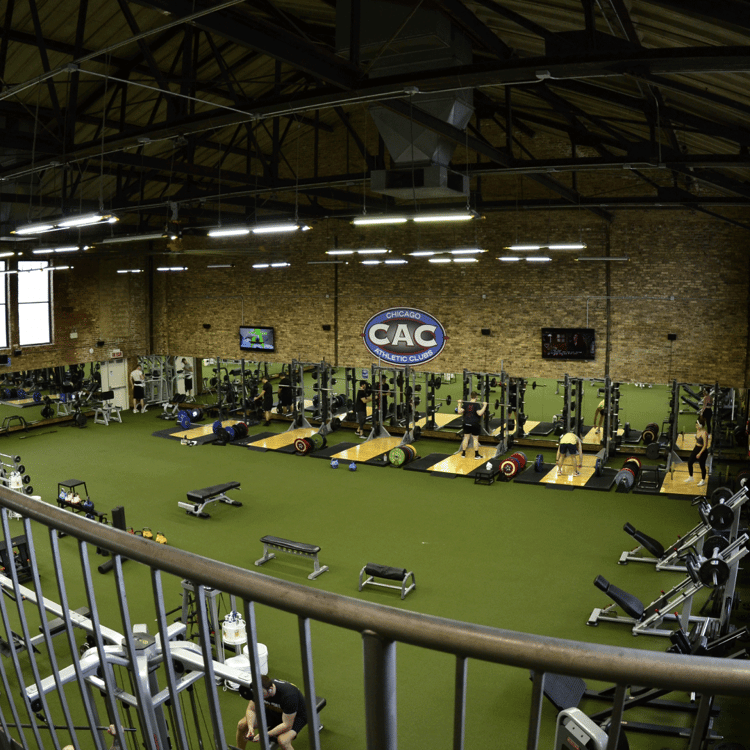 In addition to health benefits associated with physical fitness and weight management, gym memberships can help reduce stress, increase energy, improve sleep, and help you meet people. Access to all-weather workout space and equipment is vital in Chicago. Joining a gym can keep you motivated and moving all year long.
Chicago Athletic Clubs exists to help Chicago residents enjoy every part of the city while getting and staying in the best shape possible. We have seven locations across the city and Evanston full of everything you need for your workout preferences:
Contact us today to schedule a tour and discuss membership options!