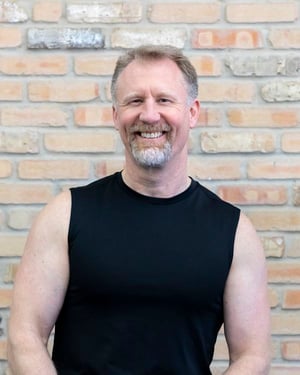 Introduction

Here you are, checking out the personal trainers, thinking, "Why should I work with this guy over anyone else?" The answer is simple: You are exactly where you're supposed to be. You're looking for that person who will motivate you beyond where you currently are in life and that search has brought you here. There are no accidents. So, let's do this. I've been a professional actor for the better part of 30 years, which has taught me great respect for keeping our bodies strong and healthy, but has also given me invaluable experience connecting with people and being the "scene partner" they need for the situation at hand. If you need me to be tough for you, I can do that. If you need gentle and encouraging, I can do that too. If you need both at the same time… yep, gotcha covered. I'm interested in helping you remove all physical and mental obstacles from your path, revealing the BEST YOU. I'm not about restrictive diets, unsustainable regimens, etc. I'm about changing your lifestyle for the better and in a way that it will stick. I don't believe in excuses. I believe in solutions. Let's do this.
Education and Experience
University of Northern Colorado, BA Theatre Arts; Enlightened Warrior Training Camps (Los Angeles & NYC, USA, Barcelona, Spain; Rio de Janeiro, Brazil); Health Coach Institute.
Certifications
NASM PT, HKC Kettlebell 1, AWSDA Women's Self Defense, Health/Life Coach (HCI), Boxing (Box N Burn)
Specialties
General Health and Wellness, Weight Loss and Body Composition, Women's Self Defense, Kettlebell, Functional Movement and Performance, Program Design
Specialist Trainer
achristensen@chicagoathleticclubs.com
Location: Lincoln Square
Testimonials:

"AC is an incredible trainer, a perfect match, and he is leaps and bounds ahead of my prior training experience. In fact, I was planning to give up the training, and go solo again, but he is so great I signed up for more sessions long term!" - Todd F

"Thank you SO much, AC!!! I truly appreciate all of your encouragement and knowledge. You've shown me that I'm capable of doing more than I think I can. You've helped me to find that sense of self-confidence again, and taught me so much about health and fitness. Thank you for everything!" - Ashley M

"AC is the best! He really challenged me and taught me a wide variety of exercises and equipment that also improved my solo workouts. During our sessions, I love that he was really focused and corrected me when I wasn't doing something in a healthy/safe/best way. I'm much more confident at the gym because of him. I'm now in his Tabata class and I love the challenging/fun workouts he designs for us twice a week." - Sheila G