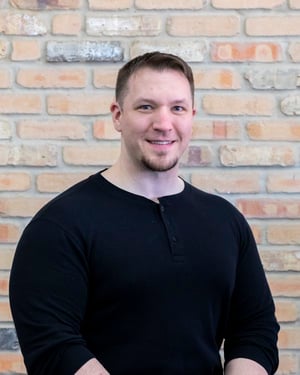 Introduction
Being a personal trainer in my experience is the best and most rewarding career to have. I mean we get to help change people's lives everyday! As a personal trainer I have lived my life by this saying. "Don't give up... Don't ever give up!" Jimmy V. This has taught me that slow progress is better than no progress and that something that is important is worth putting in the time and effort. Your Body is your temple why not take care of it? I believe that the body is a truly amazing thing and I enjoy helping my clients learn about their body and what they need to do to take care of it. My goal is to strive to give the best quality programs that are both challenging and rewarding to my clients leaving them confident and excited for more while being in a comfortable and fun environment. Remember to make progress you have to learn to be comfortable being uncomfortable.
Education, Experience, & Credentials
Buena Vista University: B.S. Exercise Science and Human Performance
Played 4 years of college football
2 years Strength and Conditioning Coach at Mesabi Range College in Minnesota
Certifications
American Fitness Professional Association: Certified Strength and Conditioning Specialist
American Fitness Professional Association: Certified Sports Nutritionist Counselor
Specialties
Power lifting, Bodybuilding, Functional training, Sports specific, Weight loss, Muscle gain, Post rehab, Flexibility, Nutrition, and Older adult training.
Specialist Trainer
blanej@chicagoathleticclubs.com
Location: Lincoln Park