BRACE YOURSELF TOTAL BODY WORKOUT
with
JEN PENNOCK

In the City of Big Shoulders, you need to be strong to get through our brutal winters. Do this workout as a circuit, doing 10-12 reps each. Repeat the circuit four times.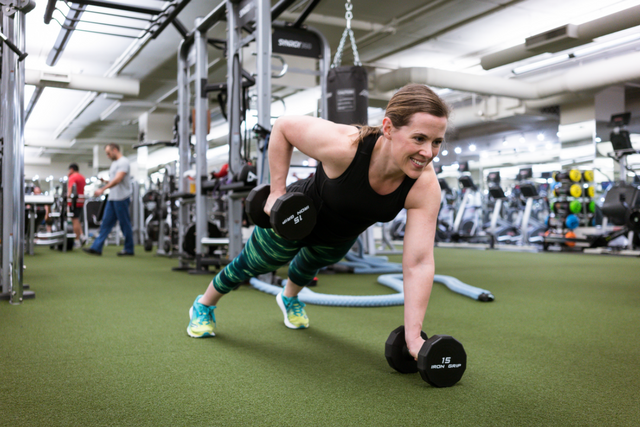 Burpee-Row-Press
Grab a pair of dumbbells. Squat low and jump your legs behind you into a plank. Holding your core tight and your plank straight, row each arm up once, keeping your arm close to your side. Jump your legs back into a low squat. Stand up and do a shoulder press with the dumbbells. That's one rep.
Trainer tip: A wide-legged stance in your plank will help you balance and keep your body in that strong plank position.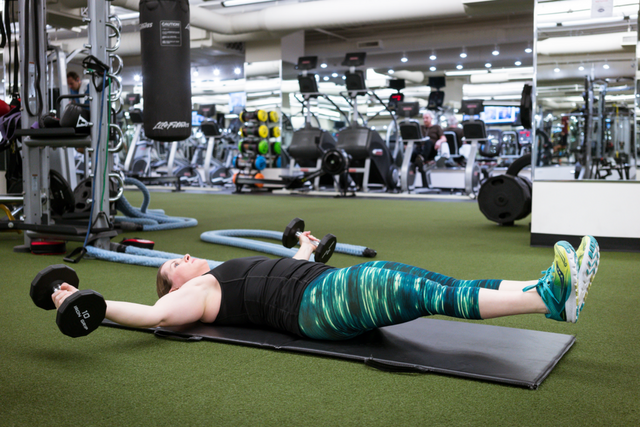 Chest Fly/Leg Lift
Grab a pair of dumbbells. Lie down on your back. Holding the dumbbells, bring your hands up above your chest, and bring your legs up straight together over your hips. Lower your arms into a chest fly while lowering your legs, keeping your lower back in touch with the floor. Bring both the arms back together and legs back up at the same time. That's one rep.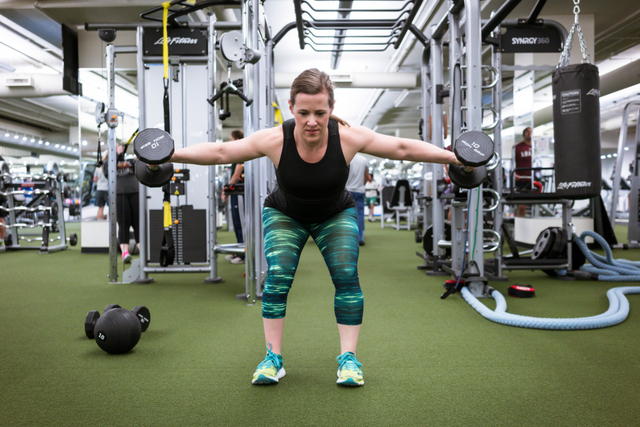 Bent Over Reverse Fly
Grab a pair of dumbbells: you can use a lower weight than the pair used for your chest flies. With a small bend in your knees, bend over at the waist, keeping your back flat. Start with your hands together below your chest. Fly your arms out to the sides and up to squeeze your shoulder blades together. Lower arms. That's one rep.
Trainer tip: As you fatigue, your form may suffer and you might start rounding your back. Lower your weight used or alternate arms so that you don't lose proper form.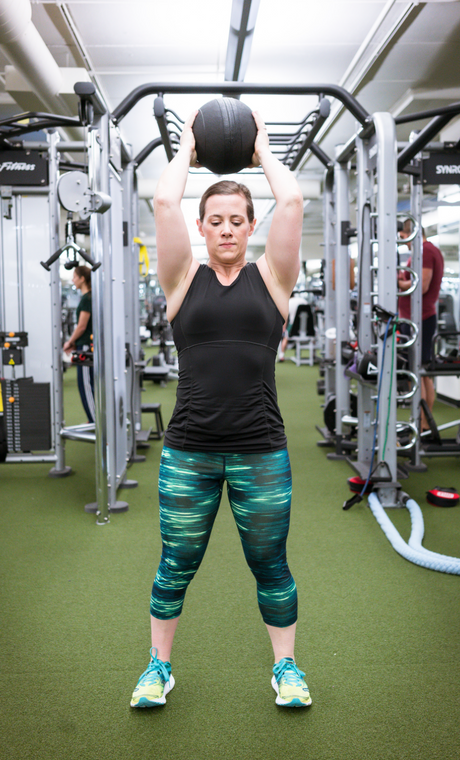 Ball Slam
Grab a 10-15 pound slam ball. Hold the ball with both hands, bring arms up overhead and bend elbows 90 degrees. Keep the arms close together (width of the ball) so that your triceps are engaged when you slam the ball down to the ground by your feet. Follow the momentum of the movement with the rest of your body so that you end in a squat close to the ball. That's one rep.
JEN PENNOCK is a trainer at Webster Place
To book a session with JEN at Webster, click here