Many of us have difficulty transitioning to the cold weather. But yoga and its sister science, Ayurveda, have time-tested methods that can make things go more smoothly during the darkest, coldest days of the year.
How to Gracefully Manage the Winter Season
Regular exercise and yoga practice strengthen the immune system and give us a solid foundation to face the long winter. If time is limited, sun salutations are the ideal way to warm up and loosen the body in the morning.
Make sure you breathe deeply when you practice or exercise, because the breath contains prana, the essential life force. Diaphragmatic breathing improves digestion, brain function, and posture; increases energy; and reduces stress. Make sure the inhale is as long as the exhale, and that the belly is moving.
Making a Sankalpa
Motivation can go out the window when the temperature drops. To make sure you stick to your practice, it is good to make a sankalpa. A sankalpa is not a resolution; it is a solemn vow. To make a sankalpa, write down your intention at the top of a piece of paper and below write exactly how you will do it (for example, "Exercise for at least ten minutes, five days a week, for the rest of winter"). Sign your sankalpa and give it to someone you trust—or burn it. Keep a copy for yourself, and look at it from time to time to see how you're doing. A sankalpa is like a contract with yourself, and it is important to stick to it.
Eating Habits for the Winter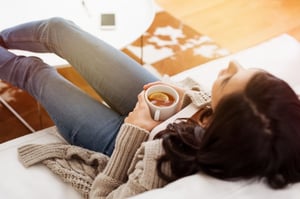 The body craves a steady supply of fresh, warm, healthy food in winter. Avoid foods that are processed, canned, frozen, reheated, or packaged, as they can make you tired and tax the immune system. Also stay away from cold drinks. Try drinking herbal tea or hot water with lemon rather than caffeinated beverages, which can increase anxiety, dehydrate the body, and make it difficult to sleep. Warm, sweet, moist, nourishing foods keep the body warm and grounded. These can include steamed, baked, or roasted sweet potatoes slathered with healthy oil and soups made with seasonal items such as butternut squash. For breakfast, try a bowl of organic oats cooked with fennel and cardamom and served with raisins that have been soaked in water for 20 minutes (this makes them plump and moist). Buckwheat and quinoa are also wonderfully warming, energy-producing breakfast foods, especially when cooked with nuts.
Help For Dry Winter Skin
Oil is one of the best antidotes to dry, cold weather. If you suffer from dry skin, try pouring a few teaspoons of uncooked sesame oil into your bath at night. If the body is stiff, add a cup of Epsom salt. After the bath, rub a few drops of sesame oil into the nostrils and ears to relieve dryness. Make sure you also include plenty of oil in your diet to lubricate the joints, aid digestion, and keep the bowels working properly. Olive oil is good for most body types.
What To Do When You Get Winter Depression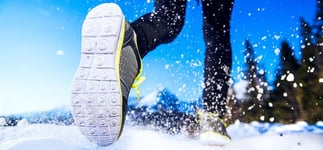 If you get depressed in winter, try adding some bright, warming colors to your wardrobe, such as red, pink, orange, or yellow. Put up a string of holiday lights—and leave it up until winter ends. Spend a few minutes of each day outside while the sun is out (whether you can see it or not). If possible, spend time in nature once or twice a week. Just make sure you're wearing a hat, a warm jacket, and plenty of layers. If you get chronically tired during the dark months, learn to stop saying yes to every invitation and build more quiet time into your schedule. Go to bed a little earlier than usual so that you get enough rest.
Most important, keep exercising and practicing yoga. Recent studies have shown that regular yoga practice can greatly reduce symptoms of clinical depression. "The more the participants attended yoga classes, the lower their depressive symptoms at the end of the study," said Dr. Maren Nyer, who conducted a 2017 pilot study at Massachusetts General Hospital. She also found that it improved the participants' sense of optimism.
By Kali Om
Excerpted from her book Beyond the Mat: Don't Just Do Yoga – Live It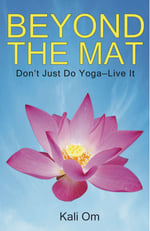 Available at: https://www.amazon.com/Beyond-Mat-Dont-Just-Yoga-Live/dp/1732056307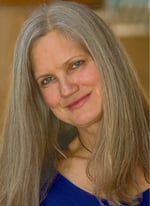 Kali Om has been teaching yoga since 1998 (at CAC since 2004) and is author of the 2018 book Beyond the Mat: Don't Just Do Yoga – Live It. She is registered beyond the highest (E-RYT 500) level and leads workshops and retreats in the US and abroad and is a columnist and cartoonist for Yoga Chicago magazine. Learn more at www.yogikaliom.com
Chicago Athletic Clubs
With everything you need to stay active the winter season, Chicago Athletic Clubs is here for you. We offer advanced fitness classes (including yoga), personal training, a wide variety of gym equipment, and so much more! You can even try it for free with our membership guest pass. Visit your local CAC gym location to get started today!