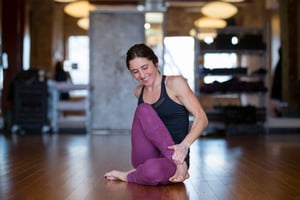 Erica Merrill has been practicing yoga since 1996 and teaching yoga since 2001. She started practicing mainly for the physical challenge and quickly found it transforming her life. Yoga has helped her learn how to deal with stress in a much calmer way. Helping her realize that we can make any situation better or worse by our reaction to it.

Her roots stem from Brian Kest in Los Angeles, California. He inspired a passion that led her to do teacher trainings with David Swenson in 2004 and Yogaview in 2006. She was also fortunate to get to participate in Yogaview's 2010 level 2 teacher training. Erica is currently leading the Chicago Athletic Clubs Yoga Teacher Training.

Erica's teaching style is a special blend that includes a light-hearted sense of humor, a vast experience and knowledge of the practice of yoga, a spirit of playfulness that inspires without diminishing, and sequencing that weaves the familiar to the unpredictable in a way that requires a fullness of attention. Erica lives and teaches in Chicago, Illinois. She feels very grateful that yoga has come into her life and loves to share it with others.