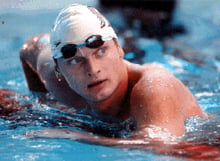 Béla was born and raised in Hungary, started his competitive swimming career at age 9 immediately after learning how to swim. By age 14 he was part of the Hungarian national age group team competing mostly in the backstroke and freestyle events. Soon after that it became evident that The freestyle events are his best and continued to compete both internationally (representing Hungary) and NCAA division 1 until 2000. He graduated from the University of Southern California.
His swimming accomplishments include participating at the '92, '96 and 2000 Olympics, short course world champion (200 m freestyle,) NCAA division 1 champion 200 yards freestyle), World Cup champion (100 and 200 m freestyle) and numerous US Open, PAC 10 and Hungarian National championships and records.
He has been coaching swimming at CAC since 2006 and have been competing (on and off) masters swimming, open water swimming and even tried a triathlon once.