SANDBAG CIRCUIT
with
DONNA WALKER

The Sandbag Circuit Basics:
Choose an appropriate weight for a sandbag. Perform each exercise for 45 seconds 30 seconds off between exercises and then do the whole circuit 4-6 times.
Donna's Pro Tips:
-Be comfortable with being uncomfortable. If it feels easy, it is easy-- that won't really do much. Try a heavier weight. You should really want to be done by the last few reps of any given exercise. If you aren't challenging yourself you won't change.
-Focus on your breath, exhale on exertion. It will help you to get through the toughest workouts.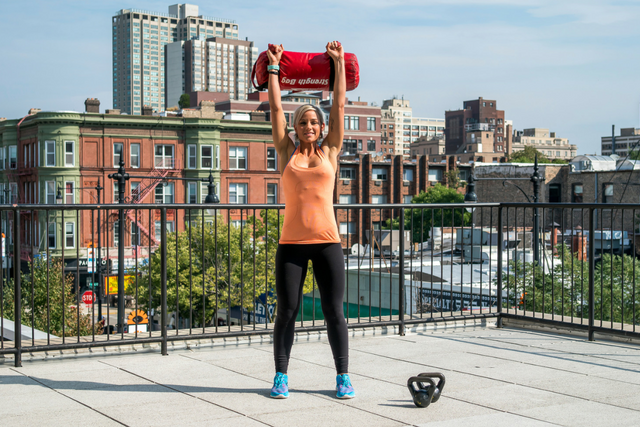 FLIP CURL or CLEAN & PRESS w/Sandbag

After pushing the chest out to protect your back, squat down to grab the bag. Grasp under the bag exploding the hips forward, straightening the legs then using your arms pull and guide the sand bag up to your shoulder. Gather yourself, then dip your hips, keeping your back tight. Explode up as you use your shoulder to push and guide the bag over your head. Bring the bag down to your shoulder under control absorbing the force by slightly bending your knees. Then control the bag back to the floor.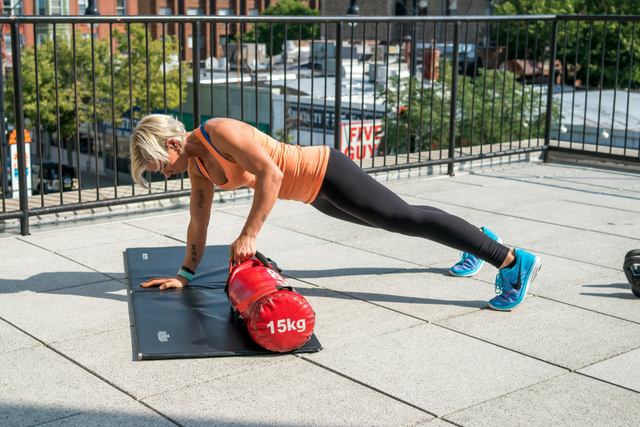 PLANK: HORIZONTAL SLIDE
Get into plank position with sandbag beneath your chest. Use one hand to slide bag forward and back under body, keeping hips level to the floor. Switch arms as you push the left and right.
SANDBAG SIDE LUNGE:
Load the sandbag onto one shoulder. Take a wide step to the side with the bag. When your outside foot contacts the ground, lower your body by pushing your hip back and bending the knee. Keep your inside leg straight and foot firmly planted. Pause when your outside thigh is parallel with the ground, and then push back to the starting position. Change the bag to the opposite side each circuit.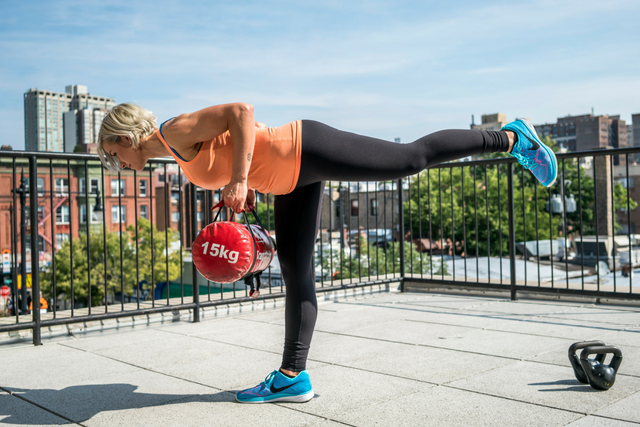 SANDBAG DEAD LIFT ROW:
Holding the sandbag with both hands, stand with legs hip width apart, knees slightly bent. Bend forward at the hip while extending one leg back. Continue bending until you are parallel with the ground. Then return to the upright position. Focus on one leg per circuit. Switch to the opposite leg for the next circuit.
DONNA WALKER is a Trainer at our CAC Lakeview Athletic Club
To book a session with Donna at LVAC, click here