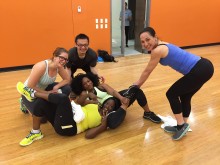 In a week or two, CAC will welcome a new club to the family.
Webster Place Athletic Club is in Lincoln Park at the intersection of Webster and Clybourn Avenue. It's right by the AMC theater and across the street from one of my favorite Chicago pizza joints. I'm excited about this because I plan to reward myself after many a tough workout with a slice of deep dish Pequod's pizza. But if you're a better person than I am, Protein Bar is just down the street.
Last week CAC hosted a preview and invited folks to come out and check out the club. I stopped by, took a tabata class with Julie and got to be one of the first to sweat in the club's brand spankin' new studio.
Though they were still putting the finishes touches on construction and hadn't yet installed the equipment or cardio machines, I was really impressed with how everything was coming along. Here were a few of the things that stuck out as I was touring the new club. If you're on the fence about joining, read on!
1. It's Brand, BRAND New
This space was formerly a gym, but the similarities end there.
I thought CAC might simply refresh the existing space — maybe a fresh coat of paint and new machines. Not the case. They gutted the entire place and built it out, complete with new locker rooms, studios and various workout areas.
I never visited the LA Fitness that was formerly in this space, so if you worked out there before, I can't speak to how similar or different this club will be from what you're used to. But judging from some disgruntled Yelp reviews (the nicest one I could find described it as a "no frills" gym), I think any former LA Fitness club members will be pleased by the cleanliness, newness and some of the extra bells and whistles.
2. More Studio Space Than I've Ever Seen
My all access membership grants me entry to every CAC club, and I've worked out at several locations. Of all the clubs I've visited, this one has more studio space.
There's a huge multi-purpose class studio that I worked out in, a ginormous yoga studio and even an aerial yoga and barre room studio. I didn't get to peek at the spin studio, but I heard it's the largest of all the clubs.
3. The Club Itself is Huge
This club is located in a smallish shopping center, which is deceiving. You can't tell from the outside how large it is. When I stepped inside, I was blown away by how much space there was. And that was before I found out there was another floor!
Aside from the large studios, you'll find lots of different rooms and areas with plenty of space for everyone to stretch their legs. Whatever your jam — cardio machines, weight lifting or floor exercises — you'll have plenty of room to do it all.
The locker rooms are really roomy as well, meaning even during peak hours you shouldn't feel cramped or have trouble finding a locker.
4. It's Got All the Fixings — And More
Since this club has so much space, it has all of the best CAC bells and whistles. They were even able to add new stuff that other clubs don't have. Some of the amenities at Webster Place include:
Kid's Club: It's about the same size at the club at LPAC, but unlike LPAC it's attached to the club.
Steam room and sauna: Since my main clubs don't have these, I'm super stoked!
Yoga studio with hot yoga classes: It's the biggest yoga studio I've seen at all the clubs I've visited.
Aerial yoga and barre classes: This is the first club to offer either of these. Should be fun!
Webster Place Athletic Club is targeting an early June opening, pending inspections. I'm excited to try it out and give one of those aerial yoga classes a whirl. I've also heard great things about barre classes, but didn't want to pay to go to a new studio to try it out. I love that classes are included in my CAC membership so I can give aerial yoga and barre a shot.
Since this club isn't too far from me, it just might become my main club. We'll see! I'm excited about all the extra features and roominess and can't wait for Webster Place Athletic Club to open their doors.

Betsy Mikel is a freelance copywriter whose passion is telling the stories of entrepreneurs, brands and businesses that challenge the status quo. When she's not biking or running all over every city she visits to find its best taqueria, you can find Betsy on Twitter at @betsym | betsymikel.com