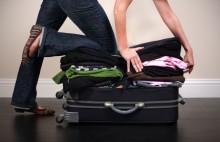 My out of office email reply is up. My bags are packed. I'm sitting at O'Hare right now waiting for my flight. I'll be on vacation for just over a week, where I'm looking forward to lots of relaxing, exploring and eating.
As I was packing for this trip and wondering how many pairs of shoes to bring along, my running shoes glared at me. "You should pack me," they seemed to whisper to me. "You should bring me along and go for a few runs. Do it. You know you should." My shoes were like the good angel on my shoulder while the bad angel also chimed in, "But you don't want to work out while you're on vacation. Why bother? Leave 'em at home!"
I thought about it. I could definitely squeeze in a few workouts in between being a tourist. My hotel has a gym, so I wouldn't really have any excuse. If if it didn't, what better way to explore a city than by running through it? Also, getting a few runs and workouts in would be a great way to burn through some of those extra glasses of wine I'll likely be consuming because, well, you know how it goes… it's vacation!
But there's the issue of space in my bag. My Asics aren't exactly compact, so I'd have to bring one fewer pair of other shoes. I also try to pack space for souvenirs (probably more shoes.) Yet ultimately my decision to bring or not bring workout gear wasn't really about the available space in my suitcase. It was about giving myself a break and allowing myself to have fun instead of being so disciplined all the time.
In the name of fitness, I know that working out during my vacation is "the right" thing to do. I know it's what I should do, but I'd rather enjoy my trip than worry about squeezing in burpees and lunges while missing out on all the fun. Simply put, sometimes we have to put fitness on hold because other things are more important at that very moment. At this very moment, my vacation is more important. Stepping away from my regular routine is more important. Letting myself kick back for once is more important.
Don't get me wrong, I love my workout routine and am a dedicated gym goer. Fitness is important to me. But if hitting those workouts is the only thing I think about or focus on, then I could miss out on other things. I don't want to miss out on those other things -- especially when I'm on vacation.
So I ignored my running shoes and packed a pair of simple flats instead. I let my workout clothes be. They'll be waiting for me when I get back. It's not as if 10 days off means I'll never be back. I will be back. The 30 Day Workout Challenge is just around the corner!
And because I made this decision that I know the fitness gods are frowning on, I did drag my butt out of bed this morning at 5:30 a.m. to go David's 6 a.m. spin class.
I don't feel guilty about my decision because I know I'll be back into the swing of things when I get back. So I'll enjoy my vacation and maybe even sleep in! See you guys in 10 days -- at the gym, of course.
What about you? Do you take your workout clothes with you on vacation?

Betsy Mikel is a freelance copywriter whose passion is telling the stories of entrepreneurs, brands and businesses that challenge the status quo. When she's not biking or running all over every city she visits to find its best taqueria, you can find Betsy on Twitter at @betsym | betsymikel.com