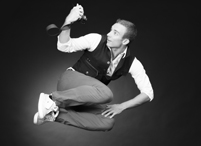 A recent Business Insider article listed "Dancer" as one of "The 14 Most Stressful Jobs in America." A dancer's salary, according to the Insider: Not Applicable. For a few of my colleagues, It was a relief to see "dancer' make the list; at least it meant people were finally taking us seriously. Though, upon further review, the distinction felt quite dubious, knowing a salary of "Not Applicable" would never pay the rent. To clear up the myth that dance is just a hobby, I asked Hubbard Street company member Quinn B Wharton his thoughts — and to see if we really have anything in common with Phlebotomy Technicians.
The physical benefits of professional dance undoubtedly come from long rehearsal days, but Wharton is particularly mindful about his work and the special relationship it has with his artistic spirit. Performers or not, we are always looking for balance in our lives, and Wharton is successful in how he does it. Though a dancer's lifestyle is demanding, Wharton surrounds himself with the people and things that make it all worthwhile. Check out the interview below to find out more about Quinn, Hubbard Street Dance Chicago, and why they make a difference in our city!
What are typical rehearsal and performance days for a Hubbard Street dancer?
I wake up at 8am and do the morning routine, then try to get to studio by 9:15am — usually by biking from my apartment in Wicker Park — so I can warm up for a full 30 minutes before our 10am company class. It's a contemporary ballet technique class that lasts an hour and 15 minutes, after which we rehearse from 11:30am to 2pm, then again from 3pm to 6pm. That's a typical rehearsal day, when we're here in Chicago.
Depending on what work we're doing and how many pieces we have to prepare, I rehearse all or just some of those hours. During dancer lunch, I'll ideally bring food that I've made the night before although, to be honest, more often than not I go foraging, usually to Morgan Street Café here in the West Loop, or the new Mariano's Fresh Market nearby. It's pretty important to get lunch eaten as soon as possible within the hour, so you have some time to digest and settle before going back into the studio. I might have to "hit it" pretty hard right at 3 o'clock.
After work, it's all over the board. I might go home, make dinner, then take care of emails and business for photography work and videos I have on the burner — around three going at any given time for clients, plus personal projects. Right now I have more like five, because I'm setting up freelance to keep me busy while I'm on holiday in San Francisco. Otherwise I'm going out and trying to find something interesting to do, like go salsa dancing, on a date, to a dinner party, maybe down to Beauty Bar for one of their SALONATHON shows, which are free and on Monday nights.
Performance days start later. I get to take a leisurely morning, usually at a coffee shop, where I hang out for a few hours. Again, I like to arrive about half an hour early to the theater to warm up before company class. During the first technical rehearsals in a venue, there's more for our production team to work out, adapting our show for the specific theater, so it's about staying warm and present and, well, entertained while the crew gets us situated. And again, I eat as quickly as possible on break, something light and nearby, or backstage, depending on where we are. I'll lay low or even take a nap before our show.
Afterward, I'm always up for a party or a reception or a group gathering. You have so much energy after performing, you have to blow off some steam before you can even begin to wind down.
How did your career take shape? Did you always know you were going to be a professional dancer?
I didn't always know, no. I danced because I enjoyed it, and also because it was a way to move away from home early, when I was 14. My family had moved to Hawaii and I didn't fit in very well. I was a big nerd, who took ballet lessons, and my time spent with other dancers was much more fun, like when I'd study during summers at San Francisco Ballet School or Houston Ballet Academy. So I got into North Carolina School for the Arts in Winston-Salem, which is a boarding school, and got to be part of that community all of the time.
Enrolling at NCSA is also what took dance from a hobby to a career path, for me. It was a much more competitive place, a more intense level of training, with teachers like [former American Ballet Theatre principal and Hubbard Street Rehearsal Director] Warren Conover. Exposure to that world helped me see that dance was something I could do, for a living, that wasn't music videos or hip-hop, although I have done some commercial work; for example, I'm in and I choreographed the music video for "When We Fall In" by Sean Hayes.
I just stumbled upon a recent article at Business Insider, "The 14 Most Stressful Jobs in America." Dancer was number eleven, alongside Phlebotomy Technician, Surgeon and Ambulance Dispatcher. Do you agree that being a dancer is so stressful? Why or why not?
I agree, it is, although it's important to say that the stress levels are all relative. As dancers, we're not responsible for saving lives, but yes, standing onstage in front of 500 to 3,000 people, performing and needing your body to hold up…there's a lot of pressure there. The second the curtain goes up, your heart's gonna take off. Mine always does, at least.
Then there's the added pressure of being in a constant state of judgment — not necessarily negative, but always objectifying and evaluating your physical self, and remembering to separate that from judgment of your "self-self."
Last, I'll say that for a lot of dancers, the stress comes from not being paid well or at all, and just trying to support yourself. We're lucky here at Hubbard Street, to be salaried, on contract, with benefits.
What type of alternative activity or workout do you prefer as a performer? Do you find that you spend a lot of time exercising outside of the studio?
Sports have never been my forte and I don't really lift weights that much. I have a herniated disc in my back from dancing, and also spondylolisthesis. Preventive care is key to my career, and I've had a regimen for the last five years now, to keep my core stable using abdominal and back exercises taught to me by a physical therapist. I use medicine and physio balls a lot, usually do some cardio and pop into the spinning studio, about twice a week.
What's your favorite thing to wear when you rehearse? When you work out?
At the studio, generally slim-fitting, V-necked cotton T-shirts; shorts or cycling pants; and ballet slippers, a Brazilian brand called Só Dança. At the gym I'll generally go with a tank, again with shorts or cycling pants…and one of the at least 10 pairs of sneakers I own at any given time. [Laughs]
The life of a dancer is considerably demanding, and in many ways. How do you find balance?
I find balance in being able to forget about work and do something else: photography, videography, writing, socializing. I work intentionally at expanding my social circle, so it's as varied a group of people as possible. I like working with cameras because it's low-impact physically but still creative, still expressive, and you're always working with other people, getting them to do crazy things for you. I once got about 16 of my friends to have a food fight, shove pies in each other's faces — plus ketchup, mustard, you name it — as a going-away present for a couple leaving San Francisco Ballet, where I worked at the time. One of them, Garrett Patrick Anderson, actually joined Hubbard Street a few years later, which became a big factor in my decision to join the company myself, last summer.
I made a short film, Opaque, for Hubbard Street's Inside/Out Choreographic Workshop earlier this year. That was crazy as well. We threw an all-night house party, I made some dancers jump into Lake Michigan at sunrise, and another couple wrestle in their underwear on a kitchen counter — all kinds of scenarios. [Laughs] For a photo shoot near Galena, we were in the forest using colored smoke bombs for a series of nudes, which turned out looking pretty magical, actually.
What was the most challenging piece of repertoire you've performed so far? Do you have a favorite role or piece to perform?
Even just performing my corps [ensemble] role in [choreographer William Forsythe's] Artifact Suite, I wanted to throw up afterward, it was so exhausting. [Laughs] Since I've been at Hubbard Street? Probably the "TV Man" in Casi-Casa [by Mats Ek], not because it's so challenging physically but, mentally, it's difficult to be in that character properly. Now it feels like home, the role does, like putting on a piece of clothing that really fits, but it took quite a while to get there. I had a lot of coaching. I also loved performing stop…stop…stop. by Terence Marling, the director of Hubbard Street 2. Absolutely anything was fair game — the whole point was just to mess with the other two dancers, Richard Walters and Lissa Smith.
What's the best advice you've ever received?
Hm. That's a good question. [Pauses] There was a point in my training at Houston Ballet Academy where a teacher told me that I danced like I was much smaller than I actually am, and I'm six foot two. He asked me why, what the point of that was. He told me, "Don't dance inside yourself. Dance out. Dance for the people in the very back row. That's how you'll make an impact. That's how it'll mean something."
Finish this sentence: "If I weren't a dancer, I'd be…"
…a photographer.
Which of the Chicago Athletic Clubs do you frequent most? Where might our members see you during a workout?
When our schedule at Hubbard Street gets heavier, or I'm just destroyed from a long tour or run of performances, I'll go to the West Loop location for an "executive workout" [Laughs] — the hot tub and sauna. I live just a block away from the Wicker Park location so it couldn't be easier to drop in, after rehearsal days and on weekends, for the kind of maintenance exercises I talked about earlier, that I do for my back injury, cardio, spinning and stuff like that.
By Sarah Gonsiorowski, with contributions from Hubbard Street Dance Chicago
December 12–15 at the Harris Theater in Millennium Park, the combined ensembles of Hubbard Street's main company and Hubbard Street 2 perform One Thousand Pieces by Resident Choreographer Alejandro Cerrudo. Called "a magnificent achievement" by the Chicago Tribune and "magical" by Time Out Chicago, One Thousand Pieces illuminates Marc Chagall's America Windows to music by Philip Glass, with lighting by Michael Korsch and sets and costumes by Thomas Mika. For more information and to get tickets, visit hubbardstreetdance.com/winter.
Sarah Gonsiorowski graduated from the University of Iowa with a BFA in Dance and a BA in English (with a concentration in Creative Writing). She is a company member with Same Planet Different World Dance Theater and works as a Membership Advisor for the Chicago Athletic Clubs.
• • •