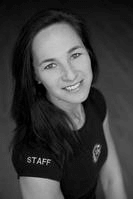 Penny first developed her great passion for the Pilate's Method employed as a Massage Therapist at CAC beginning in 1992. Experiencing all the benefits of exercise from all the different formats within the clubs, she found the greatest impact of core strengthening and conditioning in Joseph Pilate's Theories and Principles. While undergoing the education to obtain her Masters in Social Work, she shifted back to physical health and took her passion for Pilates and became a certified instructor in 2005. Combining these disciplines in human functioning from physiological to psychological, she is able to incorporate all aspects of the mind/body connection. She became ASFA certified and has taken her teaching skills to the Water Workout World, and further joined the CAC team for the offering of the TRX Group Suspension Training. Penny's education, experience and credentials include: Chicago School of Massage Therapy 1992; DePaul University 2001; Loyola Graduate School 2005; Power Pilates Mat Instructor certification 2005, ASFA, and TRX Qualified.
"Throughout my career as a massage therapist since graduating from the Chicago School of Massage Therapy in 1992, I have attended workshops and seminars in continuing education in many different aspects of body care. My techniques of deep tissue (my specialty), trigger point therapy, and myofascial release are combined within the Swedish massage framework, allowing me to work effectively in back pain, neck treatment, arms (my favorite to work) and migraine headaches. I've also worked with chronic and recovering injuries, and massage for muscle conditioning
I am honored to have the knowledge and ability to perform massage therapy. It's so amazing to have such power in your hands and be able to relieve people of all the stresses that build up from everyday encounters."
Available: Monday 10am-3pm, Friday 1:45pm-5:30, Sunday 12:15pm-5