Farm to table eating is all the rage, but it's more than just a trend. The benefits of locally sourcing your food extends to the local economy, the health of the planet and your overall well-being. These days, we have access to almost any kind of food we want at any time, but what are we missing out on? Read on to learn more about why sourcing food locally and eating with the seasons is good for your health, mind and budget.
Want to jump start your healthy eating habits?
Check out our

Fresh Start Clean Eating Plan

!
Eating seasonally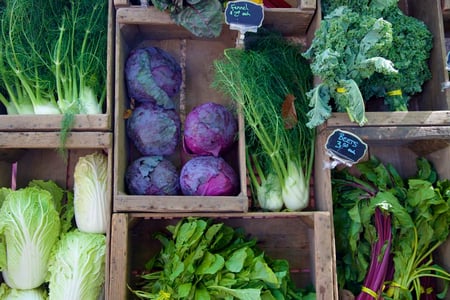 What does it mean to eat seasonally? "Eating seasonally just means that the food you eat is being grown naturally in the season you are eating it," says Chef Derrick DeJaynes, formerly of Southport Grocery and Café. All produce has a natural growing cycle. For example, most leafy greens and berries grow in the spring and summer, apples and root vegetables generally in the fall, and citrus season peaks during the winter months. Why is this beneficial? First and foremost, the food just tastes better. "When you are cooking with what's in season, your food is at the peak of ripeness and quality and the flavors are more defined," says DeJaynes. When out of season foods appear at your supermarket, they are often harvested before they reach full ripeness to ensure they can make the journey. According to DeJaynes, "The result is often blander, less satisfying flavors and textures." Seasonal foods are often less expensive as well, since when in season an item is at the height of supply and you don't have to pay the extra cost of having it shipped from halfway across the world.
Not only does your food taste better, but seasonal eating can be better for your health as well. Your body changes with the seasons, too. After a long cold Chicago winter, we are ready to shed layers, enjoy the outdoors, and feel lighter! By feeding our bodies with the lighter, raw seasonal foods of the spring and summer, our bodies are able to shed the extra weight we added from the cold months, and also keep our internal temperatures cooler in the heat. The abundant fiber in seasonal fruits and vegetables also help to clear our digestive track, offering a bit of spring cleaning for our bodies. Similarly, as the fall and winter months return, our bodies crave warming foods that are richer in fats and proteins to ensure we have the fuel we need to burn to stay warm. Giving your body what it wants according to each season can help it perform more efficiently overall.
Sourcing locally
Of course, where you live has a big impact on what food options are available, but the good news is that if you source locally you will always be eating seasonally! Your local farmer's market is the number one place to find fresh, seasonal and local foods. You have the added benefit of supporting the local economy by buying direct from the farmers who are growing the produce. "Even though it may cost a little more to buy from the farmer's market, it's worth it to know you are getting high quality produce," says DeJaynes. "You get to build a relationship with these farmers, and it feels good to support them."
Green City Market is one of the largest and most prominent farmers markets in Chicago, but just about every neighborhood has one, and you can find one happening almost every day of the week during the summer. CSA, or Community Supported Agriculture, farmsharing programs are a great option as well. You can subscribe to a CSA and receive weekly or bi-weekly boxes of fresh, local and season produce packed and delivered to your nearest farmers market, or even to your door. Most CSA's begin in June, so now is the perfect time to find one that works for you!
Buying local foods also helps to deter the detrimental effects of mass produce transportation on our global environment. It wastes less energy, fuel and creates a much smaller carbon footprint to transport your food from a farm a few miles away as opposed to a country on the other side of the planet.
Does that mean that you should never eat grapefruit in the summer, or that you can't enjoy salads in the winter? Of course not, but maximizing your intake of local, seasonal foods will always be a rewarding endeavor for your mind, body and soul.
Grilled Corn Summer Salad with Cilantro-Lime Dressing
Ingredients
6 ears corn
2 red peppers
2 medium zucchini
2 cups arugula
Juice of 2-3 limes
1/2 shallot, minced
1 garlic clove, minced
1/2 tsp sugar
1/2 tsp salt
3 tbsp olive oil
1 tbsp fresh chopped cilantro
1/2 cup queso fresco
Shuck ears of corn and grill over medium flame until slightly blackened or dark brown. Let cool slightly, then carefully cut kernels from husk and place in a large bowl. Finely dice raw red pepper and zucchini, set aside.
In a separate bowl, combine lime juice, shallot, garlic, chili flake, sugar, salt and olive oil. Whisk or blend, then gently fold in fresh chopped cilantro.
Add red pepper, zucchini and arugula to the corn, toss with dressing and top with crumbled queso fresco. Serve and enjoy.