To prepare for my out-of-town Christmas, I packed my workout clothes and researched gyms in the area. I felt prepared to make the week worthwhile. I didn't. I never made it to the gym. Between finishing up holiday shopping, meeting friends for meals and drinks, and the general craziness and hubub that leads up to Christmas, the gym never happened. Plus, the extra complication of commandeering the rental car made it tough for me to squeeze gym time into my schedule when other people needed to use it for their own last-minute shopping.
If I had packed gear for at-home workouts, I might have been able to do more. Since I typically do all my workouts at the gym and leave it up to WAC to provide all the equipment, I don't own any of my own. For my traveling gym to happen, I have to build it from scratch. I hope Santa sees this list, even if it is a little late.
Resistance Bands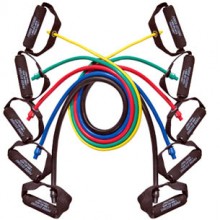 Resistance bands are super light and take up almost no luggage space. They are great alternatives to the free weights and workout machines I know so well from WAC. This Black Mountain Products Resistance Band Set includes a range of bands of varying resistance from 2 pounds to 30 pounds, so I could hit all muscle groups with a bunch of different exercises.
DVDs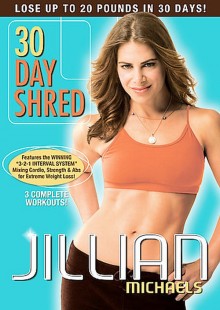 The resistance bands would be great, but I'd need to know how to use them. A DVD with a bunch of exercises (like the Aylio 101 Resistance Band Exercises DVD) would come in handy. I can't stand to do the same workout over and over. If I had a small workout DVD library that focused on at-home workouts, I could pack a few to keep a variety of workouts handy. I'd also add the Jillian Michaels - 30 Day Shred DVD, the Denise Austin: Boot Camp - Total Body Blast DVD, and since no one is watching me working out in the privacy of my hotel room, the Dancing with the Stars - Cardio Dance DVD.
Lightweight Foldable Gym Shoes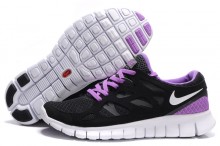 I usually buy shoes with hefty cushioning and support for marathon training, so my running shoes take up a ton of space in my luggage. I could squeeze in more workout gear if my shoes were more compact. Although I know the Vibram FiveFingers Shoes are a lightweight and space-saving option, I don't think I could ever get used to those. Instead, I'd add a pair of Nike Free Run Shoes to my traveling gym. These are lighter than the other running shoes I have, but still offer some support.
Collapsible Water Bottle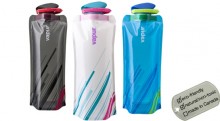 I remember to drink plenty of water if I constantly have a water bottle in my line of vision. That's the reason I keep a giant Nalgene on my desk. I don't typically pack a water bottle when I travel because it takes up too much space. Then I don't drink enough water when I travel because I forget. Problem solved with the Vapur Element .7L Collapsible Water Bottle. It rolls, folds, or lies flat when it's empty so it wouldn't take up any more space than a pair of socks. When I arrive to my destination, I can fill it up and keep it in sight, and then I'll remember to drink water.
Jump Rope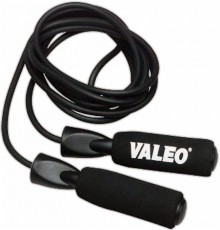 Running is usually my go-to exercise for cardio. As we all know, weather can be unpredictable in the Midwest (which is where I spent Christmas), so heading outside to run a few miles isn't always an option. Plus, if I'm running outside of the cold, I also have to pack cold weather running clothes and accessories, which take up more space. So I have to keep my cardio indoors somehow. Since I can't pack a treadmill in my traveling gym, I'd pack the Valeo Speed Jump Rope instead. In my personal training and bootcamp workouts, I've learned that jumping rope is a plenty challenging workout that keeps my heart rate up and helps improve my coordination.
Mini Clif Bars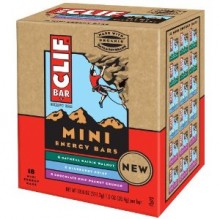 Frequent snacks, which prevent me from eating everything in site when I sit down to a meal, are part of my daily routine. It's not as easy to pack snacks for traveling, but I can always throw a handful of mini Clif Bars in my suitcase to hold me over until my next meal. These are a good source of protein and fiber and aren't as filling as a whole Clif bar.
--
Betsy Mikel | betsymikel.com