Strength is a funny thing. When I think of strength, I think of those amazing buffed out people in the weights area, people who get up at the crack of dawn to go to a spin class, or marathon runners.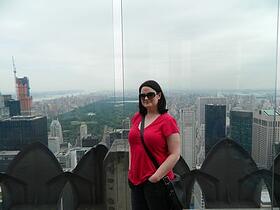 But strength is also quite relative. When I started this process at the beginning of the year, I couldn't walk up the steps from the first to the second floor to get to the treadmills. My legs just couldn't do it. In the dead of winter, I would walk to the lockers, then to the elevator and up to the 2nd floor where the treadmills are.
I've been taking elevators instead of stairs for a few years simply because my legs weren't strong enough and I didn't want to get in people's way that were much faster than me.
A few weeks ago, I walked in with only my phone and keys, scanned in and walked the stairs to the treadmills and didn't think twice. Only when I was on my way out and almost bound down the stairs did I stop and turn to look at the stairs that were such a huge mental and physical block for me for so long. They weren't the mountain that they had been just ten months ago. They were just...stairs. It seemed so simple but it was something that hit me incredibly hard. I finally possessed enough physical strength to walk up a flight of stairs like everyone else. That seemingly tiny thing made me see strength in myself, something I hadn't seen in many years.
It wasn't the fifty pound weight loss or the smaller clothes or even being able to walk faster than I've ever been able to walk, it was a single flight of stairs at LSAC that made me see my strength. Pay attention to the little things. It may give you more insight than you're expecting.