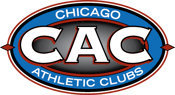 STRONGER TOGETHER!
Feel Good.
All the results. All the fun.


With Chicago Athletic Clubs, you're more than a member, you're part of a community. Check out one of our 7 locations today!

As a CAC member, you have access to hundreds of weekly Group Fitness classes with formats including dance, yoga, cycling, strength training, boxing and aqua aerobics.

CAC's professional-style weight rooms are designed to provide you with a space to independently reach your strength training goals or to work with some of the best Personal Trainers in the Chicagoland area. CAC's Sports Training programs include a competitive Masters Swim Team as well as a Triathlon Training program. Dedicated Pilates studios offer one-on-one sessions and small group classes to members and non-members at our Lincoln Park and Evanston locations. The bottom line, we are here to empower you to achieve the healthy lifestyle you want.

At Chicago Athletic Clubs we always strive to offer the very best in group fitness classes to all our members! Check out this month's pop-up classes!
REGISTER ON THE APP 24HRS IN ADVANCE!

Are you ready to get stronger together with small group training? Our Stronger Together 2X program will give you two individualized workouts each week for a month of transformative commitment.

Swimming is one of the best full body exercises available. Using the resistance of water, swimming provides excellent cardiovascular and strength training as you build endurance.