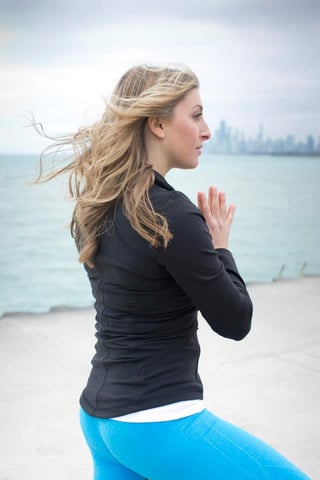 Joanna believes that we all have the power to live our happiest, healthiest, strongest self. With dedication, focus, education and plenty of fun, we each have the ability to create our best life. Joanna views Yoga as a practice to build both strength and create more spaciousness in both the mind and body. She believes that the body and the mind mirror each other. When we strengthen the body, we build strength in the mind. When we create flexibility and ease in the body, we doing the same with the mind. It is about balance. Through this balance we experience our happiest and fullest self.
Growing up a competitive gymnast, Joanna's understanding of body mechanics began at a very young age. Once leaving the competitive work, Joanna began coaching gymnastics to children and teens. After graduating from Syracuse University with a BFA in Musical Theatre, Joanna toured internationally with the Broadway show CATS, performing in several countries and near to all 50 US states. Always fascinated by movement and the human body, Joanna went on to dedicate herself to just that. She spent 4 years instructing and teaching in New York City before returning to her home-city of Chicago in the Fall of 2011 where she has been teaching since.
Joanna is a Yoga-Alliance Registered Yoga Instructor, a Certified Personal Trainer (National Academy of Sports Medicine), and a Certified Pilates and CARDIOLATES® Instructor (Pilates Academy International). A forever student, Joanna continues to study and train with teachers in Chicago and across the country. Joanna serves as a Legacy Ambassador for Lululemon Athletica. For more information visit www.joannasilvers.com.