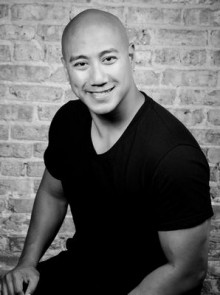 Introduction
No two people are alike. My mission is to assess each client's fitness levels, identify and correct limitations, and implement a specific program with injury prevention in mind, in order to help you achieve your specific goals. Not only will we work on a program tailored to your needs, but I will make sure you gain the knowledge you need to make good physical fitness a long-term lifestyle. Throughout our sessions, I will emphasize proper form and technique and teach you the reasons behind the exercises you do. I am confident that if you understand the reasons behind the movements, you as the client will be more motivated to perform them and will be better equipped for success.
Education, Experience & Credentials
University of Illinois-Urbana/Champaign: Biological Sciences and General Psychology; National Academy of Sports Medicine (NASM); Strong First; PTA Global; ViPR-Loaded Movement Training
Certification
National Academy of Sports Medicine (NASM): Certified Personal Trainer (CPT); Performance Enhancement Specialist (PES); Corrective Exercise Specialist (CES). Strong First: SFG Kettlebell Instructor Level One. PTA Global: Bridging and Advance Course; ViPR –Module One
Specialties
Functional Training; Weight Loss; Injury Prevention/Recovery; Core, Balance, and Flexibility; Strength Training; Sport Specific Training; Explosive/Power Training through Olympic Lifts and Kettlebells.
Specialist Trainer
lromuar@chicagoathleticclubs.com
Location: West Loop
---
Testimonials
"It is not often we get the opportunity to write a recommendation or client testimonial for someone. I am fortunate to have the opportunity and I am writing this letter on the behalf of Leo Romuar. I joined the WAC back in March 2012. A staff member who assisted me in joining the club recommended Leo to me. We started training together regularly soon thereafter and have been working together for the past 16 months.
My initial goals were to lose some weight and get in better shape. I had a long way to go in both categories. Leo discussed my personal training and general fitness goals with me and tailored our workouts appropriately. When I first started, I became winded quickly and fatigued easily. He was patient and ensured my workouts matched my fitness level, stamina, and that I would not hurt myself in the process. The best thing about these workouts were that each session was slightly different that the ones before it whether it was cardio exercise or weight training using dumbbells, kettlebells, or other assorted equipment the club had to offer.
This past January, I decided to kick up my exercise program and began training for my first half marathon. At the age of 48, this would be no small fear or accomplishment. When I shared this new with Leo, he was very supportive and he tailored my training program to include exercises that were beneficial to runners including core work, balance and lower body strengthening.
On a personal note, Leo is a pleasure to train with…even at 5:15 am. He is always in a good mood, cheerful and ready to give you 100% of his time. He makes the training session fun and something to look forward to. I also think it is worth mentioning that he makes his schedule is flexible and always seems to be able to accommodate my sometimes difficult travel schedule so I am able to get my workouts in, even if that means a session on a Saturday or Sunday.
The results speak for themselves. To date, I have lost nearly 50 lbs and taken 5-6 inches of my waistline. I am getting stronger, have more energy, sleep better and know I know I am getting healthier in the process. I am well on my way to achieving my weight and general fitness goals. In addition, I am happy to report that I ran my first half marathon on June 2nd in San Diego in 3 hours 18 minutes. I know the personal training I received working with Leo helped me to achieve this goal which would not have been possible, nor contemplated when I first started working out and training.
In closing, I have met a good friend in the process of working hard to achieve my weight and fitness goals. The personal training sessions have definitely played a big part of this. Personal training is a serious commitment and investment in both time and money. I can honestly say with confidence that this sacrifice has more than paid off and I could not be happier with the results. I would have no problem personally recommending Leo to any WAC member who is looking for a personal trainer." -KK
"The motivation that led me to Leo initially was his experience in physical therapy. I have been living with chronic back pain for years. It has required repeated injections and oral steroids, leading to significant weight gain and despite it all, last summer I ended up on short-term disability. After completing the formal rehab program, I knew I needed continuous help to achieve my goals. And that's where Leo comes in. I feel that my exercise program is about ME. It is personalized to fit my capabilities, my shortcomings and my strengths. Because his knowledge goes beyond exercise and encompasses anatomy and physiology he can work around my limitations and get me stronger in spite of them. Since I started working out with Leo, I have had no need for medications or procedures. No spine specialist visits. I have been able to work without limitations and to keep up with my children and enjoy my time with them more. Prior to working with Leo, I was unable to implement a cardio exercise program without reinjuring myself, leaving me frustrated and pessimistic about my ability to achieve my weight loss goal. Now with the progress that I have experienced I am confident that can do it.There are days when I feel like I can't work out. Leo pushes me to keep my appointments and no matter how I feel when I enter the gym, I leave feeling great.Thank you Leo!" - AK
"I have been a client of Leo's for the past 2 years. During our time together, I have gone through major life & body transitions and Leo has been a great source of support. Originally, my original goal was to get fit, lose weight and have a stronger physique as I had a poor exercise routine at the time, although had been active all of my life. In April 2011, Leo did a full overview initially prior to starting to access my fitness level, goals and workout type. He was very thorough and listened well, and then planned an amazing workout routine. For the first year working with Leo, his plan included strength, core & agility training. We worked out together regularly; 2-3 times per week. Each session was different, so I never got bored. Each session grew increasingly more difficult, which challenged me. Leo has great radar for pushing you but not too far to get hurt or disappointed. He is very in tuned with his client's abilities and mental determination. For a portion of our workouts, he coached both a friend and me. Our fitness levels were different and Leo was able to adapt therefore we both got great workouts. In addition to our sessions, Leo would consult with me on additional workouts during the week either with a class, running or working out on my own. He also provided nutritional guidance. Within 3-4 months, I had lost about 10 lbs. and more importantly went down a clothing size! I felt GREAT and my husband liked the results as well.
In October 2011, I finally became pregnant! I took the first trimester off exercise, due to doctor's advice, then back to sessions with Leo. Leo worked with me through my entire pregnancy, up to the Friday before I delivered via C-section on Monday. Again, Leo had a plan! He made sure to concentrate on the new challenges I would encounter being pregnant. This kept my weight down (I gained only 21 lbs.) and made recovery very easy. I felt great and looked good too!
Post pregnancy, Leo did another overview to understand my new needs as a mommy. Trying to juggle sleeplessness, new routines & post pregnancy body were my issues and Leo was very accommodating, patient & supportive. I am now back to my pre-pregnancy work out level and feeling great!
Over the past 10 years, I have worked with 4 trainers (including Leo) and by far Leo is the best! He is a very skilled personal trainer; he knows exercise, the body & nutrition. But he is more than that; he can read & understand his clients. He is also very accommodating to my schedule, which as a new mommy can be difficult. Leo has provided a great plan to accomplish my personal goals and has helped me achieve them! I am very happy with my body & progress! " - MM