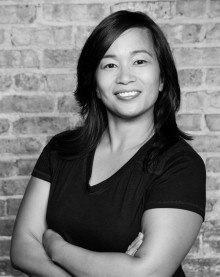 Introduction
We all experience moments of weakness.These moments are humbling, but necessary. For it is often during these times that we discover the depths of our determination and the extent of our capacity for triumph. Maybe you dream about running a mile without having to stop. Maybe you fantasize about climbing a mountain. Maybe you want to set an example through a healthy lifestyle. Maybe you simply dream about feeling comfortable in your own skin. Make your dream a destination. And, on the way, find what is yours to do and do it better every time you try--better than you ever thought you could. Find joy in your discovery and strength in your weakness. Let your journey transform you from the inside out. Pioneer your own victory today. It is my privilege to help you navigate your path.
Education & Experience
B.A., Creative Writing and Art History, University of Illinois at Chicago
Personal Trainer/Fitness Specialist Certificate Program, University of Illinois at Chicago
Certification
NASM Certified Personal Trainer, NASM Optimum Performance Training for the Prenatal Client, Kettlebell Concepts Level I, Power Plate Level I, ViPR Rookie Coach
Specialties
Core Conditioning, Balance & Stability Training, Strength Improvement, Weight Management, Pre/Postnatal Exercise, Kettlebell Lifting
Elite Trainer
jcanlas@chicagoathleticclubs.com
Location: Lincoln Square
Testimonials
"Over the last six months Jessica has kicked my butt back into shape. Her workouts are always innovative blends of traditional weight lifting and newer techniques which I find exciting and challenging. She always makes sure I follow proper form–her instruction is clear and her approach friendly. I've noticed serious improvement in my strength and muscle mass since working with her in addition to feeling more energetic and relaxed." -Chris B.
"I signed up for three months of weekly or bi-weekly evening and weekend training sessions with Jessica Canlas to get fit before my late August wedding. Jessica has a really friendly, easy-going personality. She also really challenged me to work hard and get fit. She came to each session organized and prepared to build upon the previous weeks' session. She made my job easy (though physically challenging)--I just needed to do what she said. She was also responsive to my feedback and modified our workouts to include my request for more leg exercises. By my wedding day, I felt really fit, svelte, and reinvigorated to continue working out. Jessica takes the time to get to know you personally and customizes the training to fit your needs and schedule. She's a great addition to LSAC." -Lindsay R.
"I started working with Jessica a few months ago and she is an absolute joy. She's a very good combination of nice and strict, and she always pushes me hard and makes sure I get a great workout. I have some minor physical restrictions, and Jessica works around them. I also really appreciate that she mixes things up and keeps workouts interesting--it never gets boring or repetitive. Recommend her highly!" -Anthony T.