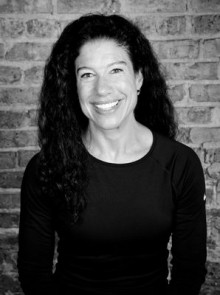 Introduction
Deborah Stern is a certified Personal Trainer through Future Fit and a Nutrition Coach. She has her degree in Psychology from Depaul University and has spent the past decade focusing on the principles and processes of Holistic Nutrition and proper exercise. Deborah's passion for health and fitness has motivated her to educate her clients on the importance of eating for their health and longevity and exercising correctly to achieve body-fat loss, gaining lean muscle mass, increasing energy levels, improving balance and posture and feeling happy and healthy at the end of each session. She works with clients of all ages and fitness levels, guiding them to look at food as fuel for the body and mind. By teaching them to make fitness a part of their lifestyle, she gives her clients the tools to acheive their goals of health and fitness.
Certification
Future Fit
Specialist Trainer
dstern@westloopathleticclub.com
---
TESTIMONIALS
"Being involved IN sports my whole life, I always considered myself in good shape. Sure I let myself go a bit in college, actually let myself go a lot in college, ballooning up to 245 lbs. I married a great woman, Laura, in 1996. She sparked a revolution in my fitness. We ate better, trained together and by the time I had my first child in 1998, I was down to about 200lbs. It was actually on a dare from her that I did my first triathlon in 2005. I never looked back. I trained my ass off – running, swimming and biking – I was weighing in the 190's, at the time I remember feeling strong, feeling fit.
Fast forward 6 years to the summer of 2011 – still training, still doing triathlons, still thinking I was fit- but never really satisfied with my strength or appearance. I remember the day I signed up with West Loop Athletic Club and feeling I was talked into the (3) training sessions special offered to new members. I thought it would be a waste of time, but what the hell, I'll give it a shot.
It just happened to be at a time when I was really focused on losing some of the belly fat that had stayed with me as I had been losing weight over the last decade. I was on a pretty tough triathlon training schedule and I figured, if nothing else, maybe this trainer could help me lean up a bit.
After about 2 months of avoiding it, I finally set up my first training session – "Deborah Stern" they told me – "she's new, she will be perfect for you."
When I first met Deborah, I was a bit intimidated; she was the most fit person I had ever seen. We talked about what I wanted to do, how my real goal was to get faster in the tri, how I wanted to get leaner and lose some belly fat. She was great, she listened, she put together a plan that I felt was customized to me. She challenged me, she worked my ass off. I left the fist session dripping with sweat but feeling like this could really help me.
We started talking diet after the third session. I had already bought (8) more sessions with Deb by this point – I was sold. She and I talked about my eating habits, what I hated when I looked in the mirror, my fear of getting fat.
What she asked me to do, I thought was crazy: Eat more to lose fat and get lean.
Now I have done diets before, taken pills, protein shakes, low carb, high protein – the whole bit. But, I decided to trust her. It wasn't just eat more, it was eat better and eat more. She put together a food plan for me, taking into account my training and we kept working out. The first few days were crazy, but then it was like magic.
I was stronger, I was faster, I could run longer, bike stronger and swim easier. I was in shock. She kept training me harder and I was seeing muscle that I had never seen before. My body was changing, fat was disappearing, I had never felt so good before in my life. I was loving the transformation and I couldn't wait to train with her every week. I kept thinking to myself I wish I would have done this years ago.
On August 28 – I did the Chicago Triathlon – International distance. I was primed and ready. I was armed with a leaner body (178 lbs and 11% body fat). I was fueled correctly and felt stronger than ever. If any of you did the tri this year you know how heavy the current was, how choppy the lake was, how the wind was a killer on the bike. I blew my personal best out of the water by over 10 minutes – and finished 584 out of 3381. Not bad for a 40 year old.
Long story short: Deb is fantastic – She will listen to you, she will push you and if you listen and if you trust her, you will see results. By the way, this is all with just one training session a week with Deb. With this year's tri season over, I am looking forward to what multi-sessions a week will get me."
-Client Todd Jones
"Working with Deb has literally changed our lives. With Deb's guidance and nutritional knowledge, we have eliminated toxins and sugars from our diet and, in turn, maximized our energy levels and our workouts. Within days of working with Deb, we began to shed pounds and excess water weight. Deb is personable and flexible, and helps her clients create a plan that fits their lifestyle. We recommend Deb's coaching and shopper's education. Not only is she energizing and supportive, but she is a true teacher and coach, and she can help anyone create a healthy lifestyle that will allow them to feel and look their best!"
- Brooke and Reggie
"When I first joined the private gym where I met Deb, I wanted to lose weight and get in shape, and I wanted to do all of this without aggravating my pre-existing neck and back injuries. I had never worked with a personal trainer before I met Deb. I'm glad she was my first. She has an amazing, upbeat personality that is both motivational and inspirational. She truly listens to and pays attention to her clients' individual needs. She tailored all of our workout sessions to my needs and abilities. She pushed me without hurting me.
In addition to being a phenomenal personal trainer, she is a wealth of information on healthy eating habits that can stay with you for a lifetime.
She teaches you to think about the long run and the big picture. She teaches you to really think about what you're putting in your body, and doesn't just focus in on a quick fix. Her methods are geared toward helping you eat foods that not only taste great but are actually good for you. I have trained with her for a couple of months now. I have lost weight, and I feel strong and energetic. I can no longer go to the market or to a restaurant without hearing Deb's voice in the background! To say she is wonderful is really an understatement. To say she is irreplaceable is much more accurate. L.A. is a place where personal trainers are a dime a dozen. You, my friend, are one in a million."
-Tamar
"Here's to Deborah's Fabulous Food Prep! Between my crazy career schedule and my husband's insane working hours it gets very difficult for meal planning, along with our different food choices also. Trying to keep healthy foods and quick recipes in the pantry becomes a hassle through the week, but thanks to The Pampered Pantry's Deborah Stern life has become much easier!
Having Deborah come once a week has truly made things between my husband and I much more harmonious. Her meal planning, quick steps for dinners, healthier snacks on hand, organized daily ingredients for side dishes, etc. have made eating the good stuff more enjoyable. After going food shopping with her to Trader Joe's and Whole Foods I learned the best ways of creating food plans. Although, it takes time to really focus on all of the healthy choices to make and the looking at labels to make sure it is nutritious.
Deborah has certainly created a wonderful service to provide for us and I know that as she keeps dropping by I am becoming healthier by the week, with no stress! Thanks again!"
-Christine