Introduction
Curtis is formerly from Dubuque, IA where they participated in football, basketball, track, and weightlifting throug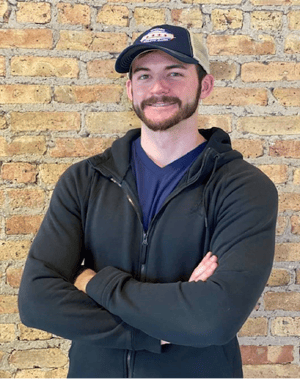 h high school. After graduating with honors in 2018 from St. Ambrose University majoring in exercise science and a minor in biology Curtis moved to the Chicago area to attend Rosalind Franklin University of Medicine and Science. Curtis will graduate the Doctor of Physical Therapy program in June of 2021. In 2019 Curtis became a Certified Strength and Conditioning Specialist (CSCS) through the National Strength and Conditioning Association (NSCA). In the past Curtis has worked in the training setting with athletes participating in football, basketball, baseball, track, wrestling, golf, and more with goals focused on injury prevention in conjunction with strength and power development.

Personally, Curtis has participated in RAGBRAI, completing multiple 100+ mile days cycling. In 2019 he finished the Bank of America Chicago Marathon. Curtis enjoys looking up the latest research in the field of strength and conditioning and applying it to his own training regiments as well.
As an ELITE Trainer at Chicago Athletic Clubs, Curtis is focused on taking your goals and making them obtainable through appropriate, evidence-based exercise prescription. Curtis looks to find which exercises your body and mind respond best to whether you are looking to start your fitness journey today, overcoming a recent set back, or in need of assistance breaking past a current fitness plateau.
Education & Experience
St. Ambrose University: B.S. Exercise Science
Rosalind Franklin University of Medicine and Science: Doctor of Physical Therapy Candidate
2019 Chicago Marathon Finisher
2019 Naperville Trails Half Marathon Finisher
3x RAGBRAI Finisher
Certifications
CSCS – Certified Strength and Conditioning Specialist
BLS – Basic Life Support (CPR and AED)
Specialties
Strength & Conditioning, Core Development, Power Development, Hypertrophic Training, Injury Prevention and Rehabilitation
ELITE Trainer
cburds@chicagoathleticclubs.com
Location: Wicker Park & Bucktown