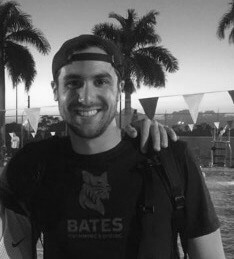 Tom learned to swim at the ripe age of 6 and hasn't left the water since. A 2012 graduate of Bates College, Tom was an integral member of the swim team for four years and was elected Captain of the team his Senior year. Over the years at Bates, he accumulated several awards including a collegeswimming.com National Swimmer of the Week award, two NESCAC performer of the week awards, and two Bobcat of the Week awards for his in-season performances. He anchored numerous record-setting relays over the years and was nominated most valuable swimmer on the team twice.
He joined the CAC as a Masters Swim Coach in 2013 and competes with the team as well. Tom has deep expertise in all four strokes and has helped members of the team achieve great success in competitions both in the pool and in open-water events.
Masters Swim Team Coach at LSAC and WAC, private swimming instructor.