Introduction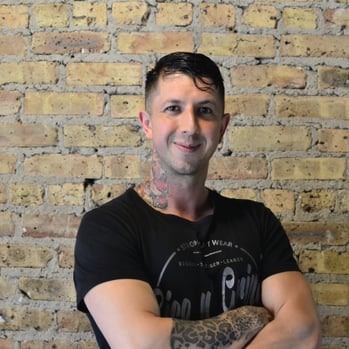 Martin is originally from Europe, Bulgaria. If you ever heard of the Bulgarian split squat and the Bulgarian deadlift exercises - They invented those!
Martin was showing interest and passion about sports and weightlifting even before elementary school and later he became a fitness model, martial artist, bodybuilder, and a pole fitness practitioner. In 2013 he came to America to help people with exercising.
1st place man's physique champion on Chicago Wings of Strength in 2014. Background in massage therapy gives him deeper understanding on how the body works. He is also graduate from Nation Personal Training Institute here in Chicago. No matter if your goal is to loose weight, or to get killer abs and body all year round, or to improve your posture, strength, general fitness, self-esteem and to achieve balance with your health - Martin have the most innovative and non-traditional approaches that has been proven to work in his 15 yeas of practice as a personal trainer!

Education
National Personal Training Institute Chicago, graduated 2014
Certifications
NASM certified
Specialties
Altering body composition. Weight and fat loss. Improving posture. Correcting weak links and muscle imbalances. Restoring muscle innervation after accidents, surgeries, injuries. Debunking myths about training, fitness and wellness.
Location
Wicker Park and Bucktown
Personal Trainer
mgeshev@chicagoathleticclubs.com