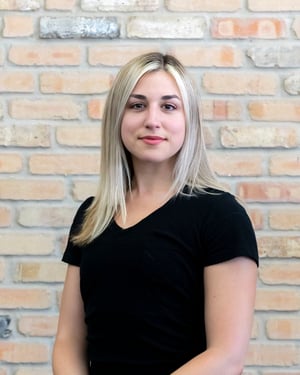 Introduction
I began my career in fitness after having a career as a professional dancer for many years. Working as a professional dancer has educated me to be more in tune with the body and taught me the importance of cross training and leading a healthy lifestyle. As a personal trainer my goal is to motivate and challenge you physically and mentally to further your self-confidence, and grow in all aspects of your life.
I am dedicated to each of my clients 100%. I want my clients to not only feel their best, but to love working out. We will work together to come up with a workout program that fits your goals. When you workout with me it's not just about looking better, it's a lifestyle.
Education
BFA in Dance Performance from Northern Illinois University
Certifications
NASM CPT, NASM Female Fitness Specialist, NASM Performance Enhancement Specialist
Specialties
Weight loss, Strength Training, Pre/Post Natal Fitness, Sports Specific Training, Flexibility, Endurance Training
Specialist Trainer
mpriore@chicagoathleticclubs.com
Testimonials
"I have been training with Maggie since the fall of 2016. At 64 years old I was interested in a workout program for weight bearing exercises and stability. Maggies' instruction has increased my upper and lower body strength and helped me achieve new levels of fitness. I have gone beyond my original fitness goals and have seen my stamina and basic health improve overall. My sessions are motivating and positive - when I arrive at the club she is at the desk ready to go - bringing a good energy. She keeps each session fun and different - and challenging. When I am struggling with a workout she actually distracts me and pushes me thru emotionally.
Maggie keeps me in a healthy workout pattern overall - not just the days that I see her. It is a lifestyle change for me. I go to the gym on my own 2 days a week and incorporate what she has taught me. Resistance training is now a normal part of my fitness routine along with cardio. I feel better, look better and look forward to our workouts.
I absolutely recommend Maggie. She is responsible and professional - I can count on her. She is helping me achieve my goals - the training sessions me a structure that I need. It is a pleasure to be one of her clients." - Susan M.