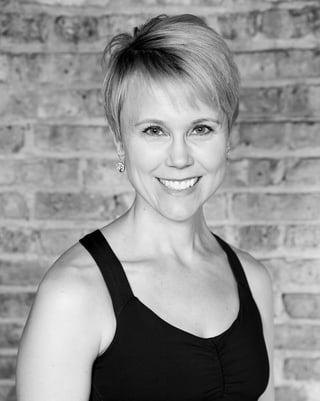 Introduction
Jen Gorman is a scoliosis and spinal fusion patient, advocate, and teacher. She teaches hatha and yin/restorative yoga, yoga for scoliosis, yoga for spinal fusions, back care yoga, and strength training in the Chicago metropolitan area and nationwide. She is passionate about inspiring people to live healthier and happier lives!
Jen was diagnosed with scoliosis at the age of eleven. Less than a year later she underwent spinal fusion surgery where bone from her right iliac crest fused her thoracic vertebrae (T3-T10) secured by a Harington rod. Jen danced professionally in high school and then attended the University of Notre Dame where she studied accounting. She became a Certified Public Accountant and then quickly returned to dancing professionally. Although these experiences differed significantly physically, her back was sensitive regardless of whether she sat all day or danced all day. She frequently experienced a certain level of discomfort and pain.
Jen began practicing yoga to balance her body from the many hours of dancing. She discovered that yoga combined with other methods of cross training allowed her to manage and all together avoid pain. Eventually, she found her way into a yoga for scoliosis class and then a yoga for spinal fusions class in New York City. These classes brought to light an even deeper understanding of her body as well as the effects of scoliosis and her spinal fusion.
Training Philosophy
My training philosophy is to first get clients moving safely and pain free. I believe that flexibility is just as important as strength for injury prevention and rehabilitation. When developing an individualized personal training program for a client, I rely on science and research as well as my experience and intuition. And above all, I absolutely love to help people discover the joy in moving and believe that health and happiness go hand in hand.
Education, Experience & Credentials
University of Notre Dame, Bachelors in Accounting
University of Notre Dame, Masters in Nonprofit Management
Certification
National Academy of Sports Medicine Certified Personal Trainer, Functional Movement Screen Level 1 and 2, Elise Browning Miller Yoga for Scoliosis Teacher Training, Chicago Yoga Center Hatha Teacher Training, Yin Yoga Teacher Training, TRX Suspension Training
Specialties
Back care, scoliosis, spinal fusions, and other injuries, Core strength, Functional training, Sport specific cross training and sport specific flexibility/mobility
Testimonials
"I'd like to say that I'm very grateful for the way Jen got me moving. Part of me thought she would simply throw her hands up in frustration. I feel much stronger now and never worry about the old injury (cervical fusion) nor do I feel any pain. I'm even running! That's a miracle. Who thought personal training would be such an important part of my life."-- Michael
"I began yoga sessions with Jen after suffering knee pains from training for marathons. Jen's sessions worked wonders! The stretches she introduced me to targeted individual muscles that were tight or aching. They fixed these specific problems and saved me from new injuries. My running improved and my stride lengthened as a consequence of working with her. You couldn't ask for a more conscientious and informed instructor. She even helped me to develop a home practice!"-- Larry
"Jen helped restore my body and mind. Sciatic and back pain caused by several lumbar herniations plagued me with each footstep, a barrier for me to enjoy running in the park or dancing with friends. By learning techniques about posture, appropriate stretches, and intense workouts, incorporating yoga seemed to resonate the best with my body's needs. Each session started with exploring and respecting my limitations. I felt empowered by Jen to truly learn how to comfortably live in my own body, one step at a time."—Hector
"Today's yoga for spinal fusions class was the best class I've experienced so far. I felt so empowered, lengthened and strengthened afterwards. You give such wonderful individual attention and explain what we are doing and why so well. Thank you so much!!" --Suzanne
SPECIALIST Trainer at West Loop
Group Fitness Instructor at CAC
jgorman@chicagoathleticclubs.com