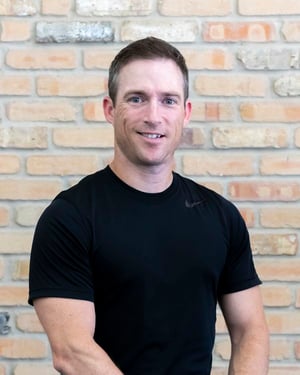 Introduction
I have been around sport and fitness all my life. However, it wasn't until my first triathlon when I witnessed so many inspiring people of all ages and abilities, who were passionate about their health and fitness, that I felt the drive to become a trainer and to work with others who may share that same passion. "Anything is Possible" is the motto of IRONMAN. It is from this foundation that helped me understand that strength, fitness, and good health IS POSSIBLE at ANY age, ANY level, and in ANY context!
As a trainer, my approach is to collaborate with client's goals while providing strategy, guidance, and support to achieve results. To accomplish that, I blend my knowledge of strength and resistance training, with the strategies of endurance training, to give clients a balanced approach to fitness. I want the training experience to be engaging, interactive, useful, educational, challenging, and fun. We're in this together and I believe when a goal is shared, it has a much higher chance of accomplishment.
I have been a coach for much of my career and over the years, I've developed the following mantra for training: "Show Up – Be Present – Learn Something – Have Fun". If you're able to accomplish each one of these at every training session, you're going to have success. No matter where you are in your fitness journey, whatever that "next step" is for you, I am prepared to be your trainer to help you get there. If you're ready, let's get started!
Education and Experience
M.A. Communication Studies & Sports Management – Texas Tech University
Texas Tech University Cheerleader & NCA All-American
15+ x Triathlete
Multiple Top 5 Age Group Finisher
IRONMAN Finisher
Certifications
International Sports Science Academy (ISSA) Certified Personal Trainer
USA Triathlon Level I Certified Coach
USA Cycling Level 3 Coach
U.S. Masters Swimming Level 2 Coach
CPR/AED Certified
Specialties
General Health & Fitness; Strength Training; Functional Strength Training; Circuit Training; Strength, Core, & Endurance Training for Triathletes
Elite Trainer
Location: Lincoln Square
---
Testimonials
"I started working with Brian several weeks after a lower back injury. I had been in rehab and was ready to start exercising even though there was so much I couldn't do. Brian helped me keep moving during the tough weeks of healing. He found creative ways to provide a full body workout despite my limited mobility which helped me regain my strength and flexibility. Now that I'm back to 100%, I'm pumped to tap into Brian's intensity and knowledge of weight training." - Ann