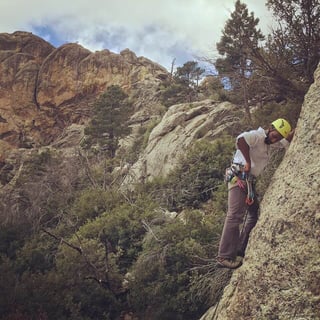 Aby was first introduced to climbing back in 2002 and he has genuinely loved & admired the sport & community ever since. As well, Aby counts himself incredibly fortunate & blessed to have been introduced to EAC's wonderfully welcoming climbing family back in 2012 when he came on staff as a climbing instructor with Chicago Athletic Clubs.

Prior to CAC, Aby had also been a climbing instructor for the Galyan's & Dick's sporting goods stores in Niles, as well as the X-Sport fitness center in downtown Chicago on State Street. When he's not climbing or instructing at EAC, Aby also works as a high school special education teacher for Niles Township, and as a Community Builder with the Center for Independent Futures right here in Evanston.

In terms of outdoor adventures, Aby has had the privilege of climbing at the Red River Gorge in Kentucky, Devil's Lake & Necedah in Wisconsin, Red Rock in Nevada, Mt. Lemmon in Arizona, Big Bear Lake in California, and most recently at Castle Rock, City of Rocks, & the Sawtooth Mountain Range in northern Idaho.