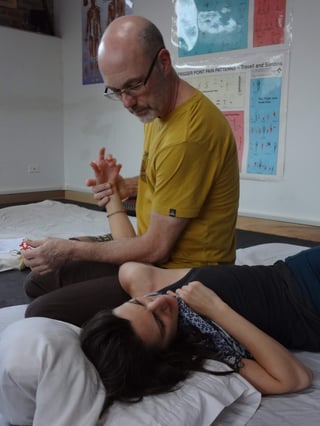 Joe received his training at the Thai Bodyworks School of Thai Massage in 2013 and views himself as a healer utilizing exercise and massage to promote and maintain a healthy body and mind. His sport of preference is running and has completed 15 marathons and hundreds of races at shorter distances. He's been running races since he was a Freshman at Gordon Tech High School in Chicago.
Traditional Thai Massage is a form of healthcare in Thailand. The primary goal of Thai Massage is to release stagnant energy and facilitate the flow of energy throughout the body. During Thai Massage and Bodywork you receive gentle, rhythmic pressure along the energy lines of the body, passive-assisted stretching, joint compression and decompression, and range of motion work. Joe is a fitness enthusiast and finds Thai Massage helps maintain and improve his strength and flexibility.
Available: Wednesday 9am-2pm
Contact the EAC front desk to schedule an appointment (847) 866-6190.