CAC Holiday Hours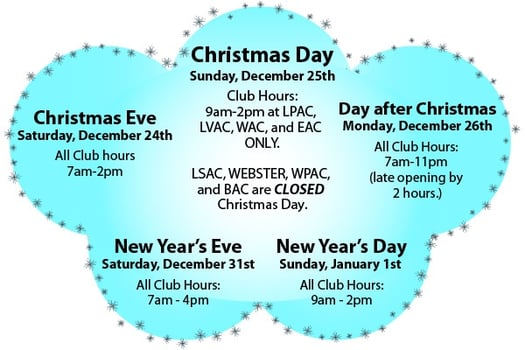 Stay tuned for our Group Fitness Holiday Schedules.
New Group Fitness Schedules begin January 2nd.
Happy Holidays!!

CAC Holiday Challenge is Back!
December 1 – December 31
Traveling? Staying in town? You can still participate in the challenge either way! We're making it easy for you to get your holiday prize.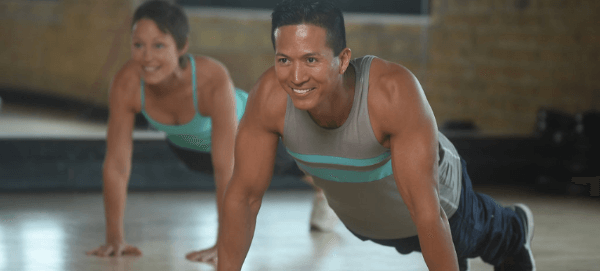 December Pop Up Classes
Shake it up for the holidays! These classes are only around for a limited time.


Webster Place Pop Up: HamilTONE
The Hamilton hype has infiltrated Chicago full steam! Maybe you can't get tickets to see it live, but you can still be part of the revolution. This specialty workout is set to all Hamilton songs with exercises that inspire Life, Liberty, and the Pursuit of Fitness. Wednesday, December 14th.
LSAC GRIT Strength and CXWORX Pop Ups
Still going strong through December 19th!
Mondays in Studio 1 with Jason P.
5:30am GRIT® Strength and 6:00am CXWORX®
LSAC Pilates Mat Pop Up
Tuesdays, 9:30am in Studio 2 with Brock C. until December 20th.
Check out our full Group Fitness schedule.



Workshops and Events
EAC's Winter Warmup
Support Connections for the Homeless…Spread goodness and warmth during the season of giving. Collection boxes in EAC Lobby through December 15, 2016. EAC is collecting: Gently Used/New Outerwear, Gloves, Hats, Scarves, Hand warmers, Blankets.
Want to do more? Financial contributions to CFTH are welcome. Please submit checks made out to Connections for the Homeless or visit www.connect2home.org.
EAC HOLIDAY HIIT at Farmhouse with Mark Mirano
Get after the holiday season with a HIIT workout you can take anywhere! Thursday, December 8 from 6:30-8:15pm.
Register here.
EAC Partner Yoga Workshops
In these fun partner yoga workshop, EAC Yogis Paul W. and Tey P. help you find balance, strength and surrender through mutual support. Saturdays, 1-2:45 pm. Get more info here.

The Golf Studio at EAC
Wish the Golf Studio Happy Holidays and save! Our commitment is to help you grow your game smart, strong, and sound...now we help you SAVE! The Golf Studio will make play more accessible for CAC Members starting Jan 2017 by reducing Member-play rate from $50 to $24/HR up to 4 Members (guest rates apply). Wish us "Happy Holidays!" on our Facebook page, "The Golf Studio at EAC," and play in December for the same rate!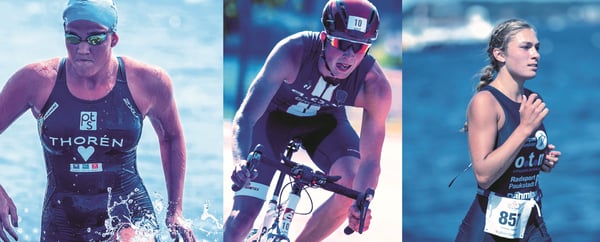 CAC Triathlon Club
Thinking about trying a triathlon next summer? Think about joining the CAC Triathlon club starting on March 1st. We offer 4 coached sessions and online workouts to track your progress through the season. Try out an indoor triathlon hosted at LSAC February 19th, more information coming soon.
Get more info on Tri Club here.

Savor Event
Join the Lincoln Park Chamber of Commerce for a celebration of food and community. Guests will indulge in cuisine from some of Lincoln Park's finest restaurants, from fondue and fresh seafood bites to BBQ and delectable desserts, while enjoying selections of beer and wine. For details and tickets, click here.
EAC Kids Winter Wonderland Party
Kids Club Winter Wonderland Party is Saturday, December 17th from 6-8:30pm. Join us for an evening of arts & crafts, an indoor snowball fights and caroling. Ages 8 weeks & up. Members $20 for up to 2 kids / Non-Members $25 for 2 kids; $5 for each additional child. Space is limited; register here TODAY!

CAC Pilates
Have you ever wanted to try Pilates? Now is your chance. For December only….2 special offers
5 private sessions for $299 (for new clients only)
Buy an 8 class package get 2 free
Looking for that perfect holiday gift? Give the gift of Pilates.
We have gift certificates available.